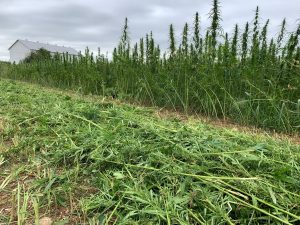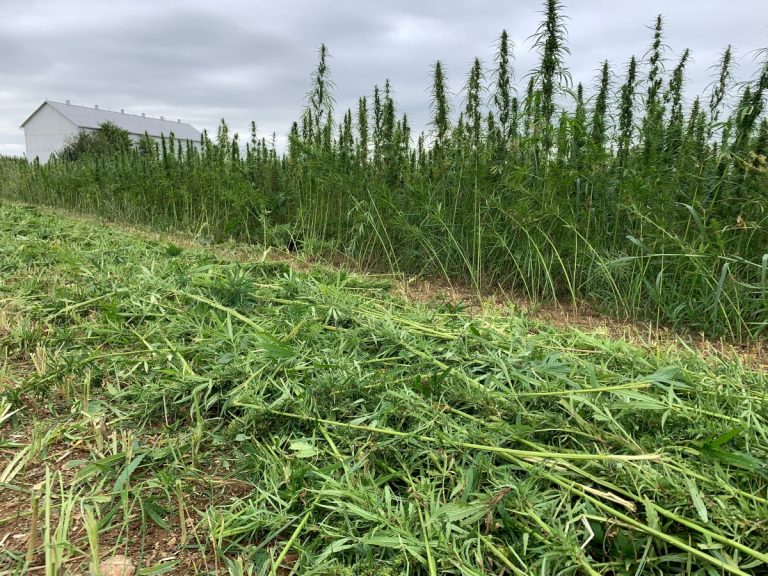 First-time hemp farmers learned hard lessons about the cost of doing business in 2019, when many grew the crop on speculation, without harvest plans or contracts in place.
Promised they could make upwards of $50,000 per acre, farmers looking for a reprieve from low crop prices and foreign tariffs rushed into planting and growing the newly legal crop.
But the farmers sometimes didn't anticipate the costs of harvesting, drying and processing their hemp to get it ready to sell into the market.
The good news is that hemp veterans are sharing the strategies needed to produce and harvest a profitable crop – and how to store it for the future when prices dip.
Farmers who are still kicking the tires on hemp production got a reality check earlier this month at the World Ag Expo in Tulare, California, where five veteran producers explained the costs and hazards of producing and harvesting the crop.
Harvesting is hard work – and expensive
Even for experienced farmers, harvesting hemp requires a whole new game plan and science.
Many have learned the hard way that it's not an easy crop to handle – especially with new federal rules giving farmers a limited window of time from submitting a harvest report to authorities to getting the crop out of the field.
Mike Christensen, who heads farm management and development for AgLand Management Consulting in Delano, California, said some of the lessons learned last season included:
Cutting the crop down and drying it in the field like hay for several days degraded the CBD content and ultimately reduced the value of the crop.
Wet baling caused mold and fermentation, ruining the crop completely.
"You can be successful growing hemp, just like anything else," he said, "but harvesting determines everything within a matter of seven days, so that's why it's important to have a game plan."
In addition to the higher cost of crop production inputs – including seed or clones, labor and equipment – the cost of harvesting, drying and processing a hemp crop is often where farmers fall short, according to Matt Ochoa, founder of the Jefferson Packing House and Jefferson Hemp Exchange in Medford, Oregon.
Harvesting hemp flower can cost $3,000 to $5,000 per acre just to get it out of the field and up to $15 per pound to dry the crop, which doesn't include bucking the flower, processing or getting it ready for market, Ochoa said.
"Budget for $20,000 an acre to harvest and then budget another $9,000 an acre if you want to have flower that you can get out in the market," he said.
Where many farmers encountered trouble in 2019 was having the infrastructure to dry their crop, so they had to try to find facilities to dry their product, said Josiah Thomas, president of AgLand Management Consulting.
"Only grow as much as your infrastructure can support, and make sure you have buyers in place," Thomas said.
Quality matters
Not everyone is going to grow good flower, so it's important for farmers to know the difference between a crop that has the potential to fetch higher prices as smokable flower and when to sell for extract, according to Preston Whitfield, director of hemp operations at FlexMod Solutions in Denver.
"If you get your crop off and it doesn't look good, smell good, feel good, don't waste the time trimming it, don't waste the time trying to keep it perfect; It's extract," he said.
"It's really easy to lose money on caring too much about every flower in that field."
Further, the market isn't strong enough to support half the crop that is currently being produced, Whitfield said.
"If you come up with a buyer that's going to give you $250 for that finished pound, you'd better have a pound that's going to qualify for that," he said.
"Aesthetics (are) critical in smokable flower."
This is where farmers can get in trouble financially, said Tim Gordon, chief science officer at Functional Remedies in Denver and managing director at International Hemp Solutions.
"If you don't hit the smokable flower (market), it goes to $4 to $8 a pound on 1,200 plants per acre," Gordon said.
"Now you're betting the farm on something you just blew completely. Understand the market and be aware of the risk as a farmer."
Postharvest strategies key
Crop quality can degrade rapidly without the proper shipping and handling strategies to ensure good airflow and reduce composting and fermentation, which starts immediately postharvest, Jefferson's Ochoa said.
Plus, the weight of the wet crop alone will crush flower meant for the smokable market, he added.
"This is a wet material that will immediately start composting on you," Ochoa said. "The moment that internal temperature gets over 106 degrees, you start breaking down molecules in that plant."
Transporting hemp from the field to the drying or processing facility should provide as much airflow as possible. Packing hemp flower in shallow bins traditionally used for cherry or grape crops can help, he said.
"Treat (hemp) like it's alive. Give it room to breathe and do its thing," he said.
Like fruit growers, farmers should consider leaving some crops in the field, Ochoa said.
"Honestly, you're better off taking that top 10% of your product and really taking it to the market beautiful than to worry about getting that next 20% to 30% when chances are, you're just going to ruin more," he said.
Whitfield said the three main degraders of cannabinoids and terpenes are light, oxygen and heat.
"The best way I've found to really retain the cannabinoids and terpenes that I'm spending all year growing and all this energy to produce is using cooler temperatures, dehumidification and (low-velocity, consistent) air movement," he said.
Ochoa agreed, saying hemp crops need to be stored at roughly 50 to 60 degrees Fahrenheit and 50%-60% humidity.
"If you can keep it there," he said, "then you can sit on it for like six months while the market (balances out) and you'll be in much better shape."
Laura Drotleff can be reached at laurad@staging-hempindustrydaily.kinsta.cloud