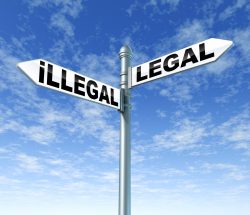 By Kristen Nichols
A recent memo from Nebraska's top law-enforcement official – in which he called cannabidiol products "illegal" – has underscored the challenges faced by CBD manufacturers and retailers nationwide.
The memo, and a CBD brouhaha in Indiana, have meant lost sales, confiscated product, legal uncertainty – and even the loss of a job.
CBD oils low in THC are legal in 50 states and can be sold everywhere from grocery stores to head shops, right?
Not so fast. It's far from certain, creating headaches for CBD businesses in states where law enforcement may respond with legal action.
The memo
from Nebraska Attorney General Doug Peterson advised prosecutors in his state that CBD "remains illegal to possess, manufacture, distribute" unless it has FDA approval.
Retailers responded to the letter by taking newly popular CBD products off shelves. One CBD distributor in Omaha, Christian McCoy, lost his job because of it.
"These products were going into health-food stores, head shops, convenience stores, you name it," said McCoy, who distributed Hemplucid tinctures, topicals and skin-care products. "We were ordering tens of thousands of dollars of product every week. But the instant that letter hit, everything came to a screeching halt."
Omaha retailer American Shaman reported that customers brought back about $800 worth of CBD products for a refund on the same day Peterson's letter was reported.
American Shaman's lawyer replied to Peterson that products containing less than 10% CBD are "no different than perfumes, oils or lotions in a massage store or herbs in a tea and spice store." The company has not gotten a response from Peterson.
Indiana dustup
The uncertainty echoes an ongoing dustup in Indiana.
The Indiana State Excise Police declared earlier this year that products containing CBD were illegal and subject to confiscation. A suburban Indianapolis grocery store was raided for CBD products in May.
But two months later, the Indiana Alcohol and Tobacco Commission – which oversees the Excise Police – changed course. The agency admitted it wasn't sure about the legal status of CBD products and stopped confiscations.
"There's differing legal opinions whether it's legal or not, so until those issues are resolved, we've placed a moratorium on confiscating it," David Cook, chairman of the Indiana Alcohol and Tobacco Commission, told WTHR-TV in Indianapolis.
Indiana's CBD confusion hasn't yet been resolved.
CBD 'gray area'
Industry analysts and attorneys say the confusion in Nebraska and Indiana are symptoms of a nagging problem in the hemp and CBD market: It's far from certain that states must allow the sale of low-THC products derived from cannabis.
"People are running rampant selling CBD products, but the gray area of the law is that some of these products are on more of a medical front and less of a neutraceutical or supplement," said Steve Turetsky of Trava, a Denver-based holding company that advises marijuana and hemp companies. "It's not clear which regulations apply to these products."
Bob Hoban, a Denver attorney who specializes in hemp and marijuana law, advised retailers and operators to review a state's laws carefully before selling CBD products.
"We can create hemp products under the (2014) Farm Bill, which will protect producers following the rules," Hoban said. "That does not mean that those products are legal in all 50 states."
Kristen Nichols can be reached at kristenn@mjbizdaily.com