Webinars from the Editors of Hemp Industry Daily
---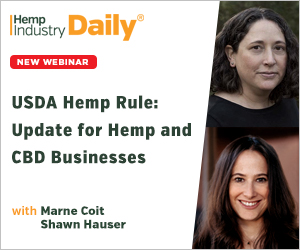 Webinar: USDA Hemp Rule: Update for Hemp and CBD Businesses
To kickoff 2021, the U.S. Department of Agriculture (USDA) released its final rule about the federal regulations for hemp.  The rule goes into effect on March 22nd, 2021 and Hemp Industry Daily is providing two tools: a report and a webinar, for hemp operators to succeed in 2021.
Listen to Hemp Industry Daily reporter Ivan Moreno, Marne Coit and Shawn Hauser as they distill down the key elements of the USDA final hemp rule for hemp growers. Attendees will learn what's changing in the rule – and what's not – and will have the opportunity to ask their own question of these leading industry professionals.
---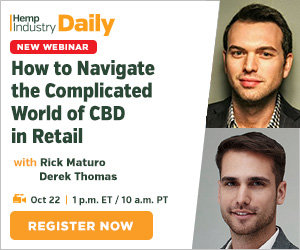 Webinar: How to Navigate the Complicated World of CBD in Retail
CBD has driven much of the interest and growth in the hemp industry over recent years. But even though the market continues to expand, the rules around the cannabinoid – particularly the manufacture, marketing and sale of it – remain fuzzy.
This webinar shares insights on:
The size of the CBD retail market in the U.S. and who's buying what
How growers and producers have been able to tap into the opportunities
Challenges that exist for operating in this market
Moderator: Laura Drotleff, Hemp Industry Daily Reporter
Speakers:
Rick Maturo, Associate Director of Client Services – Cannabis Practice, Nielsen
Derek Thomas, Vice President of Business Development, Veritas Farms
---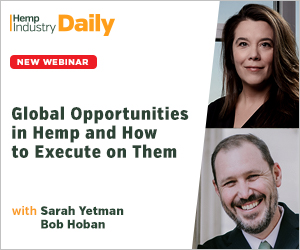 Webinar: Global Opportunities in Hemp and How to Execute on Them
Hemp opportunities don't stop at the U.S. borders, nor are they relegated to North America. Opportunities abound around the globe – with more coming into play all the time.
In this webinar, our panelists – Bob Hoban, founder and president of Hoban Law Group, and Sarah Yetman, CEO of Sovereignport,examine:
How to identify the best opportunities for your hemp business.
Legal and regulatory considerations in different markets.
The outlook for the global hemp market.
---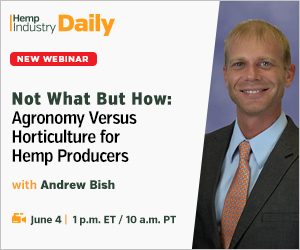 Webinar: Not What But How: Agronomy vs Horticulture for Hemp Producers
Hemp farmers today come from many different backgrounds and with hemp being a complex plant that can be grown and harvested for a vast number of consumer products, there are different cultivation practices that can be taken.  The question for farmers to consider is – agronomy vs. horticulture?  Which practice suits your operations and ultimately your harvesting goals?
In this free webinar, Andrew Bish of Bish Enterprises and Hemp Harvest Works will discuss the following:
Agronomy vs. Horticulture:  What is the difference?  How does each practice relate to hemp?
What are the advantages/disadvantages of using one method vs. the other
From a bottom line and sustainability perspective, which approach is most beneficial to your operations and harvest goals.
---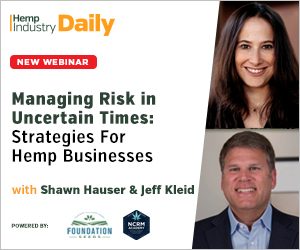 Webinar: Managing Risk in Uncertain Times: Strategies for Hemp Businesses
As a hemp operator, you cannot eliminate risk from your business plans, but there are steps you can take to help mitigate the loss one may face when unexpected events occur. This free webinar is a comprehensive discussion on risk-mitigation strategies for your business.
Legal and Insurance Experts will discuss:
legal strategies to make contracts less risky
crop insurance
business property insurance
worker's compensation insurance
---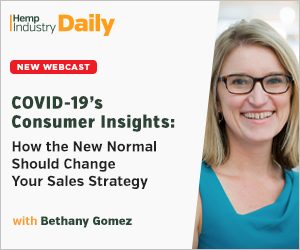 Webinar: COVID-19's Consumer Insights: How the New Normal Should Change Your Sales Strategy
Join us for this free webinar to hear Bethany Gomez, Managing Director at Brightfield Group, examine how hemp consumers are reacting to the pandemic and what this means for your hemp or CBD business.
Topics for discussion will include:
What to consider when shifting strategy
Where are your products being sold (brick and mortar vs. e-commerce)
How and where are you advertising?
Dealing with the FDA
Consumer trends (before, during and after the pandemic)
How have they changed?
What are they consuming?
How much consumers are spending and the impact on CBD sales estimates
What are they consuming?
How much consumers are spending and the impact on CBD sales estimates
---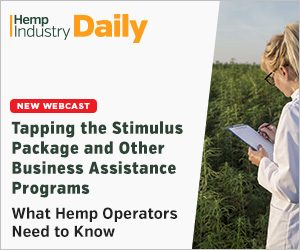 Webcast: Tapping the Stimulus Package and Other Business Assistance Programs
In response to the recent COVID-19 pandemic, the federal government approved a $2.2 trillion economic stimulus package. Hemp operators and ancillary businesses who have been impacted have the opportunity to receive assistance through this program, amongst many other resources. But where do you start?
This 
free webcast
 with Jonathan Miller, general counsel of the U.S. Hemp Round Table, and Phillip McCready, co-founder of Colorado Hemp Industries Collaborative. Jonathan and Phillip will discuss:
Federal aid and other options currently available to hemp operators
Who is eligible
How you can apply