The Hemp & CBD Industry Factbook 2021 Edition
Exclusive U.S. Hemp & CBD Business & Finance Data
The most robust and trusted guidance on the financial, operational and retail trends you need as you plan your business, sales and investing strategies.
Download your copy of Hemp Industry Daily's FACTBOOK for just $199, where you'll find:
113 pages
New: state-by-state guide that includes licensing and competitive landscape details for the hemp industry
New: expanded retail trend data from global consumer data leader, The Nielsen Company
Cultivator, product, retail & investor financial information
Benchmarks and wholesale prices
CBD retail sales forecasts
Number of growers for CBD vs. other novel cannabinoids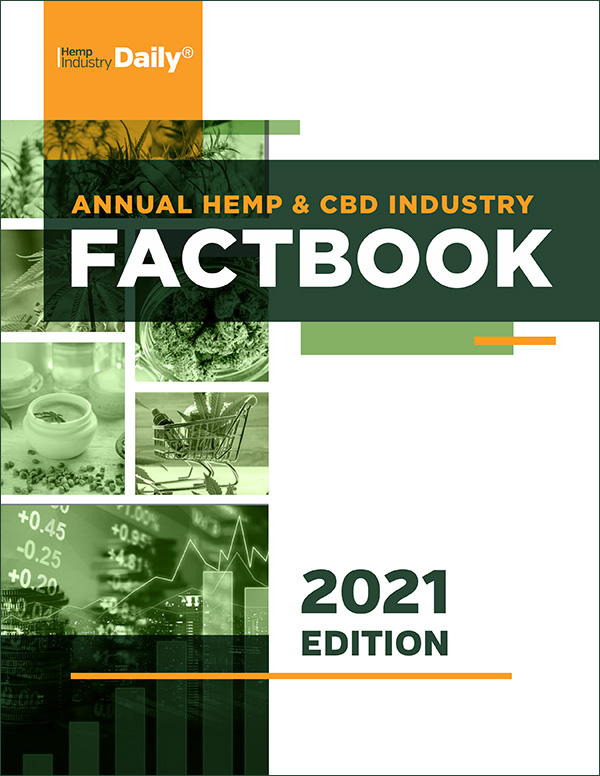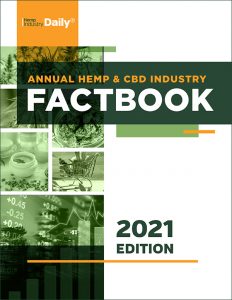 Data for Your Business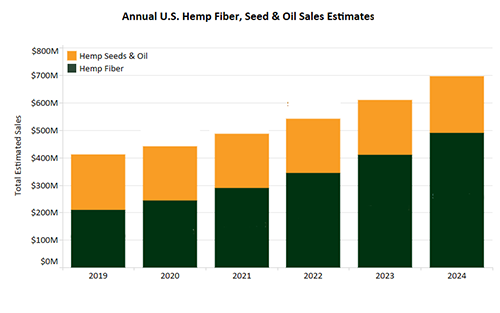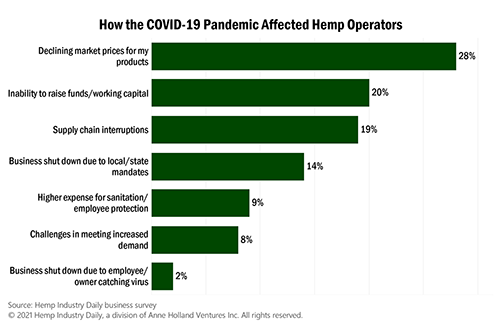 Who Benefits from the Hemp & CBD Industry Factbook
Entrepreneurs
---
Put together your business plan with more ease.
Get financial charts for wholesale cultivation, hemp & CBD products and expanded retail trend data including:
Retail forecasts
Consumer demand
Production and operation
Private Equity Investors
---
Includes:
State-by-state and specific market analysis
How much other investors are putting into the sector
Market conditions
Business Owners
---
Use this data to review, revise and grow your hemp business.
Regulatory outlook and best practices
Challenges & opportunities across the nascent hemp supply chain
Pain points for growers and processors
Table of Contents
Chapter 1: National Trends – 5
Chapter 2: States and Tribes – 18
Chapter 3: Cultivation Snapshot -74
Chapter 4: Manufacturing Snapshot – 87
Chapter 5: Retail Snapshot – 96
Chapter 6: Global Outlook – 104
Appendix
Top Charts
Hemp biomass prices
Total economic impact of the U.S. hemp industry
Hemp industry capital investments
Employment estimate for hemp cultivation
Top business challenges for hemp-product manufacturers
Unique retailers selling CBD products
Top Exporters of Hemp Products to the United States
Full List of Charts
Chart 1.01: Hemp CBD Sales Forecast
Chart 1.02: U.S. Hemp-Derived CBD Sales Forecast
Chart 1.03: Annual U.S. Hemp Fiber, Seed & Oil Sales Estimates
Chart 1.04: U.S. Hemp Industry Total Economic Impact: 2020-25
Chart 1.05: Predominant Natural Challenges Across the U.S
Chart 1.06: Hemp Operators Affected by Natural Disasters in 2020
Chart 1.07: Did You Have Insurance That Covered Your Losses?
Chart 1.08: How the COVID-19 Pandemic Affected Hemp Operators
Chart 1.09: Capital Investment in Hemp
Chart 2.01: Productions License Fees
Chart 2.02: Status of State Hemp Production Plans for USDA Approval
Chart 2.03: Locations of American Indian Tribes Participating in the US Hemp Program
Chart 2.04: Timeline for Tribal Participation in U.S. Hemp Program
Chart 3.01: National H emp Acreage in 2020
Chart 3.02: Cultivation Licenses Issued in the United States
Chart 3.03: Employment Estimate for Hemp Cultivation
Chart 3.04: Method Used to Harvest Hemp Crops
Chart 3.05: What Growers Planted For in 2020
Chart 3.06: Which Cannabinoids Did You Grow for in 2020?
Chart 3.07: Effect of Hemp Crops Testing "Hot"
Chart 3.08: Biomass Price Trends
Chart 3.09: Cost and Revenue of Grower Operations
Chart 3.10: Profitability of Growers
Chart 3.11: Key Differentiators Between Hemp Cultivators
Chart 3.12: Top Business Challenges for Hemp Growers
Chart 3.13: Cultivation Business Expectations
Chart 4.01: Number of Hemp Manufacturers in the US
Chart 4.02: Employment Estimate for Hemp Manufacturers
Chart 4.03: How Profitable Was Your Hemp Manufacturing Business in 2020?
Chart 4.04: Current and Potential Hemp-CBD Usage: Non-Inhalables
Chart 4.05: Current and Future Usage of CBD Pet Products
Chart 4.06: Key Differentiators for Edibles Manufacturers
Chart 4.07: Key Differentiators for Concentrates Manufacturers
Chart 4.08: Top Business Challenges for Hemp-Product Manufacturers
Chart 5.01: Unique Retailers Selling CBD Products
Chart 5.02: Retailers: Top Sales Channels for Hemp-Derived CBD
Chart 5.03: Annual U.S. Hemp-Derived CBD Sales vs. Other Comparable Goods & Industries
Chart 5.04: How Profitable Was Your Hemp Retail Operation in 2020?
Chart 5.05: How Much of Your 2020 Revenue Came from CBD Products?
Chart 5.06: Key Differentiator for Hemp Retailers
Chart 5.07: Top Business Challenges for Hemp Retailers
Chart 5.08: Hemp Retailers' Business Expectations for 2021
Chart 6.01: Total Dollar Value of Imported Hemp Products by Year
Chart 6.02: Breakdown of Hemp Products Imported to the United States
Chart 6.03: Top 10 Exporters of Hemp Products to the United States in 2020*
Thank You to Our Annual Hemp & CBD Industry Factbook 3rd Edition Data Partner