Hemp & CBD Industry Factbook: Hemp & CBD Market Analysis
2018 | 1st Edition | Digital Access Only
Add to Cart
Following the revival of the hemp industry and a rapidly surging demand for CBD, the need for benchmark data and analysis on the hemp and CBD industries is eminent — Until now, the hemp industry has been unaccounted for by any federal agency.
The Hemp & CBD Industry Factbook is the most reliable and comprehensive data report on the hemp and CBD industries available today.
Use the all-new, exclusive research in the 2018 Hemp & CBD Industry Factbook to inform better business decisions and understand the current economic, agricultural and regulatory developments impacting modern hemp and CBD markets across the U.S.
Curated by the researchers and editors of MJBizDaily, the Hemp & CBD Industry Factbook contains data findings from exclusive industry surveys and analysis from available industry data reports about these rapidly evolving industries.
Use the comprehensive evaluations in this Factbook as a resource for understanding current and upcoming industry-wide challenges (and opportunities) affecting professionals at all levels in hemp and CBD.
This Factbook contains fundamental analysis on:
Preliminary considerations and obstacles in each U.S. state currently regulating or licensing hemp and CBD production and distribution
Looming regulatory changes on the horizon following revived consumer and professional interest in the modern hemp market
Considerations for processors and extractors in the hemp industry as consumer demand for CBD surges
Cultivator contributions and approaches to growing hemp considering revenue forecasts and the role of policy and regulation
Current retail trends and methods for increasing acceptable profit margins while introducing hemp and CBD to consumers
Buy Your Hemp & CBD Industry Factbook Today
---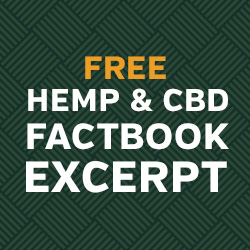 Not sure if the Annual Hemp & CBD Industry Factbook is for you?
Download a free excerpt to get a free peek at some of the most important topics in the book: Click Here
Purchase for $199.00
Valued Sponsor