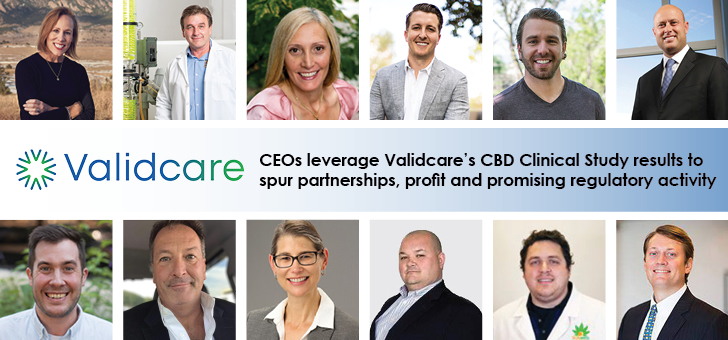 By Jackie Berg
Validated. That's the overwhelming sentiment of the founders and CEOs behind the seven-month IRB-approved Validcare National CBD Liver Function clinical study, conducted, in part, to answer the FDA's calls for more rigorous scientific examination of CBD's impact on liver health.
The clinical study revealed "no clinical evidence of liver disease or increase in the prevalence of elevated liver function tests in any participants," according to a Validcare statement, which was shared with members of the FDA's Cannabis Product Council.
Validcare reports it is scheduled for publication in scientific journals and will be open for peer review soon.
CBD Marketing Hub l Cannabis Marketing-Hub compiled responses of the study's funders, who collectively agree its results will heighten consumer confidence, invite additional support from the medical community and address calls for sufficient science-based data to determine and take action on a safe regulatory path forward.
The study's release is already making an impact, according to study backers, who report seeing signals of increased business investments, venture capital and other funding interest and related partnerships. Crain's reported on the trend and its related economic impact in Michigan, which stands among the nation's top 10 growth markets.
CBD American Shaman CEO Vince Sanders is pursuing immediate interest in expansion efforts in Michigan, according to Crain's.
"Although we could invest anywhere, the combination of Gov. Whitmer's support of small businesses like our franchise-based operations, successive investments in our business sector and hemp agriculture and clear and decisive intent to dominate CBD, Hemp and cannabis (clinical) research, has elevated Michigan to the top of our list." Sanders says.
Hemp Industry Daily and MJBiz readers can uncover CEO leader responses, get updates on next steps and market activity, as well as view the study's impact on the small business activity and related development here.
Editor's Note: Study funders include Asterra Labs, Care by Design, CBDistillery, CBD American Shaman, Charlotte's Web, Columbia Care, Global Widget, HempFusion, Infinite CBD, Kannaway, Medterra CBD and SunMed CBD (Your CBD Store).
CBD Marketing Hub l Cannabis Marketing-Hub is a leading cultivator of CBD and cannabis consumers. If you are interested in growth, contact: hello@cbdmarketinghub.com or berg@cannabismarketing-hub.com
This is a paid post. Contact sales@mjbizdaily.com for more information.