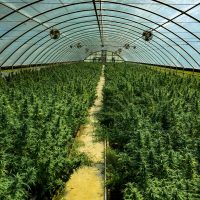 (This story appears in the July issue of Marijuana Business Magazine.)
By John Schroyer
Just as the marijuana industry has exploded in recent years, so too has a sector that revolves around the plant's non-psychoactive cousin: hemp.
In particular, demand for hemp-based cannabidiol has skyrocketed, especially since a 2013 CNN report about the success in Colorado of Charlotte's Web, a CBD product that helped a young epileptic girl control her seizures.
That success and the resulting demand across the nation for more CBD-based health products helped give birth to a new industry that parallels the larger cannabis market.
Hemp-based cannabidiol products, unlike CBD-heavy marijuana strains, also can be legally ordered on the internet and shipped across state lines, further fueling growth.
"The sales just continued to grow week after week," Quinatzin De La Torre, president of Bluebird Botanicals, said about the business climate after the company's launch in 2013. "It seemed like we were hiring a new person every week just to keep up with the pace of growth."
Bluebird, unlike some other hemp products companies, doesn't focus strictly on CBD but rather on hemp extract blends. The company has still benefited from a boom in cannabinoid popularity in recent years, thanks largely to the demand for both CBD and medical cannabis.
Market dynamics
There are now "hundreds, if not thousands" of hemp CBD companies coming online, estimated Gabriel Ettenson, general manager of Colorado-based hemp company Elixinol.
"It just seems like there's a dozen popping up every day," Ettenson said.
The hemp CBD market has reached an estimated retail value of $130 million in the United States alone, according to a 2016 market estimate by Vote Hemp and the Hemp Business Journal. A spokesman for Vote Hemp also estimated there are likely 50-100 hemp cannabidiol brands, along with hundreds more growers and processors that focus on hemp-based CBD.
Part of the reason for the massive growth is that many businesses find it's easier to simply purchase wholesale CBD extracts from another company that's taken care of the growing and extraction process, and then re-bottle oils and tinctures with their own brand. The practice is called "white labeling," said Colorado Cultivars partner Rick Trojan, whose company grows its own hemp in Colorado. His company's CBD brand, Moonrise Extracts, is a subsidiary of Colorado Cultivars, and a majority of its business is wholesale white labeling products, he said.
"If someone wants to have a tincture, but they don't want to make it themselves, they'll contract us to make that tincture, and we'll make that product," Trojan said. "(But) instead of putting (the) Moonrise (label) on it, we'll put theirs on it.
"There's only a couple suppliers that really make organically grown CBD in the country, and there are hundreds of distributors. Most people won't tell you that, because they're not growing their own hemp. We're growing our own, and we're selling it to other people."
Along with the growing presence of hemp-based CBD companies come increased profits.
HempMeds, one of the larger names in the space, pulled down $14 million in sales in 2014, said Dr. Stuart Titus, the CEO of Medical Marijuana Inc., HempMeds' parent company. (Sales fell after that because of a split with the company's producer, CannaVest, but sales in 2015 and 2016 hit about $8 million annually, he said.)
Elixinol, which was founded in 2014, had about $2 million in sales in 2015, Ettenson said, with the number jumping to roughly $4 million in 2016. Bluebird Botanicals recorded $3.3 million in sales in 2014, its first full year, and has seen that number grow steadily since then, according to De La Torre. And Colorado Cultivars, founded in 2014, pulled down "hundreds of thousands" in revenue and has been growing ever since, Trojan said.
Not only that, but the market for American hemp products – unlike that of marijuana – is global.
"HempMeds now has a HempMeds Brazil, HempMeds Mexico," CEO Titus said. "We're developing HempMeds Paraguay as we speak, and we're certainly quite excited about international opportunities."
That's also true in terms of source material.
HempMeds, Elixinol and Bluebird Botanicals, for instance, get much of their raw hemp material from European growers, in large part because it's still widely illegal in the United States to grow hemp.
Hemp's status changed in 2014 with the passage of a new federal law that left the legality of production to individual states, but many states have been slow to adopt hemp cultivation. Because hemp isn't as strictly illegal under federal law as marijuana, it also means hemp businesses can take orders online and ship pretty much anywhere they want.
Consequently, each of the companies Marijuana Business Magazine spoke with for this report have customers in all 50 states, and many have clients overseas. HempMeds, for example, has customers in 44 other countries, Titus said. In fact, the vast majority of hemp-based CBD products are sold online, with just a fraction of sales being made in brick-and-mortar storefronts.
Business hurdles
All of that online business comes with logistical issues, however. And at the forefront is the uncertainty of processors that handle credit card transactions; some can be skittish about working with companies closely related to marijuana.
"Because of the space we're in, we're considered high-risk accounts, so we've had a number of our credit card processors be shut down because of selling hemp products," Bluebird's De La Torre said. "And it's not just us. It goes in waves, where one particular company will shut down all of the accounts.
"So everybody that's in the space … if they don't have backup merchant accounts, they won't be able to do business until they obtain another merchant account, which can take a few days."
HempMeds' Titus agreed, saying that even though his company typically will be able to process customers' credit cards, the issue has definitely been an obstacle.
"This is something that tends to change on a regular basis," he said. "Sometimes certain (credit) cards will allow a bit more leeway than other card companies. Sometimes it needs to be a personal check or money order … It's a real hassle to arrange for the type of payment that we'd be able to accept on any given day."
Another complication that's obviously related to the problem of merchant accounts being canceled is public ignorance about hemp and how it's different from marijuana.
"'Will hemp get me high?' is probably the most common question," said Colorado Cultivars' Trojan, who spends weeks traveling the nation trying to educate people about the benefits of hemp. "A farmer in Iowa literally wouldn't shake my hand because I had a hemp farm and he thought he was going to fail a drug test if he shook my hand."
Hemp, however, is generally less than 0.3% THC, meaning it's literally impossible to get high from smoking it, let alone from osmosis.
"That's a real thing. That's what we're up against," Trojan said of the misinformation he's trying to combat.
TRENDS TO WATCH
More science
Barriers to cannabis-related research in the United States have kept hemp-based CBD products and others from making specific claims to health benefits, since there's a dearth of solid scientific evidence to back up any benefits from CBD or other cannabinoids found in either hemp or marijuana. But many in the hemp business believe that's going to change.
"Our primary focus right now is to identify sort of that sweet spot where we believe the industry is headed, which is somewhere between a heavily regulated FDA nutraceutical company, and a sub-pharmaceutical company," said Elixinol's Ettenson.
He believes there will be contraction in the market and that most of the get-rich-quick companies that are making money off white-labeling products will quit, while ones that are devoted to the science of cannabinoids, like his, will thrive in the long term.
"A majority of companies … will be gone, and the ones that survive will support the product with science," Ettenson predicted.
Titus is looking forward to the day when human-based clinical trials on cannabinoids such as CBD will start in the United States, as they have in Mexico and a few other countries.
"This is something, if we could ever get some live human studies up and running, there could be some tremendous changes for the application … of CBD products," Titus said. "To be able to prove this on human subjects is something we're very excited about."
Cannabinoid exploration
Along with scientific exploration will likely come another boom in popularity and use of other cannabinoids.
"There are a huge number of cannabinoids that are being discovered," Titus said. "I went to an event where some European researchers were saying they'd identified 144 different cannabinoids."
Bluebird's De La Torre added, "I think what we'll start to see is a shift away from just CBD to other cannabinoids, like CBN or CBG … New product innovation, that's going to be key."
Domestic cultivation
Some companies already are obtaining their hemp from Colorado and Kentucky instead of from Europe, Canada or China (three of the major international hemp producers), and that's likely to keep growing.
Hemp also presents a big opportunity for those in the agricultural industry whose crops may not be getting as large a price at market as they once did. That's the situation in Kentucky, a deep red conservative state that has embraced the resurgence of hemp.
Such acceptance will have ripple effects for the larger cannabis economy, as well as for even more ancillary businesses, Titus said.
International business opportunities
The international market for both raw hemp and hemp-based products is also going to keep growing, predicted Trojan.
He's already looking into an international distribution wing for Colorado Cultivars that may be up and running as soon as this summer and then could start shipping his Colorado-grown hemp or hemp extracts to Europe and other markets.
"We're looking at Britain, Germany, Italy, Ireland, Brazil, Costa Rica, Uruguay, Japan, Korea and Australia," Trojan said.
HempMeds' international business now accounts for roughly 50% of total sales, while the other half is the domestic U.S. market, Titus said. He attributes that, in large part, to the fact many other countries simply don't have a good local source for CBD and other hemp-based products.
John Schroyer can be reached at johns@mjbizdaily.com