NEW YORK, September 28, 2020 – Lawyers who represent clients in the fast-growing legal cannabis industry must keep up with an array of evolving guidelines and regulations. Legal Guide to the Business of Marijuana: Cannabis, Hemp and CBD Regulation, 2020 Edition, from leading legal publisher PLI Press, offers a comprehensive, practical resource.
The guide covers a wide range of inter-related topics, including the complex and varying state regulation of medical and non-medical marijuana; federal law, enforcement, and preemption and their implications for employment, taxes, and banking; and the various aspects of establishing and managing a marijuana enterprise, including the growing, licensing, labeling, transporting, and distribution of marijuana and related products.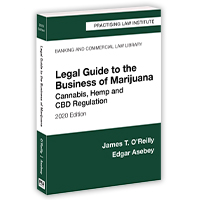 For lawyers new to representing marijuana clients, the authors provide an understanding of the definitions of marijuana and other cannabis products, as well as a review of the policy and political issues that have led to the controversy and uncertainty of the current environment.
The new edition adds the latest information on hemp and CBD products, the 2018 Farm Bill, and the Department of Agriculture rules on Establishment of a Domestic Hemp Production Program, and includes a fifty-state survey of the latest medical and recreational cannabis laws and regulations.
About Practising Law Institute (PLI):
Practising Law Institute is a nonprofit learning organization dedicated to keeping attorneys and other professionals at the forefront of knowledge and expertise. PLI is chartered by the Regents of the University of the State of New York, and was founded in 1933 by Harold P. Seligson. PLI provides the highest quality, accredited, continuing legal and professional education programs in a variety of formats which are delivered by more than 4,000 volunteer faculty including prominent lawyers, judges, investment bankers, accountants, corporate counsel, and U.S. and international government regulators. PLI publishes a comprehensive library of Treatises, Course Handbooks, Answer Books and Journals also available through the PLI PLUS online platform. The essence of PLI's mission is its commitment to the pro bono community.
Please visit www.pli.edu
This is a paid post. Contact sales@mjbizdaily.com for more information.