FOR IMMEDIATE RELEASE: [04/02/2021]
Krissy Loken
KLĒR
888 520 0827
krissyl@kler.io
PHOENIX, Ariz. (March 25, 2021) – KLĒR, a leader in cannabis operations management software, has unveiled KLĒR Track, a new feature set as part of its seed-to-sale software platform purpose-built for the hemp and CBD markets. The announcement comes at a time when processors are demanding more expansive compliance tracking options for available biomass and hemp farmers are facing increasing roadblocks selling product without clear compliance tracking.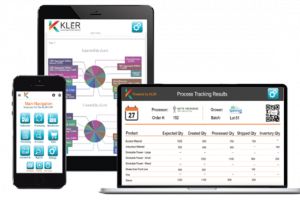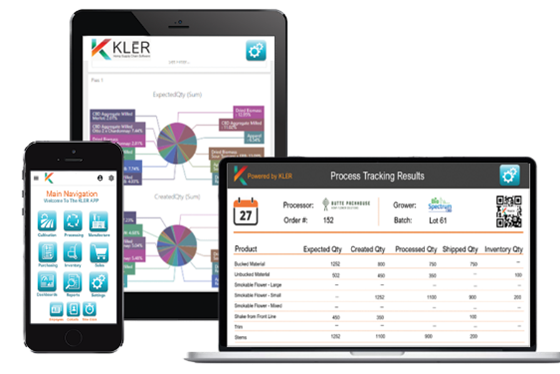 With the current marketing and advertisement restrictions put in place on the cannabis market, having a direct-to-consumer pathway has become a business imperative.
KLĒR Track provides farmers the ability to share certificates of analysis (COAs), product origin, and harvest detail with processors during or prior to sale through the use of QR code labels or shared links through a single portal. The new offering will limit barriers for farmers and reduce the amount of time processors will spend updating farmers on the status of their biomass.
"In the end, it always comes down to the customer, and they want better transparency in the origin and safety of their products," says Jason Saunders, CEO at KLĒR. "This is true with all health supplements, and the FDA is getting ready to set the standards. We expect the FDA to start with CBD and to soon require lab test results, product origin, and ingredients on CBD products."
Through KLĒR's supply chain track-and-trace, retailers are easily able to label their products with QR Codes that pull up the KLĒR Track origin of those products, COA's, ingredients, and more.
Features and benefits of the new centralized portal include:
Real-time data on product quantities, processing progress and results, and amounts shipped or sold.
End-to-end product visibility before orders are scheduled for shipment.
Relevant compliance information across every stage of the supply chain.
Customizable QR landing pages to connect with customers.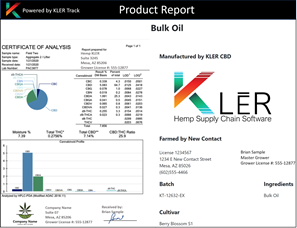 KLĒR Track will be available starting March 26th, 2021. For more information on KLĒR Track visit KLĒR Track
About KLĒR:
KLĒR is a dynamic, nimble software company that enables next-gen cannabis operations management through a differentiated platform. KLĒR develops products and features to promote transparency, facilitate compliance and manage the full supply chain for cannabis licensees, government agencies and the public.
KLĒR replaces pen-and-paper or off-the-shelf software with a custom designed platform, not a bolt on solution, that is simple, fast, and efficient for consumers looking to manage detailed processes and compliance regulations. Customers can control their entire organization's supply chain in a module-based, affordable, scalable software solution.



LinkedIN

Facebook
This is a paid post. Contact sales@mjbizdaily.com for more information.