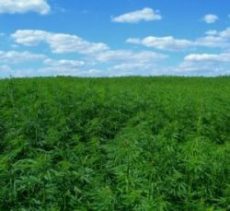 By Margaret Jackson
South Carolina is gearing up to become the latest state to allow hemp cultivation, a move that's expected to create opportunities for farmers, makers of hemp-based products and ancillary companies offering goods and services to those growing and processing the plant.
The South Carolina Department of Agriculture is drafting the application and regulations governing farmers who want to grow and sell hemp under a pilot program aimed at developing new markets for the plant. The program stems from a bill signed into law in May, with the new rules set to take effect in a matter of days.
South Carolina hemp businesswoman Janel Ralph, who worked to get the legislation passed, expects hemp grown in the state will be utilized – among other things – to make plastics used in door panels for automobiles, as well as related components and mechanical parts.
"We have one of the largest BMW plants here, and we have a Boeing plant," said Ralph, founder and CEO of Palmetto Harmony, a Conway-based provider of therapeutic hemp products that include capsules, essential oils, topicals and vape oil.
Program timetable
The Department of Agriculture's goal is to have the hemp rules in place by July 1, said Clint Leach, assistant commissioner in the department's division of external affairs and economic development.
"We've looked at Colorado, Tennessee and Kentucky and are using those states' applications as templates," he said. "Ultimately, we will have some type of hybrid, but we don't think there's a reason to reinvent the wheel. We're trying to be as expeditious as possible."
In the first year of South Carolina's program, 20 farmers will each be able to grow hemp on up to 20 acres of land.
In the second year, 40 farmers will each get a permit to grow up to 40 acres. In the third year, the agriculture department – in conjunction with local universities participating in the program – will determine how many permits to issue.
In addition, a provision in the South Carolina law is designed to protect farmers who mistakenly grow hemp containing excessive THC so they don't have to destroy the crop.
Opportunity knocks
The new program is expected to create opportunities for entrepreneurs in addition to the farmers who grow the plant. On top of plastics, hemp can be used to make clothing, skincare products, paper and food.
Hemp also holds the potential for use in construction as a substitute for wood. In Australia, for example, a piece of the hemp plant called the herd, or core of the plant, is being used to build houses.
Additional markets could emerge, with hemp replacing fiberglass used in upholstery and carpets, according to a report from the U.S. Department of Agriculture.
Potential new markets
South Carolina's hemp cultivators will be required to collaborate with an institution of higher learning to develop products and a market for those goods – be they therapeutic or used in automobile manufacturing.
They also must contract with buyers for their hemp.
Leach, for his part, is taking a wait-and-see attitude in terms of what new markets may emerge from South Carolina's pilot program.
"I don't think opening market channels can be done overnight," he said. "Once we see the data, know what types of seeds are growing best, and what those plants are used for – that will determine our ability to help open up markets for farmers. It will take at least a harvest season or two to get real data-driven results."
Growing her own hemp
Ralph, the businesswoman, is hoping to land a cultivation permit so she can grow her own hemp rather than buy it from Kentucky, as she does now.
To secure a cultivation license, her first task will be to find a research partner such as South Carolina State University.
"They want you to have a commitment from a university to do research," Ralph said. "I'm trying to figure out what's going to be the best fit for my company."
Thirty-one states, including South Carolina, allow hemp cultivation under provisions spelled out the federal 2014 Farm Bill. The law authorized production for research purposes and a few select pilot programs.
Consequently, much of the hemp currently used in the United States is imported.
Sales of hemp products across the country hit $688 million in 2016, up 25% from the previous year, according to a survey by the Hemp Business Journal and industry advocacy group Vote Hemp. Personal care products had the largest share of the market at 24%, followed by food and hemp-derived CBD products at 19% each.
Easy crop
From an agricultural standpoint, hemp is a great crop. It doesn't need much fertilizer and grows well almost everywhere. It's naturally resistant to pests, so farmers don't have to use as many pesticides.
But because of its close relationship to marijuana, growing it can be a risky venture. Under the 2014 Farm Bill, hemp plants cannot contain more than 0.3% THC. Crops with a THC content of more than 0.3% must be burned.
Ralph said that unlike other states where it's legal to grow hemp, the South Carolina law has a "reconditioning clause" that helps protect farmers from a total loss of a crop that has more than 0.3% THC. The clause allows producers of hemp products to bring the THC levels down to 0.3%.
In the case of Palmetto Harmony's oils, the reconditioning is performed during the extraction process, Ralph said. If the hemp is being used for grains, more stalk and stem is ground into the product.