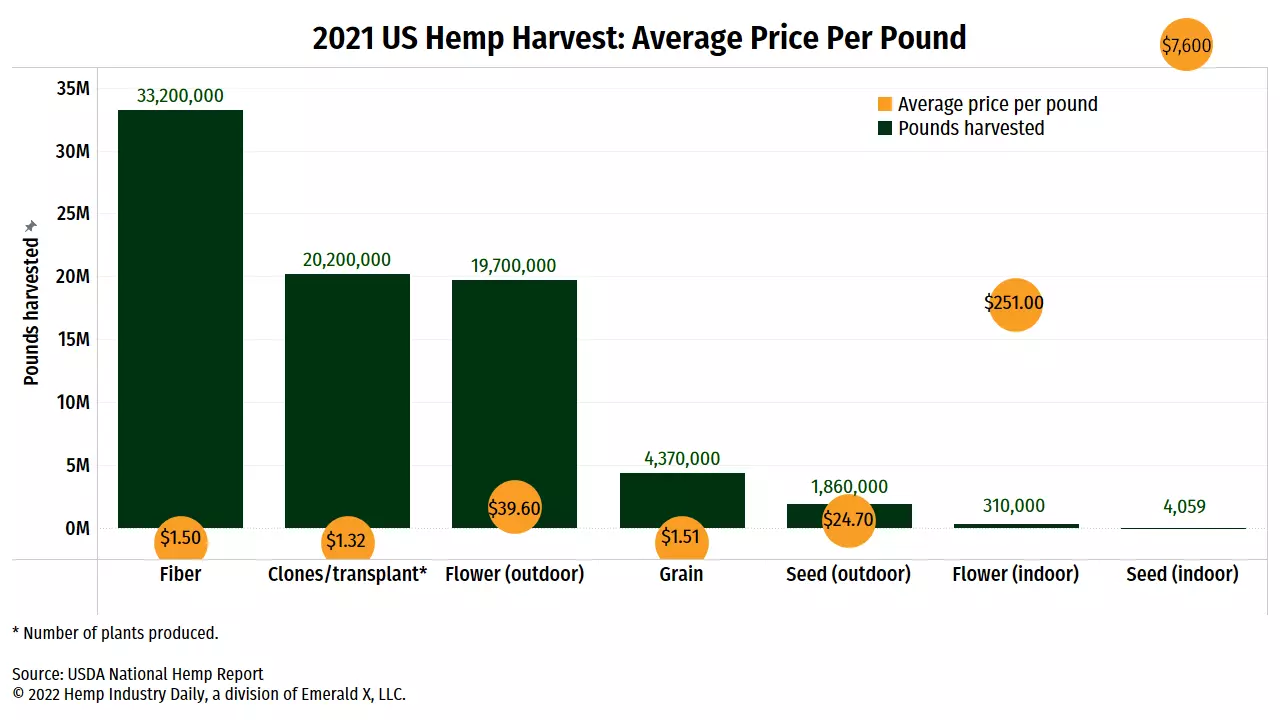 Hemp farmers are overwhelmingly white and male but skew younger and more diverse than producers of other crops. And CBD is far from dead, despite a price crash and widespread predictions that hemp's fiber and grain products would soon overshadow hemp flower products.
Those are just a couple of insights from a first-of-its-kind survey on the young hemp industry released last week by the U.S. Department of Agriculture's National Agricultural Statistics Service.
Researchers received responses from 20,501 people who grew hemp in 2021, a figure the USDA cautions likely does not provide the full picture of legal hemp producers.
Still, the survey provides the deepest and most reliable pricing and production data yet for an industry that hadn't been tracked officially in decades.
Who grows hemp?

The survey was the first national analysis of who is growing hemp, not just where and how much. Researchers found that 90% of hemp growers are white, and 82% are male.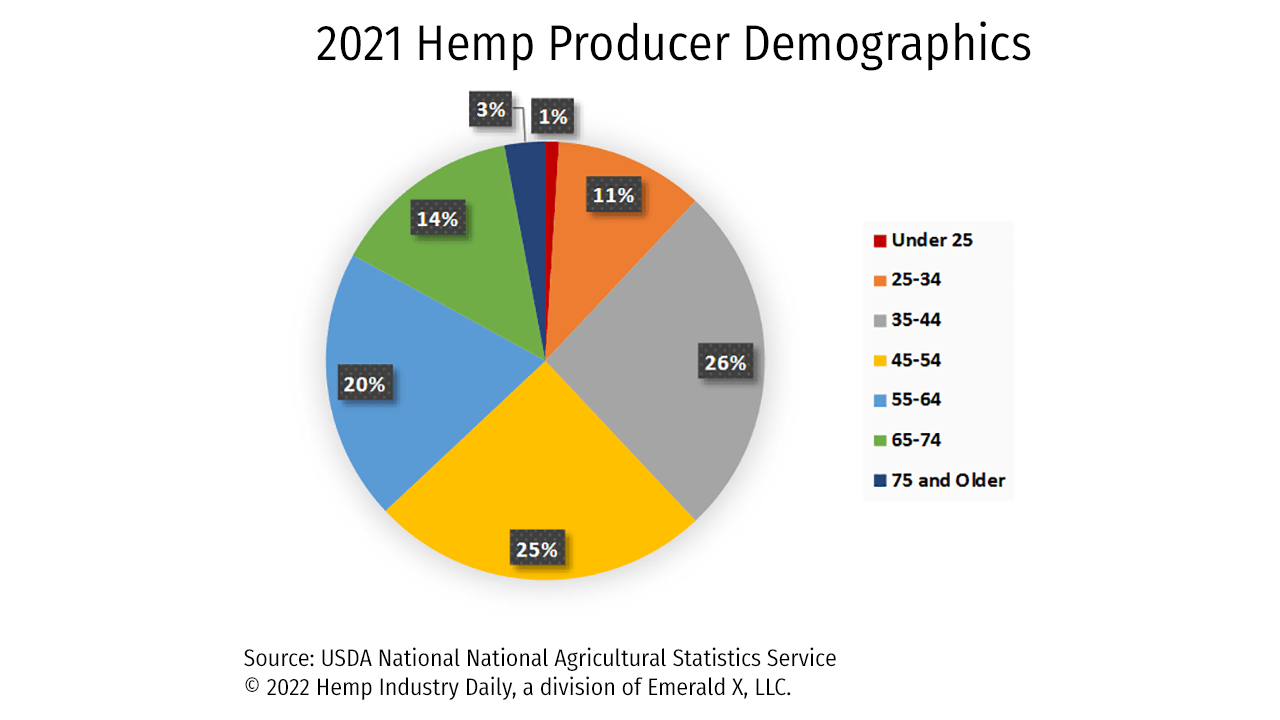 USDA analyst Lance Honig warned against comparing the hemp industry's demographics to those growing other crops because statistics for the broader agriculture sector are out of date.
The most recent national agriculture census was taken in 2017, when the USDA found the average farmer was 57.5 years old. More than 95% of farmers in that survey were white, and 64% were males.
The USDA found hemp growing in every state last year except Idaho, which was the last to exercise the option to allow hemp production. The agency reported no numbers from territories or tribal lands.
Yields and pricing
Analysts also tracked per-acre yields and which states grew the most hemp.
Colorado planted the most outdoor hemp last year, 10,100 acres, but only harvested about a third of that, 3,100 acres. Montana harvested the most hemp last year, 4,500 acres.
California dominated indoor hemp production last year, with 3.9 million square feet. Colorado was a distant second with 1.9 million square feet, followed by:
Oregon (1.7 million square feet).
New York (1.1 million square feet).
Florida (990,000 square feet).
The agency also tracked per-acre yields. For outdoor-grown hemp flower, farmers harvested an average of 1,235 pounds per acre. Hemp grain producers averaged 530 pounds per acre, and fiber producers reported average yields of 2,620 pounds per acre.
Pricing averages were produced based on self-reported data of what farmers expected to be paid for their crops, not how much they would profit. Honig pointed out that pricing for any crop can vary widely within a calendar year and that different products weigh different amounts, meaning that per-pound price comparison are complex.
For outdoor-grown hemp, the USDA found national average sale prices last year were:
$39.60 per pound for flower.
$1.51 per pound for grain.
$1.50 per pound for fiber.
In another national first, the USDA collected pricing information for hemp clones and transplants or young plants, which saw an average price of $1.56 per plant, with the nation producing about 20.2 million of them.
Honig called the results a baseline that will be more useful for producers in future years.
"We're kind of thinking this could be an annual survey, but it's going to be depending on funding, of course," Honig told Hemp Industry Daily.
Reaction to the numbers
Activists cheered the USDA's effort and called it an important step for hemp to take its place alongside other mainstream crops.
"While these numbers may seem small in comparison to other commodities and specialty crops, when the economic value is contrasted against acreage, it demonstrates the extraordinary potential of the hemp crop," National Hemp Association chief Geoff Whaling said in an email.
But Whaling added that the "mishmash" of regulations on hemp products have "left farmers and consumers wondering whether hemp is legal, whether there is a real market or whether this is just another passing fad."
To underscore Whaling's point, just last week officials in Kentucky, Alabama and Indiana suggested new limits on hemp-derived delta-8 THC products.
Whaling also argued that the low production numbers for hemp fiber and grain products likely reflect a lack of processing and shouldn't suggest those sectors are overhyped.
"We hear from manufacturers all over the country seeking domestic sources of commercially viable hemp fiber and grain. Yet without processing facilities – which will require years of significant investment – the journey toward scale will be a slow one," he wrote.