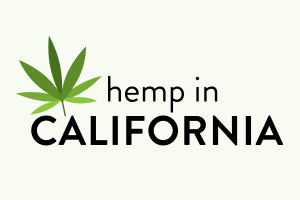 (Editor's note: This is part of an occasional series on California's hemp industry. To read the previous installment, click here.)
Hemp entrepreneurs in California are optimistic that long-awaited state legislation to legalize hemp-derived CBD as an ingredient in food, beverages and cosmetics will be revived from suspension and ready for Gov. Gavin Newsom to approve by spring.
A coalition of hemp farmers, advocates and local governments worked through the off-session to submit amendments aimed at improving the chances of a bill that stipulates that CBD is not an adulterant in the state, according to two board members of the California Hemp Council – Eric Steenstra, president of Vote Hemp, and Patrick Goggin, a San Francisco-based cannabis attorney with Hoban Law Group.
The bill
, which would have reversed a 2018 stipulation by California's health department that hemp-derived CBD can't be added to food, had significant forward momentum in an emergency push through the state Legislature last fall.
The hemp industry widely expected the CBD bill to be signed into law by Newsom. But the proposal fizzled at the end of the year.
"It was unceremoniously shelved at the end of last session in large part due to the intent to allow for hemp products to go into marijuana retail," Goggin said. "There wasn't a meeting of the minds between the hemp industry and the marijuana industry at that time in order to get passage."
The governor asked the bill sponsor to resolve concerns regarding:
Food safety related to CBD.
Rules associated with selling products in marijuana dispensaries.
Next steps
According to a letter sent to Newsom by the state's hemp coalition in mid-January, the proposed amendments to the legislation address:
Concerns from the state health department about the mixing of hemp and marijuana raw products within the operations of licensed producers.
Calls for testing parity between hemp and marijuana products.
The new version of the bill calls for hemp to be tested on par with marijuana, bringing the same confidence in the level of testing for contaminants such as metals and pesticides, Goggin said.
"It will address the most important issue, which is consumer safety, by having the products come under the regulation of the California Department of Public Health," he added.
But not everyone is happy about the proposed amendments.
The marijuana industry wants hemp to be regulated the same way as marijuana, and with the same testing rules, because it is frustrated that hemp farmers are profiting from CBD, according to Chris Boucher, CEO of Farmtiva, a hemp farm and genetics company in Santa Ysabel.
But under a "right to farm" provision in Proposition 64, hemp should be treated as an agricultural product, putting the onus for testing on retailers and handlers instead of farmers, Boucher told Hemp Industry Daily.
"We're not marijuana farmers, we're hemp farmers," he said. "Hemp is just like corn, soybeans, carrots (and) lettuce. And it's up to the manufacturers and distributors to make sure that there's no chemicals, pesticides, herbicides in their products – (it's) not on the farmers."
California's legislative calendar means that the CBD bill will be able to pick up where it left off, in the Senate Appropriations Committee.
Goggin hopes that California lawmakers will finish work on the measure and get it to Newsom's desk by as early as March.
States can step up and self-regulate
Despite the U.S. Food and Drug Administration's most recent comments that CBD cannot be generally recognized as safe (GRAS) – and subsequent moves by states such as Oregon to ban alcoholic beverages containing CBD and South Carolina to mandate reformulation of animal food and pet treats that contain hemp and CBD – the trend in 2019 was for states to move forward and allow CBD in food and beverages, Goggin said.
"Last year, we saw Indiana, Florida and Texas all pass statutes allowing for these products and putting the jurisdiction under the states' public health departments," he said.
The FDA says CBD can't go in foods. But the agency's delay in revisiting that CBD rule while ingestible products are widely sold means that more states such as California should pass legislation to protect their consumers, according to Goggin.
"States can't wait," he said. "They've got their consumers buying products. They want to ensure that they're buying safe products, and they don't see the harm in (CBD) products as long as they're regulated."
Further, Goggin said as the industry moves into another transitional year that will likely see expanded hemp production, it is critical to provide an economic path for farmers to sell their crops.
"If we're not regulating processors and manufacturers, then we have a bottleneck and it makes it more difficult for our farmers to prosper and to (be paid) for their crops," Goggin said.
Josh Schneider, CEO of genetics company Cultivaris Hemp in San Diego, agrees, saying legislation is needed as a way for hemp farmers to drive innovation and development forward in rural areas.
"Many of the farmers around the state that I speak with are considering building or renting commercial kitchens to develop their own cottage-level products and, at the same time, developing relationships with local, regional and national food and beverage companies," Schneider told Hemp Industry Daily.
"This bill creates a legal framework for the growth and development of a new and vibrant wellness industry linked directly to California farms."
Laura Drotleff can be reached at laurad@staging-hempindustrydaily.kinsta.cloud