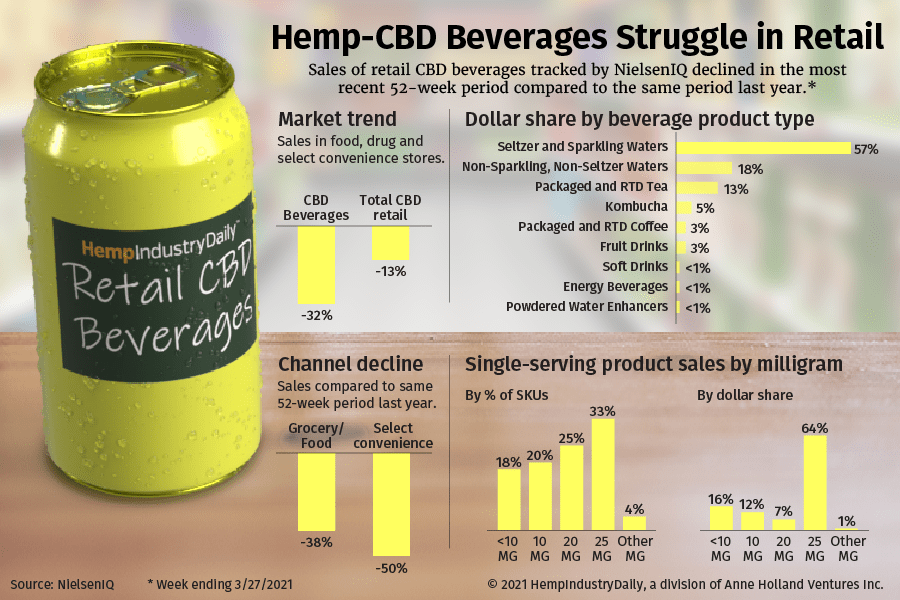 Sales of CBD-infused beverages in major U.S. retail chains struggled in the past year, according to new data from analytics firm NielsenIQ.
Hemp-derived CBD beverage sales in 30,000 stores across major chains in grocery, drug and select convenience stores tracked by Nielsen were down 32% for the year ending March 27 compared to the same period last year. The company does not track CBD derived from marijuana.
Total CBD category sales were down 13%.
Rick Maturo, Nielsen's associate director of client Services for cannabis, believes the pandemic contributed to an uptick in CBD usage but said those sales dollars didn't trace back to major chain retailers.
"If anything, our assertion is that like many other CPG categories, the pandemic has reinforced online CBD buyers' behaviors and has also driven many 'would-be' brick-and-mortar shoppers to online channels due to the safety and convenience aspects online channels can provide," Maturo said.
This could be troubling news for growth in major retail, which now accounts for only a small percentage of the market.
In fact, e-commerce, specialty retail and manufacturers selling direct to consumers still represent the bulk of hemp-derived cannabinoid sales dollars in the U.S. market, according to consumer behavior tracked by Nielsen.
Maturo said there is a desire among consumers for a broader variety of formats and potencies, which online and specialty stores can deliver better than major retail.
Major chain retailers are also hesitant to invest fully into the category because the U.S. Food and Drug Administration has not approved over-the-counter CBD sales.
This is especially true for ingestible formats such as beverages, where products have several sizes and flavors.
Despite the slump, the category is showing strong preferences for certain beverage products among consumers.
Water dominated the category, accounting for three-fourths of all beverage sales during the 52-week period. Seltzers and sparkling waters alone were responsible for more than half of that.
Packaged and ready-to-drink teas accounted for 13% of beverage sales for the time period.
Consumers also preferred 25-milligram packages over other doses.
Among single-unit, ready-to-drink beverages, which are predominantly single-serve, more than half the sales dollars being tracked by Nielsen were beverages with 25 milligrams of CBD.
Although, it should be noted that more than a third of the single-unit beverage SKUs were 25 milligrams.
Maturo still sees potential in the category, projecting that by 2025 beverages will account for about 19% of all CBD sales dollars, almost $1.3 billion.
"Unlike other hemp-CBD formats, beverages offer brands and retailers a multitude of innovative styles, flavors and functional benefits to choose from that are all built into a familiar, easy-to-use format," Maturo said.
"They check lots of boxes for current and future consumers."
Andrew Long can be reached at andrew.long@mjbizdaily.com.