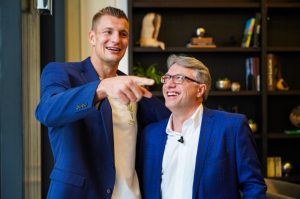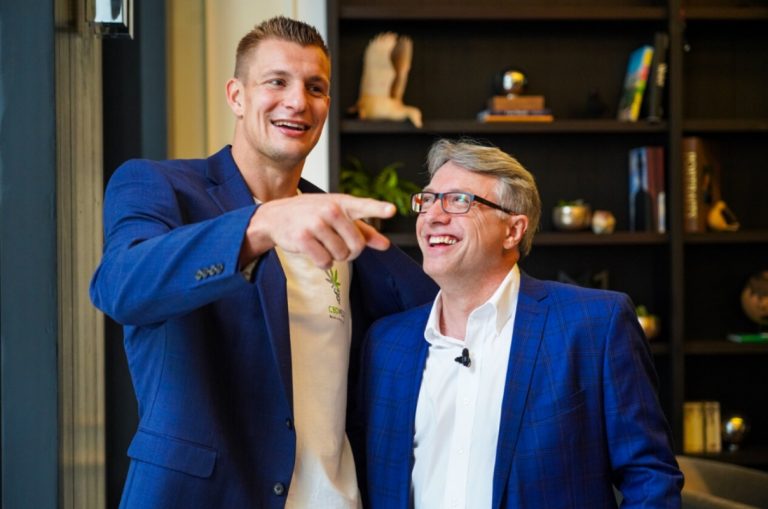 CBD manufacturers looking for new market opportunities are making big investments in the sports nutrition market, signing up athlete endorsements and trying to capitalize on growing acceptance of cannabidiol's anti-inflammatory properties among premier sports stars.
From three-time PGA Tour champion Scott McCarron to former New England Patriots tight end Rob Gronkowski, athletes are being tapped by CBD producers to grab attention in a global sector projected to be worth an estimated $81.5 billion by 2023, according to Statista.
"I've never seen a market explosion like what we're seeing around wellness," said Tim Gordon, founder of Colorado CBD maker Functional Remedies. "It's hit the world by storm."
Functional Remedies created an EndoSport line marketed specifically to athletes and has an entire division devoted to marketing to top golfers – and it's run by former pro golfer Steve Patterson.
The company has lined up about 60 professional athletes to endorse its products, and Gordon said he attends trade shows and speaks at events geared toward athletes.
Other companies are putting similar effort into changing perceptions that cannabis products won't appeal to extremely health-conscious consumers.
Sparked by new rules
Paving the way for this new avenue of opportunity was a decision by the World Anti-Doping Agency (WADA) to remove cannabidiol from its 2018 list of banned substances.
The decision by the Canada-based agency – which oversees the World Anti-Doping Code used by more than 600 sports organizations, including the International Olympic Committee and U.S. Anti-Doping Agency (USADA) – came after long-running debates throughout the sports community about whether CBD should be listed alongside banned performance-enhancing drugs such as anabolic steroids.
In the months after the WADA change on CBD, the governing bodies that oversee sports such as golf, tennis, rugby and ultimate fighting have allowed their active athletes to use CBD.
Top U.S. professional leagues are changing, too. Just last week, Major League Baseball announced that natural cannabinoids (including CBD and THC) would no longer be considered an abuse drug and would be viewed the same as alcohol.
And earlier this year, the National Football League (NFL) and its players union agreed to review "alternative therapies," including CBD; that review is not yet complete.
Not all athletes are cleared to use CBD, however. WADA anti-doping regulators don't allow CBD products that contain even trace amounts of THC.
In September, the USADA suspended Colorado triathlete Lauren Goss, winner of 11 Ironman titles, for six months after a failed THC test she blamed on a CBD pain cream.
Pure Spectrum
A former college basketball player, kick boxer and mixed martial arts fighter, Brady Bell started Colorado-based CBD company Pure Spectrum in 2015 specifically for those who wanted to take cannabidiol products but could not risk testing positive for THC: fellow athletes, members of the military and people with jobs they'd risk by testing positive for THC.
Bell started building a relationship with USA Triathlon (USAT), a governing body in the U.S. Olympic system. The work paid off in 2019, when USA Triathlon endorsed products made by Pure Spectrum.
Brady said USAT approached Pure Spectrum last year while vetting companies with which to partner.
"We went through a very rigorous vetting protocol that took almost a year to conduct," he said.
"After many meetings and discussion points, we were selected to be their partner. This relationship is a huge win for the entire industry."
Brady said more than 150 athletes currently endorse his company's products as brand ambassadors and roughly 1,400 active service members are his customers.
"They know if they take our products, they're not going to flunk a drug test," Bell said. "We've invested a lot of money in a purification process to ensure THC levels are 0.0 every time."
While many endorse Pure Spectrum's products, Bell said several of them are not paid to do so.
"We benefit them," he said. "If they're recovering quicker, sleeping better and performing better, that's a better ROI for everyone.
"We've gotten to a point where major athletes come to us because we've have proven ourselves."
While not a fan of industry trade shows, Bell said he further gets the word out about his products through online platforms.
CBDMEDIC
Rhode Island-based Abacus Health Products has partnered with former New England Patriots star Rob Gronkowski and Gillette Stadium and Patriot Place in Foxborough, Massachusetts, to promote awareness of its CBDMEDIC brand.
Tanner Puckett, director of brand marketing for Abacus, says the collaboration "demonstrated the organization's support for Rob's efforts to help people everywhere – and athletes in particular – understand the power of CBD to manage pain."
Puckett said Gronkowski learned of CBDMEDIC from his father and found the product effective in facilitating recovery from his injuries. Gronkowski eventually became an investor and part-owner of Abacus.
Broad spectrum and THC-free, the company's Active Sports line is marketed to athletes as a tool to manage pain, enabling them to remain active.
Although the NFL is still resistant to allowing its players to use CBD products, Abacus is working to change that.
"Since Rob is retired, his use of CBDMEDIC as a tool in his recovery is not reflective of the NFL's policies," Puckett said. "Rob has appealed to the NFL and all other professional sports organizations to allow use of CBD."
Mendi
Launched during soccer's Women's World Cup in July, Oregon-based Mendi came to market in August with an online store featuring 100% THC-free products.
Run by CEO Rachael Rapinoe, her twin sister is perhaps the best-known active athlete backing a CBD product.
As most valuable player of the 2019 Women's World Cup tournament and a leader of the champion U.S. team, Megan Rapinoe recently signed on as Mendi's first brand ambassador.
"We think CBD should be added into a supplement routine," Rachael Rapinoe told Hemp Industry Daily.
"We're not trying to disrupt the nutrition market," she continued.
Instead, Mendi aims to disrupt a pain-management industry worth about $84 billion in the U.S. last year alone.
"This is the market to disrupt," she said.
But building out a sports-marketing program takes a lot of work, she said.
The company has created different tiers of compensation depending on the visibility of the athletes and how they'll promote the brand, whether by taking an equity stake in the company or signing up for endorsement and merchandising deals.
"Even if it's a small equity share, it could become astronomical," Rapinoe said.
And because the stigma surrounding CBD products might not always be an issue, Rapinoe said Mendi wants to help "educate and empower athletes to take care of their bodies" using natural products.
"When an athlete puts their stamp of approval on something, it transcends into all sectors of society," she said. "So many more (athletes) are coming out and standing up for this product all the time."