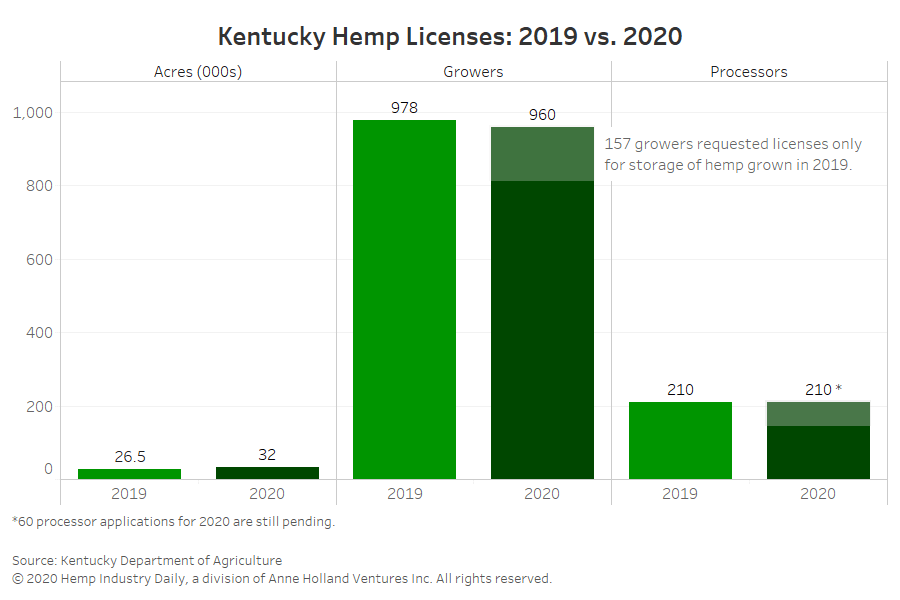 Hemp pioneer Kentucky is reporting licensing fewer hemp growers and less growing acreage for 2020 as state agriculture officials warn prospective producers to "proceed with caution" after a "volatile" 2019.
State agriculture officials in Kentucky on Friday released production data from the 2019 season and revealed the number of licensed growers, hemp processors and handlers as well as licensed indoor and outdoor production acreage for the 2020 season.
Operating under the
2014 pilot program
, the Kentucky Department of Agriculture has licensed 960 hemp growers to grow on up to 32,000 acres and 4.6 million square feet of greenhouse space this year. That's down from the 1,047 growers and more than 50,000 acres that were
licensed
for Kentucky hemp production in 2019.
According to the KDA, the 2019 season ended up with 978 licensed growers and 26,500 acres that farmers reported growing.
Of the 960 licensed growers for 2020, 157 have requested licenses not to grow, but because they intend to store hemp from the 2019 harvest, the state agriculture department said.
The state has issued licenses to 150 hemp processors and handlers for 2020 but is waiting on the completion of an additional 60 applications. This compares to 210 licensed processors in 2019.
Kentucky's online application portal is open year-round for processors and handlers, which the KDA reviews on a rolling basis, according to the department. The deadline for growers to submit applications was extended beyond the November deadline to March 15 to allow more growers to apply.
"Hemp continues to draw much attention, and these new numbers reflect an industry that is still maturing," said Kentucky agriculture commissioner Ryan Quarles in a statement.
Quarles said the U.S. hemp industry continues to evolve due to ongoing supply chain issues and uncertainty to a lack of regulatory framework for hemp-derived nutraceutical or food products.
The state has seen four large hemp businesses file for bankruptcy protection since the beginning of 2020.
According to an end-of-year filing with the KDA, licensed hemp processors and handlers reported:
$193.9 million in gross product sales in 2019, compared with $57.75 million in 2018.
$207.3 million spent on capital investments in 2019, compared with $23.4 million in 2018.
$51.3 million paid to Kentucky farmers for harvested hemp materials in 2019, up from $17.75 million in 2018 and $7.5 million in 2017.
1,304 people employed in 2019.
"While these numbers show growth, they likely do not account for the national volatility in the hemp market over the last few months," Quarles said.
"It is important for growers and processors to remember what we have been saying for years: proceed with caution, as you would in any new business. We urge everyone to move forward in a cautious manner, especially in the face of the uncertainty from FDA."
Laura Drotleff can be reached at laurad@staging-hempindustrydaily.kinsta.cloud