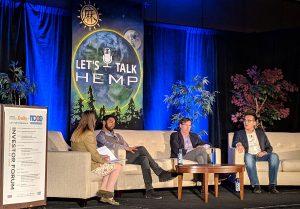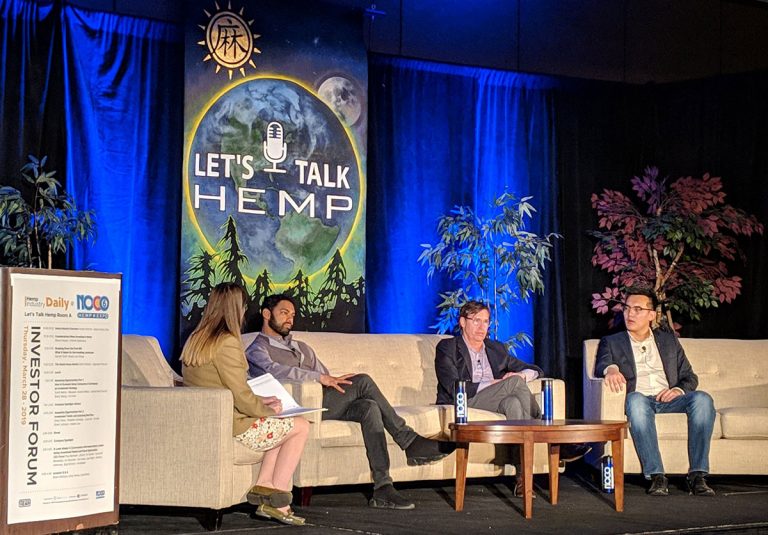 Uncertainties surrounding regulations – both at the state and federal levels – and a lack of recent historic data in the United States are factors that could discourage investors in the American hemp industry, attendees at a Denver forum heard last week.
However, savvy investors can still find opportunities in "one of the most unique opportunities in the U.S. agriculture industry in decades," according to Shawn Hauser, a partner at Denver cannabis law firm Vicente Sederberg.
About 300 people, including investors, entrepreneurs and lawyers, gathered at the one-day NoCo Investor Forum, which was part of the NoCo Hemp Expo event March 28-30.
While hemp was delisted from the Controlled Substances Act as part of the
Farm Bill
passed in December 2018, there is still confusion over exact regulations around the plant and some of its derivatives.
And that confusion probably won't be cleared up anytime soon.
Here are some key takeaways from the NoCo Investor Forum:
Get informed on regulations
Despite the overall uncertainty in the hemp sector, investors need to "identify states that are more robust and affirmative" in terms of regulating the plant, Garrett Graff, a senior attorney at the Denver-based Hoban Group law firm, told attendees.
This is even more important given the reality of a slow-moving U.S. Food and Drug Administration (FDA).
"The FDA – your tax dollars at work – does not move quickly," he said, adding it could take "multiple years" for complete regulation to be enforced at the federal level.
Hauser at Vicente Sederberg agreed with Graff's assessment.
"There may continue to be a patchwork of state regulations – this is a fundamental consideration for investors," she said.
Look to diversify
While the current hot topic in hemp circles is CBD, there are actually multiple opportunities for investors in the industry.
"Investors need to diversify – it's not just about CBD," Graff said. "CBD is only a quarter of the hemp market, and it has taken off, but some of these other applications are still on the ground floor."
Investment professionals agreed.
"Market saturation (of CBD) is very quickly coming," said Emily Paxhia, managing partner at San Francisco-based Poseidon Asset Management.
"We cannot be that reductionist that we just talk about CBD."
Charles Wellso, co-founder of Colorado-based investment company Sanitas Peak Financial, said a lot more institutional investors have come through his door in the past six months.
'The ducks are quacking, everyone's talking about CBD," he said. "A few years ago, it was like looking at a koi pond and being able to see each new fish.
"There is a lot more noise in the space now."
Wellso also noted there is concern over the short period of time between CBD-focused companies forming and trying to go public.
Global market
While the United States may dominate the global CBD market, accounting for about half all sector sales worldwide, other areas of the world tend to focus on alternative uses of hemp, potentially opening up different markets for investors.
That's according to Brent Williams, managing member of Tennessee-based consulting firm Highwater Financial.
China, for example, dominates hemp textiles. The country has 2 million soldiers, each of whom has four hemp-based uniforms, Williams told the conference.
In Europe, hemp is most widely used in industrial applications such as car parts, semiconductors and construction.
A total of 24 countries worldwide cultivate hemp fully legally, but laws are not cohesive, Williams noted. Other countries have pilot programs.
Canada is the largest grower with 138,000 acres in 2017, according to the latest data available. About 100,000 of those acres are in two provinces – Alberta and Saskatchewan – and 77% of the product is exported.
The European Union devotes about 105,000 acres to hemp, with France and Estonia accounting for about half that figure.
China officially plants about 45,000 acres, but the actual total is widely thought to be much larger than that.
"China is the sleeping giant – maybe not so sleepy," said Sumit Mehta, CEO of San Francisco-based investment firm Mazakali.
In addition, more cohesive global regulation of hemp and hemp-derived products in the future could affect supplies into North America, said Graff of Hoban Law.
"This is going to have an impact on the domestic marketplace," he said, urging domestic players to "flip that on its head and get a role in the global supply chain."
Sector opportunities
Away from CBD, investors have multiple opportunities to look at, with estimates of potential applications in the hemp space as high as 50,000.
Genetics, processing and distribution are interesting plays, investors said, as well as technological innovations linked to the hemp plant.
"Hemp is planted by hand, but maybe that hand does not belong to a human," said Mehta from Mazakali.
Biotech – including looking at cannabinoids beyond CBD – biofuels and synthetic cannabinoids are also interesting sectors for investment.
Entrepreneurs in the hemp space also pointed to the importance of brands.
The important thing to remember, according to Mehta, is that "CBD mania" is not the only game in town.
"I think in the future we will look at this as a bubble in hindsight," he said with a nod to previous boom-and-bust periods such as the dot-com era of the early 2000s.
And while innovation is to be encouraged, it also pays to focus on core strengths, argued Paul Benhaim, CEO of hemp products company Elixinol Global.
"I am interested in what is working, not what may work."
Clients will dictate to companies, he added. "We don't choose, we ask our customers."
Red flags
The industry's focus on CBD is leading to concerns over some valuations, investors warned.
Paxhia at Poseidon referred to some "very exuberant valuations coming down the pike."
There must be more realistic expectations on the part of companies looking for investment in the space, said Wellso at Sanitas Peak Financial.
"Sometimes it is too pie in the sky, we are looking for something that is grounded," he said. "Be realistic, defend your numbers."
Entrepreneurs need to be ready over the next three years for increasing involvement from institutional investors, said Brian Sheng, a general partner at the California-based Arcview Group.
His colleague, Louis Han, director of deal flow at Arcview, said there is a big difference between a company being business ready and investment ready.
Companies should also be prepared to defend their positions and not be ready to give away too much.
"Giving up the house is a giant red flag, as is the opposite," Mazakali's Mehta said.
And beware of any company that says it offers a unique product.
"I don't want a founder who is scared of the competition, who says we are the first, we are the only," Poseidon's Paxhia said, adding that while entrepreneurs need to be self-confident, there is a fine line between that and hubris.
There also must be flexibility if, for example, regulations were to change with companies needing a "what happens if?" approach, according to both Paxhia and Mehta.
"If your business plan is predicated on nonchanging regulations, then we need to have another conversation," Mehta added.
Nick Thomas can be reached at nickt@mjbizdaily.com