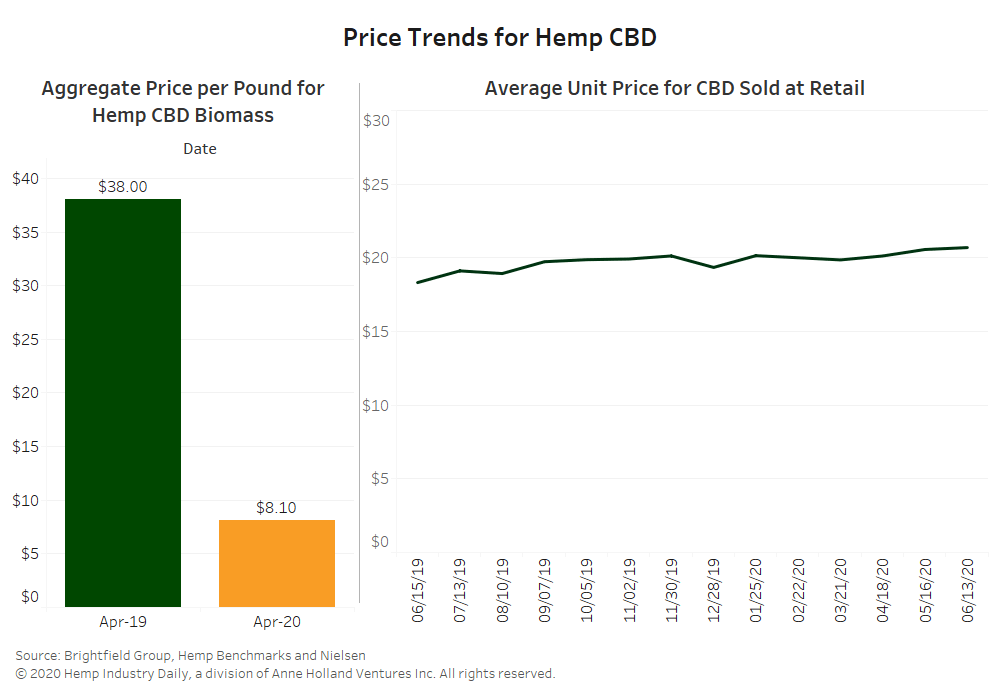 CBD products in the U.S. have gotten cheaper over the last year, driven by falling prices for hemp biomass, reduced production expenses, and plans to reach consumers with less disposable income as unemployment numbers soar amid COVID-19.
The aggregate price of hemp CBD biomass dropped by 79% from April 2019 to April 2020, according to Hemp Benchmarks, a pricing and tracking agency. That means prices decreased from $38.00 per pound to $8.10 per pound.
"We definitely have noticed that the biomass pricing has decreased over time," said Margaret Richardson, chief compliance and legal officer for Global Widget, in Tampa, Florida. "So obviously that reduces the cost in the supply chain. So we want to have that opportunity to pass that value onto the customer."
Global Widget is just one of several companies across the country that have reduced prices the first half of this year. At Global Widget and other companies, CBD production costs have decreased because they have more efficient extraction and manufacturing facilities, according to a July report from Brightfield Group, a cannabis research and data firm.
"In March, with kind of everything that happened, one of our decision points was, 'How can we make sure that our products were still accessible and affordable?'" Richardson said.
Executives at Charlotte's Web, the biggest brand in over-the-counter CBD, told investors in May that one of the issues they wanted to address "a lack of accessible price points." Charlotte's Web reduced list prices 15% to 20% across its portfolio, a move that was made possible by lower production costs, the company said during a quarterly earnings call.
At Lazarus Naturals in Seattle, prices for the business' CBD capsules, topicals, and softgels have all decreased. To cite a few examples from the store:
• A bottle of 200 50-milligram capsules went from $360 to $200.
• 4 ounces of topical coconut oil went from $50 to $42.
• 20 100-milligram softgels went from $90 to $50.
"I see price compression due to increased competition and customer knowledge, the maturation of the marketplace, and decreasing costs for CBD and cannabinoids across the board," said Sequoia Price-Lazarus, founder and CEO of Lazarus Naturals.
However, he said his company reduced prices "because it's the right thing to do in support of our mission to provide access to quality CBD for all."
New sales channels
The price drops can also help CBD makers tap new sales channels that attract value-oriented consumers.
CV Sciences, a San Diego CBD maker, announced a new product line this week to get into convenience stores to attract new customers with more affordable products.
The new CBD product line, called Happy Lane, which will sell for less than $20, said Joseph Dowling, CEO of CV Sciences. He said in a statement that the price is set to be "an entry point we believe provides access to new CBD customers."
The effort comes as the manufacturer is seeing sales decline, reporting $5.4 million in revenue for second quarter ending June 30. That's down from the $8.3 in revenue the company reported in the first quarter ending March 31.
Not all trickling down
The falling CBD prices are showing up in direct sales faster than through mass-market retailers, according to measurement and data analytics company Nielsen.
Tracking prices for some 2,500 CBD products in food, drug and convenience stores, Nielsen noted an average product price of $20.69 in a four-week period ending June 13.
Price compression is "not as prevalent in our brick-and-mortar retailers," Nielsen analyst Rick Maturo told Hemp Industry Daily in an email.
He noted that CBD manufacturers have higher margins when selling directly to consumers, giving them more pricing flexibility when inputs become cheaper.
Also, he said, discounting when selling directly to consumers can be used as a marketing tool "to get consumers on the site and signed up for a subscription," while brick-and-mortar retailers don't try to drive customers online.
Signs for worry?
Price-Lazarus predicts the lower prices across the country will change the CBD industry landscape.
"That will lead to a winnowing of the major competitors and will put margins at risk for many larger companies, which in turn lead to many bankruptcies and a new playing field," he said.
In its July report, the Brightfield Group said that "lower prices will help draw new consumers into the CBD market." But that could also stifle the market's growth, the report said.
"Compared to 2019, more middle-income consumers (household income of $40,000 to $75,000) are using CBD in 2020 and now account for nearly one-third of CBD consumers," according to the report, which concluded that "CBD sales volume will continue to rise as new consumers enter the market across a broad range of product formats, partly thanks to more friendly pricing.
"However, this ongoing price compression will constrain the overall value growth of the market."
Ivan Moreno can be reached at ivanm@staging-hempindustrydaily.kinsta.cloud.