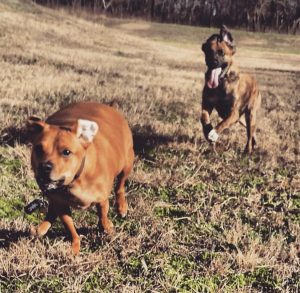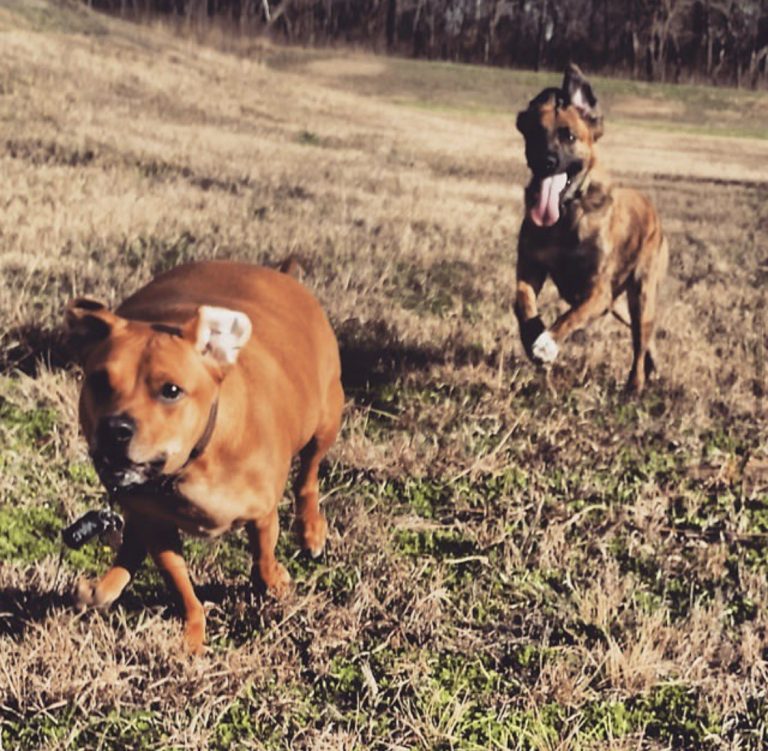 CBD has already changed the game for makers of dietary supplements and beauty products.
Now hemp-derived CBD has the opportunity and momentum to do the same for the enormous pets market.
Two-thirds of American households currently have pets, and according to data from market analytics giant Nielsen Global Connect, hemp-CBD consumers are 10% more likely to have a pet than non-CBD consumers.
Nielsen projects that by 2025, hemp-CBD dog food and treats will increase by threefold among current users of non-CBD products and nearly that much among all dog owners. Dog vitamins and supplements with hemp-derived CBD are on track to more than double among dog owners and current users of traditional consumer packaged goods, non-CBD products.
Cat food and treats infused with hemp-CBD are on track to increase more than sixfold among cat owners and consumers buying consumer packaged goods pet products, while cat owners and buyers of traditional cat products stand to triple their purchases of hemp-CBD vitamins and supplements formulated for cats.
If the FDA approves this use within the next year, and more mainstream retailers and veterinarians embrace the category, hemp-CBD products could represent one in four animal health supplements by 2025, Nielsen predicts.
Because of these numbers, Nielsen forecasts that hemp-derived CBD products formulated for pets will generate $175 million to $225 million in annual sales across all channels by 2025, signifying a threefold increase in five years.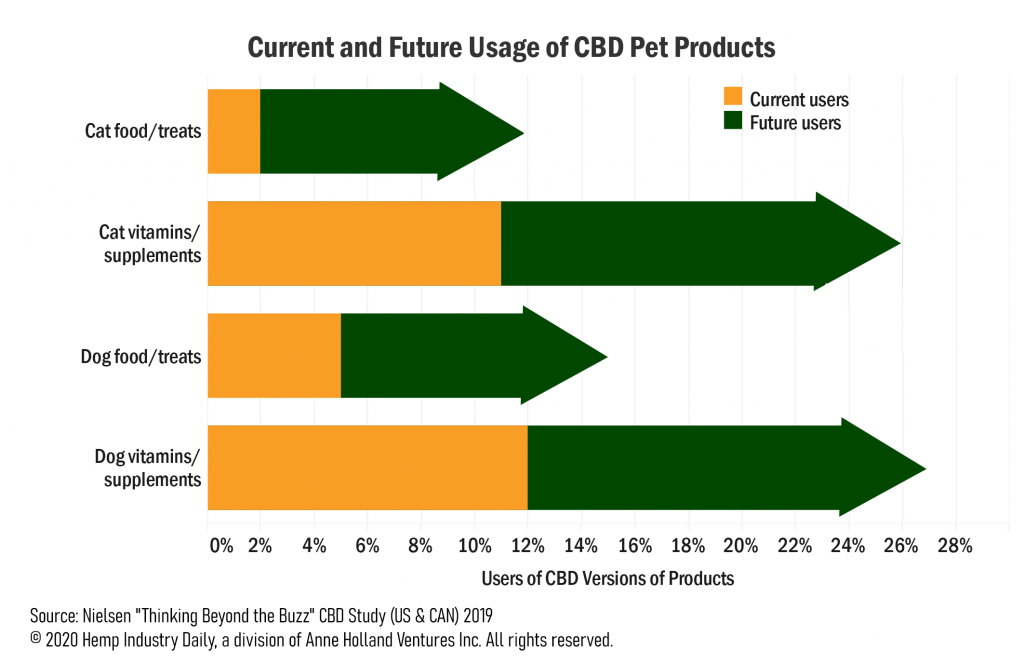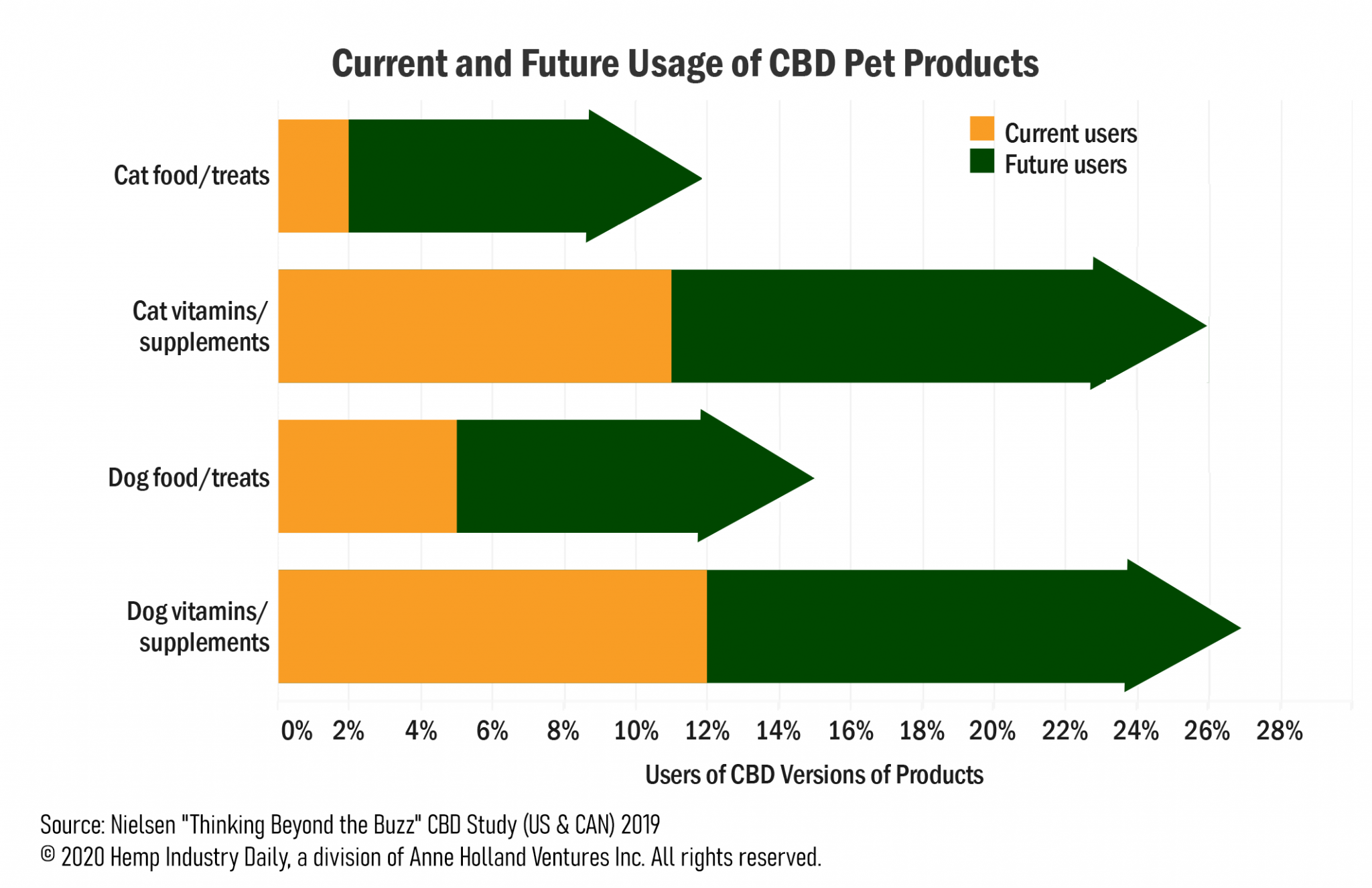 The sector will represent roughly 3% of the expected $6 billion to $7 billion hemp-derived CBD consumer-products category.
That is a remarkable increase in recent years, considering that sales of hemp-derived CBD products formulated for pets jumped from almost zero in 2016 to roughly $25 million in 2019, according to Nielsen. In 2020, sales are expected to soar to $40 million-$60 million, representing some of the largest growth seen to date in hemp-CBD categories.
Pet spending continues to grow
A national survey by the American Pet Products Association (APPA) shows that spending on pet products continues to break records year-over-year and that trend is not slowing down. The APPA found that Americans spent a record-breaking $72.6 billion on their pets in 2018. That was an increase of more than $3 billion over 2017 and $6 billion from 2016—both record-breaking years in their own right. The 2018 figure includes money spent on food, supplies, over-the-counter medications, veterinary care, live-animal purchases and other services.
The areas where consumer spent the most in 2018, according to APPA, were:
Pet food.
Veterinary care and supplies.
Over-the-counter medicine.
Pet owners in all demographics view their pets as irreplaceable family members, which is why there is continually "such incredible growth" in all aspects of the pet-care industry, according to APPA President and CEO Bob Vetere.
Considering that younger consumers represent the largest pet-owning demographic, that spending trend likely will continue. This group is willing to pay more for high-quality products and services to enhance their pets' lives.
Navigating the pet sector
Hemp-derived CBD still isn't technically legal for animal consumption under federal and state laws because it remains unregulated by the U.S. Food and Drug Administration. By the FDA's definition, CBD is not "generally recognized as safe" as an ingredient in human or animal food or dietary supplements, and the agency has continued to send warning letters to pet-food manufacturers that have made unsubstantiated medical claims about their products.
Nielsen's research reveals that a lack of regulation and efficacy are key barriers for consumers not already buying hemp-CBD pet products.
Still, CBD companies continue to roll out products formulated for animals—particularly for small animals kept as pets such as cats and dogs. Retailers ranging from small, independent pet stores to mass-market giants carry these items because customers want them. And while veterinarians are strictly prohibited from prescribing hemp-CBD products to their patients, they also recognize the potential value of hemp-CBD for pets.
To help you navigate the growing hemp-CBD pet products market, Hemp Industry Daily is pleased to present "Sector Snapshot: Insights on the Growing Market for Pet CBD Products," in collaboration with Nielsen Global Connect. This is part of an ongoing partnership that aims to provide valuable consumer data and research for the hemp and CBD industry.
Illustrated with photos of pets in the Hemp Industry Daily and Marijuana Business Daily staff family, this report provides data and insights into:
Estimated sales of hemp-CBD pet products.
Demographics for purchasers of the products.
Federal regulatory outlook for the category.
Market penetration.
Pet ailments likely to be treated with hemp-CBD products.
Decision drivers and barriers for customers.
Price of conventional pet products compared with hemp-CBD offerings.
Retail trends.
Top brands investing in hemp-CBD pet products.
Insights on CBD for pets from the American Veterinary Medical Association.
Download the report here.