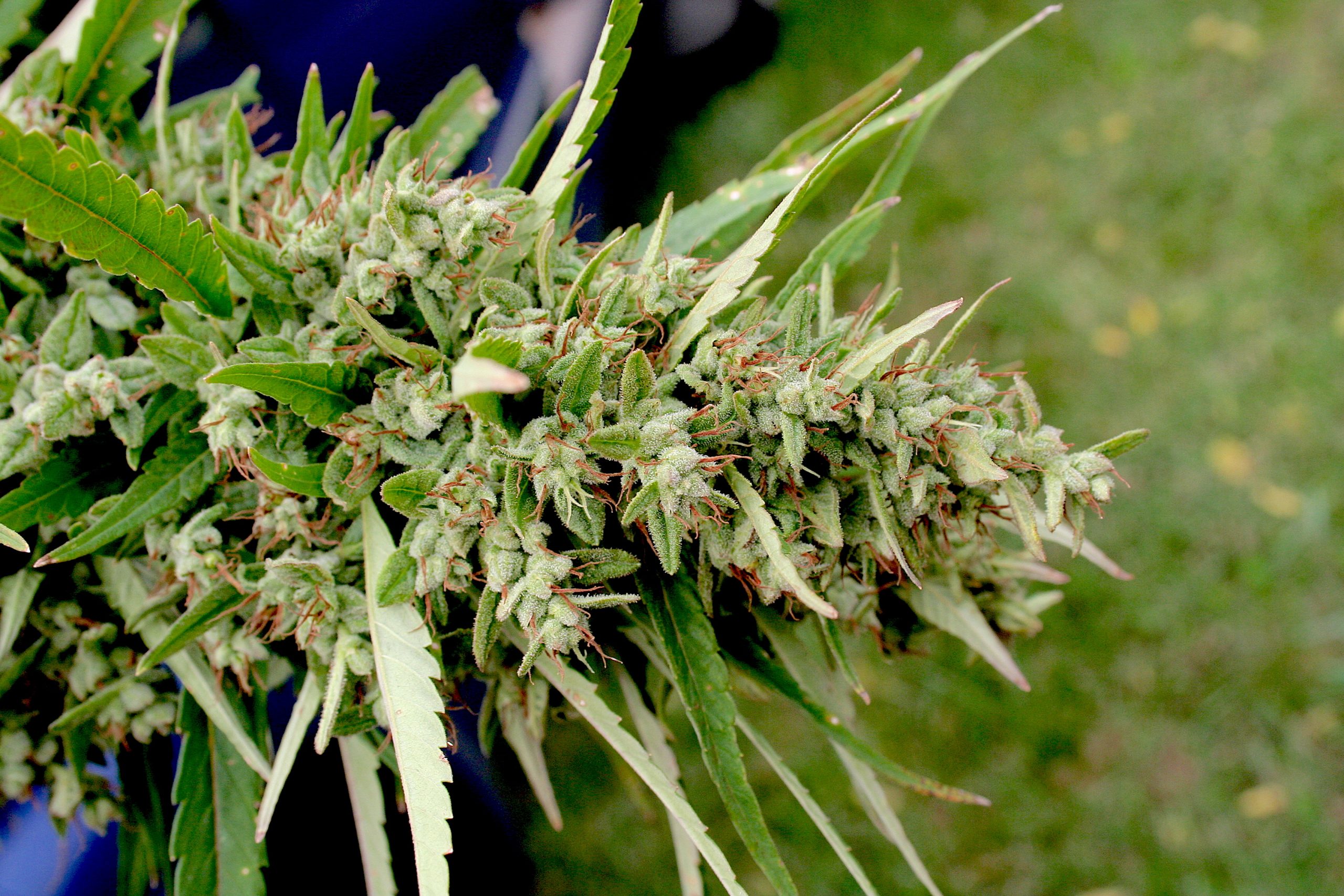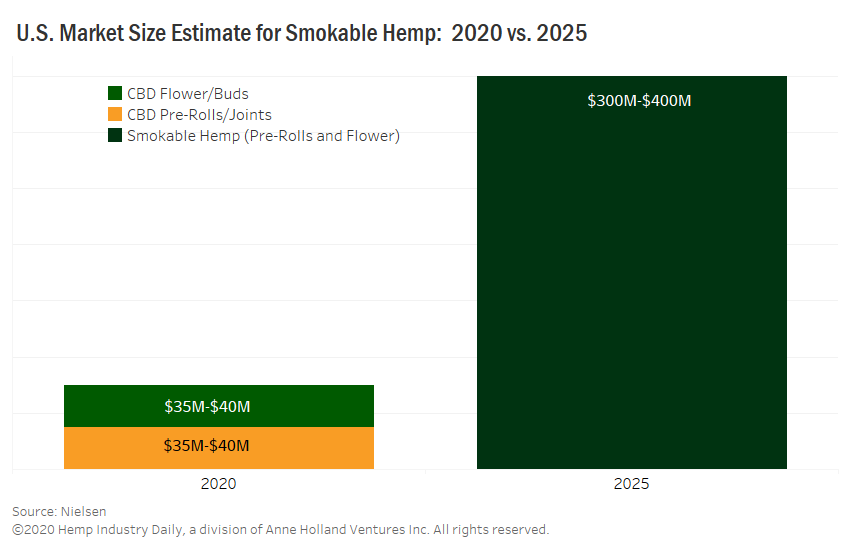 Hemp operators say smokable hemp is one of the fastest-growing and most lucrative segments in the nascent hemp and CBD industry – and market analysts agree, with expectations that the market will experience five-fold growth in the next five years.
For 2020, market researchers at Nielsen project sales in the current smokable-hemp market to reach $70 million to $80 million. That includes categories such as loose CBD flower, hemp-CBD pre-rolls, cigars and other inhalables.
Breaking that into categories, the markets for smokable-hemp CBD flower and smokable-hemp-CBD pre-rolls, which include hemp cigarettes and cigars, are valued at approximately $35 million to $40 million each.
Comparatively, total sales of all hemp-derived CBD consumer products in the U.S. were around $1.2 billion for 2019.
Nielsen projects that total sales of hemp-derived CBD consumer products in the U.S. for 2020 will be $1.7 billion to $2 billion. The average of that range, $1.85 billion, would represent a 54% increase in sales from 2019 to 2020.
By 2025, Nielsen expects the smokable-hemp market to reach $300 million to $400 million, representing roughly 5% of the potential $6 billion to $7 billion hemp-derived CBD consumer products category.
Research shows that demand for hemp-derived CBD continues to grow, even though market projections have fluctuated based on economic factors, including disruption caused by:
The coronavirus pandemic.
A the lack of federal regulatory clarity around CBD.
In fact, demand for hemp-derived CBD increased during the pandemic, likely attributable in part to growing mental-health issues from pandemic-induced anxiety and other maladies.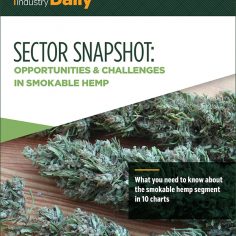 Smokable-hemp products, while controversial because they have a similar look and smell to other cannabis products, are said to offer faster delivery of the effects of hemp-CBD for consumers. Because of this, smokable-hemp-CBD products represent a significant share of the overall hemp-CBD market.
But confusion continues around the category. With no federal regulation and a patchwork of state laws, there are also no standard recommendations for retail, packaging and labeling.
Until now, there also has been little clarity on where the market is headed, how big it's expected to grow or details about who is purchasing smokable-hemp products.
That's where a new report, "Sector Snapshot: Opportunities & Challenges in Smokable Hemp," comes in.
Hemp Industry Daily has partnered with Nielsen Research to provide exclusive data on hemp and CBD retail markets and consumer purchasing behaviors around these products.
This report is a comprehensive look at the opportunities and obstacles that exist in the smokable-hemp market, including insights on:
The current market value for smokable hemp.
Consumer demographics and spending analysis for smokable-hemp products.
Comparative consumer spending on smokable-tobacco products.
The potential market value for smokable-hemp products.
Packaging and retail guidance.
States that currently ban smokable hemp.
The federal regulatory outlook.
These tools will help you assess where and how to focus your business plans in the smokable-hemp market and serve as resources to help you along the way.
Download the smokable hemp report here.