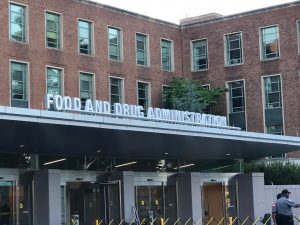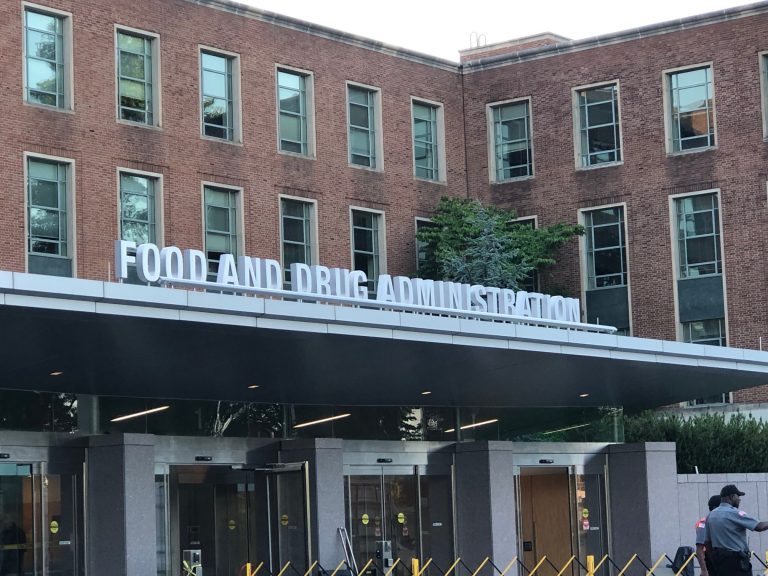 Federal food and drug regulators this week highlighted the challenges they're facing in regulating CBD and other cannabis-derived products, emphasizing the knowledge gaps that still exist due to a continued lack of data regarding the science of CBD and other cannabinoids.
Kaveeta Vasisht, director of the FDA's Office of Women's Health and associate commissioner for women's health, said because CBD products are ubiquitous in the consumer market and many of them are marketed toward women, the agency called a multidisciplinary conference Thursday on CBD and sex and gender differences to highlight both existing and needed research to address questions surrounding these products.
"As women are generally the principal healthcare consumers in the U.S., understanding sex and gender differences between women and men must be at the forefront of our minds," Vashist said.
Vasisht said a deeper understanding of gender differences in response to cannabis products like CBD will enable the FDA and the medical community to provide more personalized care.
Douglas Throckmorton, the deputy director for regulatory programs at the FDA's Center for Drug Evaluation and Research, outlined the agency's challenges in regulating cannabis-derived products and its plan for moving forward.
Throckmorton stressed that the FDA is evaluating the effects of not just CBD, but also other cannabis-derived products, including many chemical compounds of interest – THC, minor cannabinoids such as CBN, CBG and non-cannabinoid compounds such as terpenes.
"FDA's responsibilities are over the entire spectrum of the products derived from cannabis and the FDA must be prepared to regulate them in the most appropriate ways," Throckmorton said.
With regard to drug development, the FDA has approved four cannabis-derived drugs. The most recent, Epidiolex, a CBD isolate to treat epilepsy, is the first derived from live cannabis plants.
The FDA is going to continue to support the development of cannabis-derived novel drug products for the U.S. public; however, the process of regulating the cannabis space is not easy, Throckmorton said.
Challenges for regulation
According to Throckmorton, there are four significant challenges facing the agency in cannabis regulation:
Logistics. CBD is everywhere: It's found in both medical products and end-use consumer products. "Some products like drugs, we have a clear regulatory authority and a pathway," Throckmorton said. "Others, there are questions that are outstanding that we're seeking to resolve."
Evolving legislation. The 2018 Farm Bill gave specific authority over the regulation of hemp and hemp production to the U.S. Department of Agriculture while removing it from the Controlled Substances Act, which is regulated by the U.S. Drug Enforcement Agency, but marijuana is still a controlled substance regulated by the DEA. The Farm Bill "explicitly retained" the FDA's authority over hemp-derived products under the Food, Drug and Cosmetic Act, so "all eyes switched to the FDA because the regulation of hemp products became a paramount interest to many parties," Throckmorton said. The FDA, in turn, began working on how to best regulate the space, understanding the strong public health interest in developing and marketing cannabis-derived products appropriately, Throckmorton said. Under the FDA's authority, he said, cannabis and its derived products are subject to the same authorities and requirements as FDA-regulated products containing any other substance.
Increased legality of cannabis. During the 2020 election, "there was expanded interest in the availability of cannabis-derived products in a number of states," Throckmorton said. Two states legalized medical marijuana and four states approved recreational use, accounting for a new total 35 states currently having some level of cannabis legality, according to Marijuana Business Daily.
Scientific uncertainty. There are too many unknowns about cannabinoids and the other compounds found in hemp, Throckmorton said, including:
Effects of cumulative and long-term human exposure.
Effects of CBD in susceptible populations, such as children, pregnant and lactating mothers and the elderly.
Reversability of adverse nonclinical effects.
Pharmacologic issues, such as how CBD interacts with other drugs, toxicology of the substance and metabolic profiles across toxicology species.
Impact of excipients and fillers used in marketed CBD products on bioavailability, i.e. topicals, transdermal patches and smoking and vaping products.
Potential consequences of the use of CBD on the liver, male reproductive system and the central nervous system, based on published studies from the Epidiolex Development Program.
To address these challenges, Throckmorton said, the FDA formed the CBD Working Group, made up of a cross-agency team that includes:
Center for Food Safety and Applied Nutrition
Center for Drug Evaluation and Research (Botanical Review Team and Office of Pharmaceutical Quality)
Center for Biologics Evaluation and Research
Center for Devices and Radiological Health
Center for Veterinary Medicine
National Center for Toxicological Research
Center for Tobacco Products
Coordinated by the Office of the Commissioner, reporting to the Office of Regulatory Affairs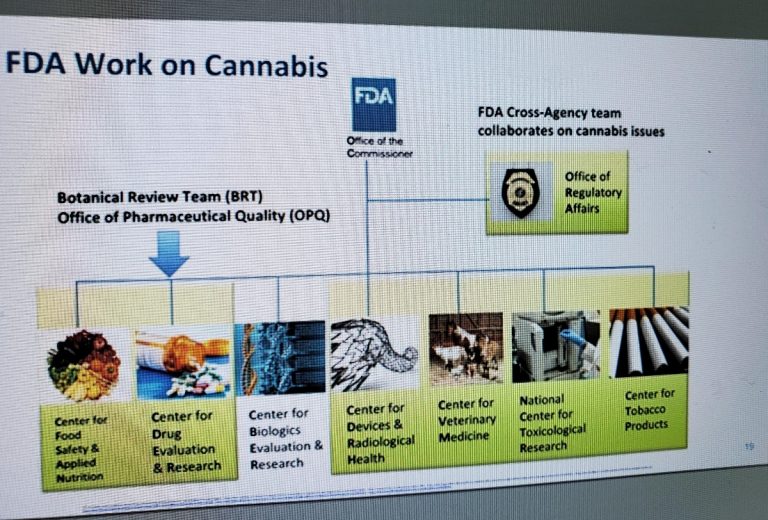 "This is all a critically important area for us. We're all contributing scientific thoughts to help find the right way forward with regard to the efficient regulation of cannabidiol and, and cannabis-based products," he said.
FDA's plan
According to Throckmorton, the CBD Working Group is working through a work plan to:
Develop a comprehensive research agenda that includes stakeholder input to address data gaps related to preclinical and clinical data needs identified based on scientific review of CBD safety data.
Evaluate potential new pathways for CBD products, while evaluating issuance of an enforcement policy and continuing with warning letters and enforcement as needed to address public health risks.
Respond to mandated reports to Congress.
Continue to engage and communicate with consumers, federal and state regulators and stakeholders.
No timeline for the plan was provided.
The FDA is "aware of the intense interest" in CBD and other cannabis-based products, he said, and part of its responsibility is to be responsive to and engage with Congress, industry stakeholder groups and the public.
"We are actively exploring regulatory pathways for lawful marketing of both cannabis products or drugs, and non-drug cannabis products, understanding the importance that they have for the U.S. marketplace," Throckmorton said.
However, continuing "thoughtful enforcement," including sending warning letters to manufacturers who are marketing CBD and other cannabinoid products with unsubstantiated medical claims, is "an important element" of what the FDA needs to do as the agency works to identify next steps to prepare for cannabis-based products, and the FDA is committed to protecting and promoting public health, including taking enforcement actions when necessary, Throckmorton said.
Next steps
The meeting was "an important step to help us understand both the existing scientific research and the knowledge gap regarding sex and gender differences in use and responses to CBD and other cannabinoids," Vasisht said.
She encouraged attendees to continue to think about sex and gender considerations in future work and research surrounding CBD and other cannabinoids, and "recognize the impact of not doing so."
Laura Drotleff can be reached at laurad@staging-hempindustrydaily.kinsta.cloud