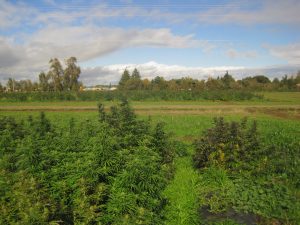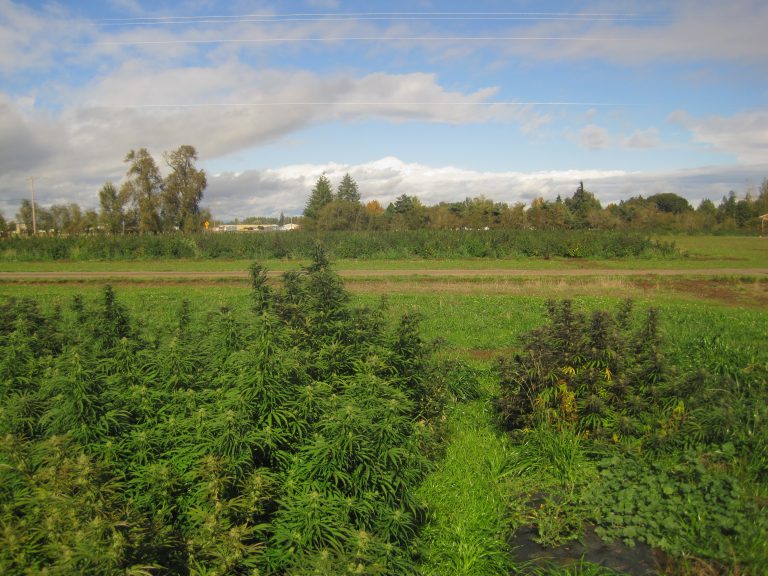 Canada's hemp market is about to skyrocket under new regulations that allow the nation's farmers to use the plant's flower for cannabidiol extraction.
The proposal has farmers and cannabis companies scrambling to capitalize on the change.
"This changes everything," said Jenn Larry, president of CBD Strategy Group, a Montreal-based consulting firm for cannabis companies.
"We've been growing hemp forever, and we've been throwing out the flowers forever, but now we can work with the whole plant. Right now, all eyes are on Canada when it comes to hemp."
Canadian hemp currently can be used only for seed and fiber, with the leaves and flower unusable for CBD extraction without a special license from the national health agency.
The proposed hemp regulations in Canada's larger marijuana plan – expected to become law next summer – would also allow hemp farmers to sell the flower and leaves to licensed processors in the marijuana market.
Because only trace amounts of cannabidiol are found in hemp stalks and seeds, much of the value of Canada's hemp crop currently goes in the trash.
Market estimates for the value of hemp-derived CBD in Canada are limited, but researcher Jan Slaski of InnoTech Alberta has predicted the overall Canadian hemp industry could be worth $1 billion a year by 2023.
Canada grew about 120,000 acres of hemp this year, 10 times the acreage of hemp in the United States.
Canada's expanded hemp rules are a direct response to the global explosion of the CBD market, said Geoff Whaling, head of the National Hemp Association, which is based in Washington DC but has members in Canada and other countries.
"They're actually a response to what we're doing here in the United States," Whaling said. "The Canadian hemp market has been limited to mostly seed and seed oil, and they've been missing out."
Marijuana crossover
Don't think Canada's marijuana industry hasn't noticed the change in the nation's hemp rules.
The hemp expansion not only gives farmers another product to sell, it gives CBD producers a huge new source of raw plant material.
"We can be in an excellent position to get a whole lot more CBD out of this product," said Jordan Sinclair of Canopy Growth.
The Ontario marijuana company recently announced an acquisition that will give it up to an additional 2,000 acres for hemp production – and that's on top of an earlier purchase of a hemp-foods business.
Canopy Growth plans to use marijuana equipment it already owns to extract CBD from hemp. Other cannabis companies will do the same, said Richard Sharp, editor of The Hemp News in Toronto.
"It's the starting gun for the neutraceutical industry when it comes to Canada for CBD," Sharp said.
No free market
Canadian hemp farmers will be able to sell flower and leaves for CBD extraction – but only to the few dozen entities licensed to process and sell CBD.
The proposal limits the sale of hemp flower and leaves to "intra-industry" transactions.
In other words, a licensed producer of industrial hemp would need additional permits to process and sell CBD, or else the farmer could sell the flower to someone who does have those licenses.
"There's an extreme regulatory burden that's still being suggested," said Kim Shukla, executive director of the Manitoba-based Canadian Hemp Trade Alliance.
"It's important that farmers are able to sell their crops however they choose, and that is not possible under this proposal."
Another component of the hemp legislation worth watching is something it doesn't include – any mention of exporting CBD.
"You're going to see a lot of lobbying for import/export potential" before the proposed rules become law next year, Sharp predicted.
Beyond Canada
Canada's new hemp regulations could have ripple effects outside the nation's borders even if exports aren't addressed.
That's because U.S. hemp guidelines are expected to get an update in the 2018 Farm Bill. In addition, Canada's hemp changes could spark more interest in a languishing proposal to remove hemp from the list of controlled substances in the United States.
"It will not take a considerable amount of time for regulators to look at what is happening at Canada and think, 'Well, why don't we have that?'" Whaling said.
Another big international effect of Canada's hemp expansion relates to seed development.
Because Canada has a long list of state-certified hempseeds guaranteed to produce THC levels below 0.3%, the government has no need to test hemp crops to ensure they're not marijuana.
The lack of such state-certified cultivars in the United States is a major roadblock because testing requirements add an expensive burden to cash-strapped state departments of agriculture, Whaling said.
Canada's hemp expansion could spark U.S. agriculture officials to ramp up development of certified seeds, he added.
Finally, a boom in hemp-derived CBD production in Canada is likely to force down U.S. prices, even without clarity on exporting CBD products.
"Prices in the U.S. are very high," Whaling said. "Competition is going to force those prices down."
Kristen Nichols can be reached at kristenn@mjbizhemp.kinsta.cloud
To sign up for our weekly Canada marijuana business newsletter, click here.