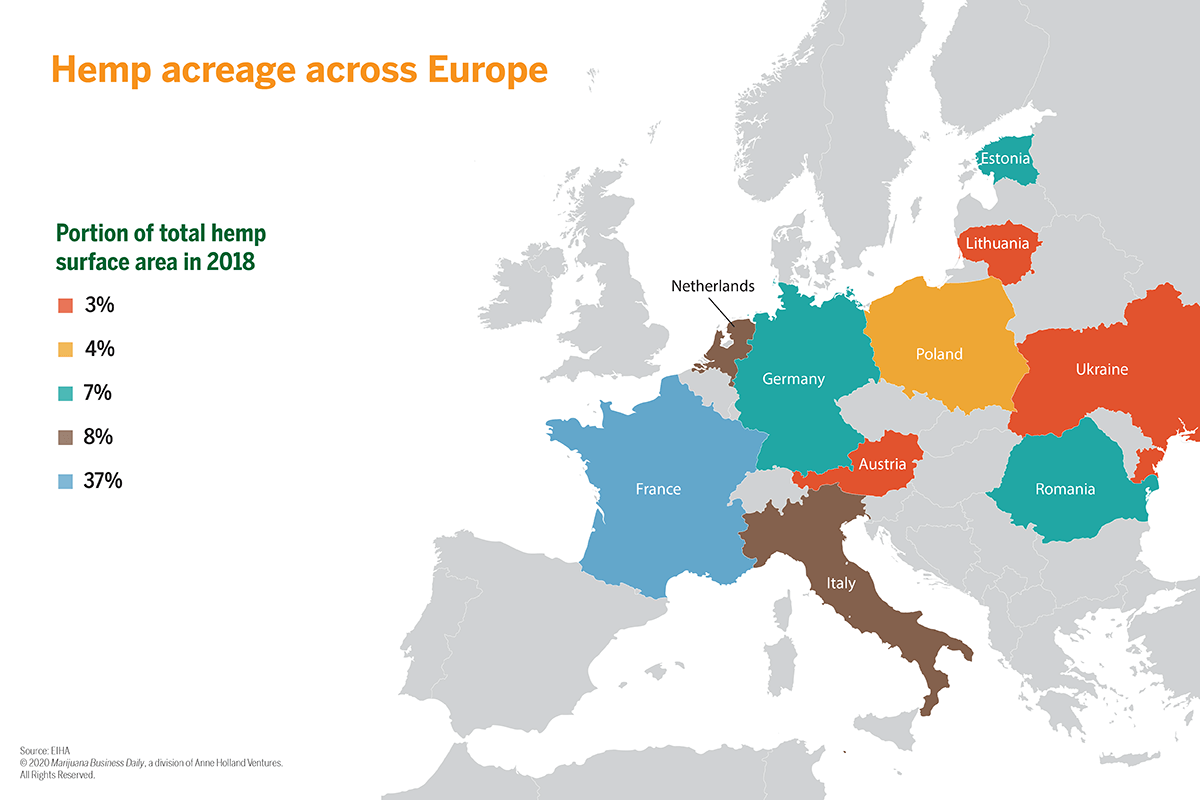 France, Italy and the Netherlands are leading the pack when it comes to industrial hemp cultivation in Europe, according to the most recent data available.
More than 50% of industrial hemp in Europe was planted in those three countries, and the amount planted across the continent rose 3.3% in 2018 compared to the previous year, according to a survey by the European Industrial Hemp Association.
The EIHA, which conducted the member survey during the second quarter of 2019, used the responses from 65 businesses and associations and data from government authorities to examine hemp cultivation and how the crop's seeds, leaves and flowers were used across 28 European countries.
The results were released last week.
More than 50% of the continent's hemp was planted in three countries: France, Italy and the Netherlands.
France dwarfed other European countries in hemp cultivation, with roughly 17,900 hectares (44,232 acres) planted in 2018.
Italy and the Netherlands came next with 4,000 and 3,833 hectares, respectively.
The top 10 European countries by hemp surface area:
France: 17,900 hectares.
Italy: 4,000 hectares.
Netherlands: 3,833 hectares.
Estonia: 3,538 hectares.
Romania: 3,400 hectares.
Germany: 3,114 hectares.
Poland: 1,708 hectares.
Austria: 1,583 hectares.
Ukraine: 1,500 hectares.
Lithuania: 1,470 hectares.
The cultivation of industrial hemp in Europe is regulated differently by each European country and has been largely influenced by the United Nations' Single Convention on Narcotic Drugs from 1961.
The treaty defines cannabis as the flowering or fruiting tops of the cannabis plant from which resin has not been extracted and limits its possession, use, trade, distribution and manufacture.
France, for example, has prohibited the use of hemp flower according to its rigid interpretation of the convention, and fiber and grain hemp varieties are generally grown at larger scale than the flowering varieties.
Hemp grown for industrial purposes – fiber and seed – or horticultural purposes is excluded from the regulations.
The EIHA report did not include data from Albania, Belarus, Bosnia and Herzegovina, Kosovo, Moldova, Montenegro, North Macedonia, Norway or Switzerland nor did it examine how hemp stalks and roots were used.
"We hope the EU will follow the market trends and be bold enough to trigger those regulatory changes capable of attracting the necessary investments needed for scaling up the production and marketing of hemp products," association President Daniel Kruse said in a statement.
According to the EIHA's senior policy adviser, Francesco Mirizzi, the association's next European agricultural report covering 2019 data is expected early next year.
Monica Raymunt can be reached at monicar@staging-hempindustrydaily.kinsta.cloud