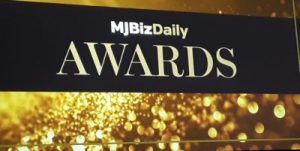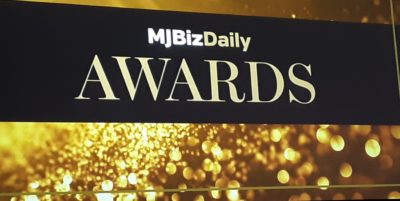 Front Range Biosciences is the inaugural winner of the MJBizDaily Awards' Hemp Game Changer Award.
The 2019 award was presented to Front Range Biosciences CEO Jonathan Vaught on Thursday night at the MJBizDaily Awards gala during MJBizCon Week in Las Vegas.
"I'm really honored," Vaught said after winning the award.
"I've got an incredible team that made this possible."
The field of nominees for the 2019 Hemp Game Changer Award included industry leaders such as Access Rosin, Canopy Growth, Mile High Labs and Mission Lago Farms.
Last summer, Marijuana Business Daily and Hemp Industry Daily asked readers to nominate trailblazers in a number of categories. The editorial staff whittled the list of nominees, and a panel of industry judges voted on the winners.
Judges in the Hemp Game Changer category were directed to select a company that demonstrates outstanding innovation and development.
Applying science to hemp
Front Range Biosciences is a multistate operation, headquartered in Lafayette, Colorado, that focuses on breeding stable, new hemp genetics and providing reliable feminized seed and virus-indexed, clean hemp clones through tissue culture to both small- and large-scale hemp farmers in growing regions across the United States.
Known for its patented Clean Stock program, the company is working to change the way plants are grown in the nascent hemp industry by leveraging modern technologies with advanced breeding techniques to develop solutions for the hemp and marijuana industries.
Front Range Biosciences' genomics-driven, marker-assisted breeding program is key to the company's advancement of seed and cloned varieties that offer hemp farmers added value through the application of enhanced characteristics such as pest- and disease-resistance for improved crops that have less impact on the earth.
"In combination with regenerative agricultural methods," Vaught said, "the use of precision agriculture and a modern breeding platform benefit the entire industry by enabling successful implementation of sustainable practices and production of clean, safe products for consumers."
Established in 2015 by Vaught and Nick Hofmeister, Front Range Biosciences seeks to apply the success of large-scale agriculture to high-value crops such as hemp and coffee.
Because there was such a lack of research in hemp because of federal regulations, the duo set out to develop partnerships with research institutions, including the University of California, Davis and the Center for Research in Agricultural Genomics in Barcelona, Spain.
Earlier this week, Front Range announced a partnership with the University of Colorado to send coffee and cannabis tissue culture to space next spring to examine zero gravity's effects on the plants' metabolic pathways.
Front Range Biosciences continues research and business development efforts throughout the agricultural and horticultural supply chain, forming relationships with breeders to produce new cultivars with new and unique traits that will yield consistent harvests across multiple growing regions.
To aid in this, the company is currently expanding its facilities with the addition of a large tissue culture laboratory and research facility in California.
With an eight-member panel of scientific advisers who oversee the operation's activities and a staff focused on leadership in scientific research, process development, bioinformatics and business development including leaders, Front Range Biosciences is on the forefront of innovation.