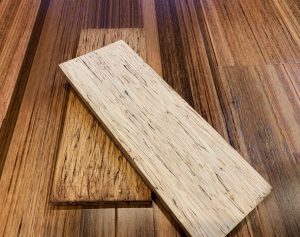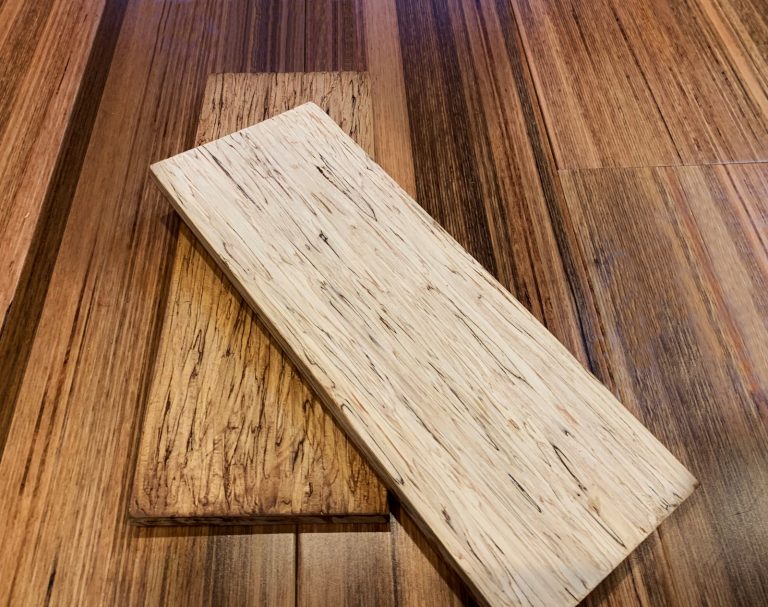 It's no easy time to start a business, and a Kentucky startup looking to turn hemp fibers into wood has had it worse than many.
Which makes it odd that company founder Gregory Wilson is all smiles talking about prospects for his company, called Fibonacci.
First the company had to spend more than a year fighting tariffs on some Chinese-made equipment needed to press the fibrous planks. Once that was settled, the company bought booths at trade shows in both the hemp and flooring industries to start taking orders – just in time for the pandemic to shutter live events worldwide.
Both were huge obstacles for an entrepreneur trying to take his background in sustainable flooring and apply it to a new company using hemp components most producers have a hard time selling – the fibers.
But the startup is getting attention in wood-trade publications and is lining up customers for its products in flooring, cabinetry and furniture. Wilson said his hemp startup has 10 times the interest he saw in the bamboo-wood industry.
"All the indicators point to, yeah, we can make it happen. … We just have to roll up our sleeves and do the work," Wilson told Hemp Industry Daily from his factory floor in Murray, Kentucky.
Starting slow
Wilson started his flooring company in 2016.
Looking to return to the U.S. from China and enter the new hemp industry, he scouted locations in states with hemp pilot programs and landed on an enthusiastic offer from Murray State University in western Kentucky. The university invited him to set up shop using Kentucky hemp fibers and offered students to help get the startup going.
Fibonacci received a 10-year tax incentive worth $300,000 from the Kentucky Economic Development Finance Authority for its investment.
Fibonacci was ready to begin production in 2018. Then the U.S. entered a trade war with China and started levying tariffs on manufacturing components coming from China. Wilson had to spend more than a year fighting the tariff – a success with the help of his local member of Congress, hemp advocate and former Kentucky Agriculture Secretary Rep. James Comer.
The company finally started offering products in late 2019 and saw demand beyond the flooring industry. Fibonacci's expanded products include:
Picture frames.
Wood-turning blocks.
Tables.
Desks.
"We're selling stuff all over the world," Wilson said.
But the coronavirus pandemic has slowed growth considerably – from canceled trade shows to stay-at-home orders slowing production. Fibonacci has pivoted to selling goods online.
"We need to just continue to follow the business plan and continue to provide not only the high-quality product but the experience and the story that goes along with it," Wilson said.
Lining up customers
The hemp wood is winning praise from longtime flooring-industry veterans.
At Tennessee Wood Flooring in Sevierville, Tennessee, the hemp product is going to retail marijuana dispensaries on the West Coast and folks interested in unusual, higher-end options.
The company's manager, Casey Montana, said the hemp composite is unusually strong and has a distinct striated appearance.
"It's a pain in the ass, to be honest with you," Montana said of the hemp planks with a laugh. "It's very difficult to work with because it's so dense. The most dense stuff that we work with is usually hickory, and it's a good 25% more dense than hickory."
The toughness also stood out to Karim Bhibah, who owns custom-cabinet maker Eastland Group in Moncton, New Brunswick, in far eastern Canada.
"I've been dealing with wood my entire life. But when you touch hemp wood, it's like almost like a steel," Bhibah told Hemp Industry Daily. "It's so heavy, so dense. So it offers that strength and durability."
Bhibah and Montana both said the hemp wood can't compete with traditional wood components on price yet, and not all customers like its striated appearance.
But both seemed optimistic that the price of hemp wood will fall as production expands and that customers looking for high-end custom work will give hemp a look.
"I think once it gets out there and we get some rooms seen with it, maybe in a retail space that can take a little more risk than somebody who's going to live in their house 30 years … it will become more popular," Montana said.
Wilson said he's aiming to make his flooring cost about what oak flooring does by 2021, noting that hemp fiber can be had for $100 to $200 a ton.
Wilson is scouting new manufacturing locations in other U.S. states, along with Poland and Canada, and sees growth potential as the pandemic passes and new markets open.
Bhibah says the product's future will get brighter as customers look for locally made and sustainable construction components.
"It's obviously very environmentally sustainable," said Bhibah, who is working with Wilson to make and distribute the product in Canada. "We can theoretically replace all of the hardwood processing now (with hemp). And needless to say, that would be a good benefit to mankind in general."
Wilson doesn't seem worried that some other unexpected global crisis could upend his company's plans. After all, he's already overcome some pretty big ones.
"Oh, in the hemp industry, everything's crazy," Wilson said.
Kristen Nichols can be reached at kristen.nichols@staging-hempindustrydaily.kinsta.cloud