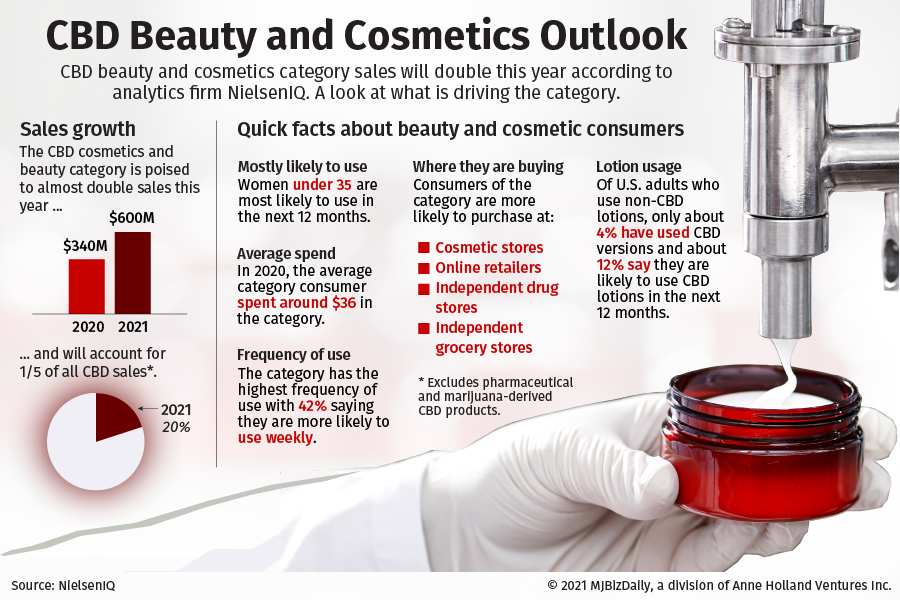 Sales of hemp-derived CBD beauty and cosmetics products could almost double in 2021 to $600 million, according to analytics firm NielsenIQ.
The boost will be driven by more products coming to market this year in major retail chains as more stores follow Sephora, Ulta and others in the CBD-infused beauty categories.
Beauty and cosmetics products, including face lotions, serums, and skin nourishment/replenishment products accounted for about 18% of all hemp-CBD product sales in 2020, bringing in roughly $340 million in sales.
Nielsen predicts the category, which does not include pharmaceutical and marijuana-derived CBD products, will continue growing market share in the coming years and will eventually account for 20% of total CBD sales for 2021.
With further supply-chain improvements and favorable guidance from the FDA, the beauty and cosmetics category could top $2 billion by 2025.
"For many existing brands in the cannabinoid space, the cosmetic and beauty space present a logical category extension to branch into," said Rick Maturo, Nielsen's associate director of client service for cannabis.
"Those categories are well-established in leveraging the growing and continuing trend of functional ingredients such as, good-for-you or from-the-earth," Maturo added.
But there are challenges for retailers, manufacturers and brands going forward.
Unlike other CBD categories, beauty and cosmetics sales are driven primarily by women, especially young women.
Nielsen survey data shows that women under 35 are most likely to use the category today and in the next 12 months.
This may limit the ability for brands to broaden the appeal to other segments, like men.
And with most cosmetics and beauty products not formulated or intended to address internal needs like sleep or anxiety, the category is not appealing to two of the biggest reasons consumers to turn to CBD.
But the category does appeal to a large segment of female users, some of whom are already embracing cannabis and cannabinoids as part of their wellness and self-care routines, Maturo said.
Price might be barrier to new customer adoption as CBD beauty and cosmetic products are often more expensive than their non-CBD counterparts.
According to Nielsen, the average consumer spent around $36 on beauty and cosmetics products in 2020.

But there is a large variability in prices in the category compared to other CBD products, as the products have different usage and replenishment cycles, Maturo said.
CBD cosmetics consumers use the products more often when compared to other categories, such as gummies, with 42% saying they apply a beauty product at least weekly.
Maturo pointed out that cosmetics brands are already adept at building loyalty using tools like social-media influencers.

"If they can become ingrained as part of a consumers' daily routine…the inclusion of natural 'good-for-you' ingredients can go a long way in guaranteeing long–term traction with consumers."
Andrew Long can be reached at andrew.long@mjbizdaily.com.