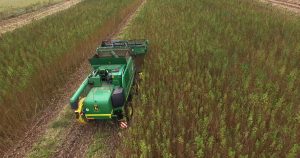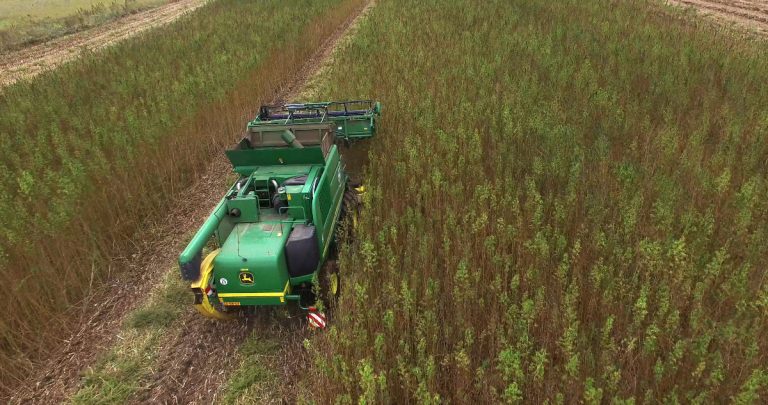 Hemp farmers in states without federally approved cultivation plans got a one-year extension to continue growing the crop under older, less strict rules so regulators can harmonize local and federal laws.
The extension was included in the stop-gap budget measure Congress approved late Wednesday, giving a reprieve to growers in some states, tribes, and territories that said they would not be ready by Nov. 1 to switch to stricter hemp rules from the U.S. Department of Agriculture.
Instead, they will continue to be grandfathered into less-restrictive 2014 regulations. Many of them have yet to see USDA approve their plans for 2021 and beyond.
The Hemp Industries Association cheered the delay, saying it provides "much-needed stability for hemp businesses" in many states that don't yet have USDA-approved plans.
The USDA's national hemp rule "is in need of substantial improvement before it can be implemented in a way that does not create onerous restrictions on farmers and inflict serious harm to the budding U.S. hemp industry," HIA President Rick Trojan told Hemp Industry Daily in an email.
Hemp states getting another year to work out federal hemp approval include some of the Top 10 producers, including:
Arizona.
California.
Colorado.
Kentucky.
Michigan.
Oregon.
"It's still unfortunate that … we're still going to have this problem of a mid-harvest changeover next year," with the 2014 pilot expiration moved up a month to Sept. 30, but it still makes more sense than Oct. 31, said Vermont hemp farmer Herrick Fox, a former USDA executive who worked on rulemaking.
Fox said he'd like to see that extended to Dec. 2021, which could still happen because Congress needs to pass a budget before Dec. 11, "so there's still time to link that in al kinds of other things, like the appropriations bill."
Anything the industry can't "fix" in appropriations bills before December 2021 will likely need to be addressed in the 2022 Farm Bill, which is a long process, Fox said.
Uneven playing field?
The delay has drawn the ire of businesses in some 20 states that drafted cultivation plans approved by the USDA under the more stringent rules set to take effect Nov. 1.
They argue the delay essentially creates two standards for doing business, with those operating under 2014 rules having an advantage over 2018-complaint states because they'll have an easier time growing high-CBD hemp. Meanwhile, other states operating under a USDA-approved plan will have a tougher time growing high-CBD hemp without it going over the THC threshold of 0.3%.
In Louisiana, where farmers will be operating under the stricter THC testing standards, hemp consultant Pat Jack pointed out that many "have spent money, time and resources to plan and commit" to the new rules but will now be at a production disadvantage in 2021.
"They can't compete with the 'old hemp (marijuana light)' states," Jack wrote in a comment to Hemp Industry Daily.
Houston lawyer Andrea Steel pointed out on LinkedIn that the double standards for 2021 means that "Texas and others now lose out another year to get on (a) level playing field with competitors."
Snags in the rule
Some hemp producers have complained about the USDA's hemp rules since they were first proposed last fall. Some of their concerns include:
More disposal options for non-compliant crops.
Requiring growers to test plants within 15 days of anticipated harvest.
Farmers possibly facing criminal charges if their plants have more than 0.3% THC. The plants would have to be destroyed and if the plants test at 0.5% THC or more, growers can be criminally liable.
Outcry about the rule boiled over this week in Litchfield, Michigan, where hemp producers ran down their complaints with two USDA officials who joined a listening session held at a field-trial event.
"If hemp is truly a commodity crop … we need to consider some changes to the way the rules are interpreted to allow for more margin of error for farmers, and to allow this crop to get off the ground," said Josh Schneider, CEO of San Diego-based Cultivaris Hemp.
He specifically pointed out what he called a "fixation on THC levels" by federal regulators.
"They act like, at .3% (THC), we all turn into Bob Flamin' Marley," he joked.
Several farmers complained about the 15-day testing window. Chance Dite, farmer from Nevada said the new rule would narrow his window from 30 days, the current window there, a labor challenge on 14 acres with one laborer on staff.
Fifteen days is "a tight window to chop down your entire field," Dite said. "Most of us are on a shoestring budget trying to make this thing work."
Another farmer, Hamilton Nelson of Oregon, called the 0.3% THC limit too low for farmers seeking a CBD crop.
"Give the farmer the ability to grow up to 1% (THC)," Nelson said. "And when you go into extraction, allow those companies to remediate the THC."
Two USDA officials in attendance did not respond to the concerns specifically. But one asked the group if farmers were finding it difficult to provide comments without first having harvested their crops.
"We advocated very hard to even get a comment period open," said Jameika Henderson with USDA's Agricultural Marketing Service, adding that comments with farmers who are living the rules are very helpful so the USDA can get the rules right.
Henderson said the goal is to get the rule out in the spring, which is currently on target. The USDA has seen more than 700 comments and is looking at all of the comments the industry is submitting, along with crop data.