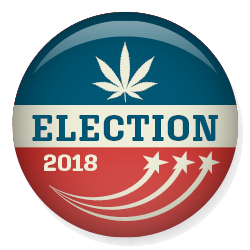 Hemp changes don't garner public attention the same way marijuana questions do, but ballot measures in a few key states could have a big impact on those markets.
Voters in Colorado, the nation's top-producing hemp state, will decide Nov. 6 whether to change the state constitution to make it easier to adjust hemp's legal THC limit.
Amendment X would remove hemp's THC limit of 0.3% from the marijuana language in the state constitution, allowing Colorado lawmakers to raise or lower the THC limit.
Beyond Colorado, votes that could affect hemp will be cast in two other states:
Michigan: Most of the attention being garnered by Proposal 1 is from the language that would legalize recreational marijuana. But the measure would also expand hemp production by allowing private, for-profit cultivation, instead of limiting it to colleges and universities.
Florida: An open race for state agriculture commissioner pits a Republican state lawmaker against a Democrat who has made hemp promotion a top priority, along with expanded access to medical marijuana.
The proposed change in Colorado wouldn't have any immediate effect, but proponents say it could lead to a nimbler state response if the federal definition ever changes.

"We're not actually allowed to evolve as a state until we tackle that issue," said Cindy Sovine, a Colorado lobbyist who helped steer the amendment to the ballot through the state Legislature.

Colorado is currently the only state with a hemp THC limit in its constitution.

But even in cannabis-friendly Colorado, the THC change for hemp faces long odds. Colorado recently raised the bar for necessary votes to change the state constitution, from a simple majority to 55%.

Making matters worse, Amendment X supporters had raised no money to advertise the hemp proposal as of late October, according to state campaign-finance filings.

Tim Gordon, head of the Colorado chapter of the Hemp Industries Association, said the measure has both fans and opponents in the industry.

Some say the constitutional limit is too rigid; others fear a fast-moving THC standard could inject uncertainty into an already volatile market.

"It's causing a big stir in the industry, that's for sure. There are a lot of unknowns," said Gordon, who is also CEO of Functional Remedies, a CBD manufacturer.

Kristen Nichols can be reached at [email protected]