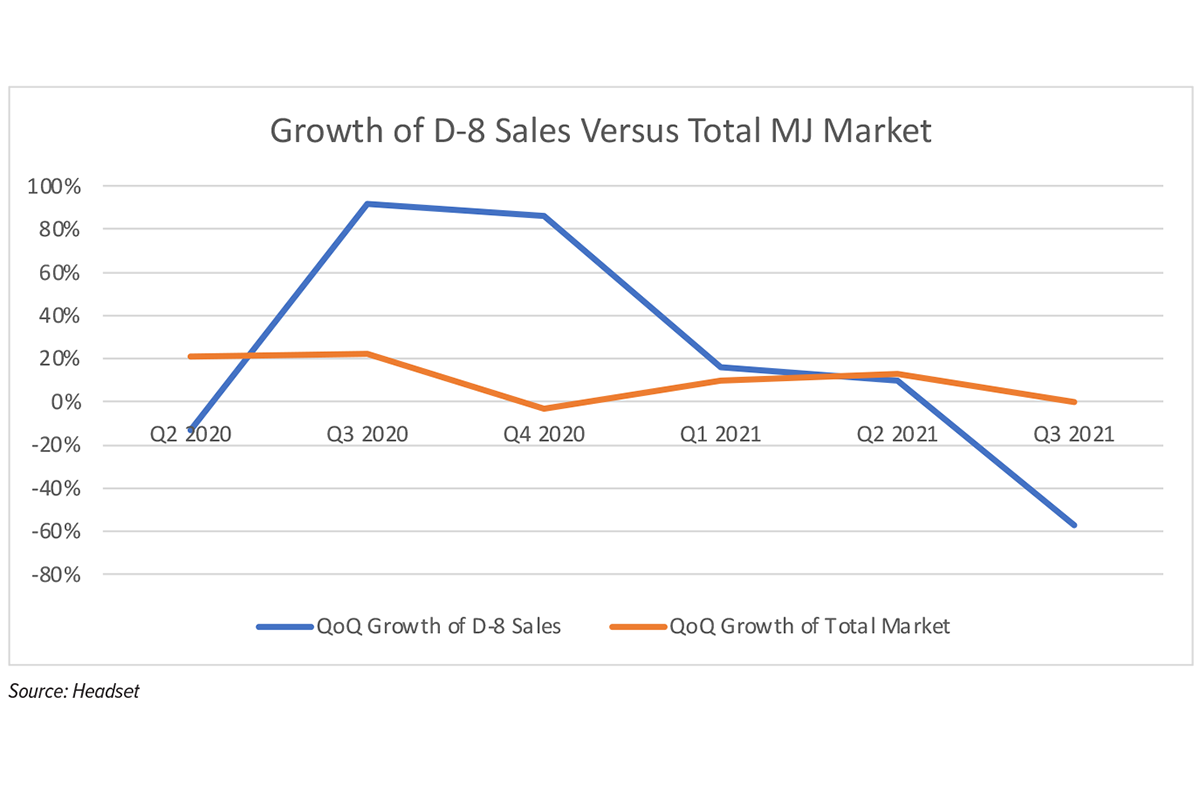 Editor's note: This week Hemp Industry Daily is highlighting stories and analysis on the delta-8 THC phenomenon. Today, a look at delta-8 THC sales trends in marijuana dispensaries. Read more in the special D-8 February issue of MJBizMagazine.
Plant-touching companies weren't the only businesses surprised by the sudden and explosive growth of delta-8 THC in 2020. Sales of the novel cannabinoid surprised trade associations and ancillary companies as well.
Seattle-based cannabis analytics firm Headset compiled delta-8 sales numbers for MJBizMagazine, and they show the rapid rise in popularity of products that contain "delta-8" in their names.
Cooper Ashley, senior data analyst at Headset, cautioned that the figures are based on point-of-sale data and are susceptible to errors made by retail workers at checkout.
Still, the numbers paint a picture of the rapid increase in delta-8 popularity as well as the actions taken by regulators in markets where the data was collected: Arizona, California, Colorado, Massachusetts, Michigan, Illinois, Nevada, Oregon and Washington state.
We caught up with Ashley to learn about the D-8 phenomenon's effect on retail cannabis sales. Answers have been edited for length and clarity.
The explosion of D-8 sales in the third and fourth quarters of 2020 coincided with a dip in the total cannabis market. Do you think the two are related?
You have to remember that growth in the second and third quarters of 2020—after the initial (COVID-19) lockdown and through the summer—was some of the biggest growth we've seen in the cannabis market in a very long time, including in more established markets like Washington and Colorado.
Q4 2020 was a return to normal after unexpected growth in spring and summer sales.
That's also the time when people started to hear about (delta-8 THC) as an option, especially in the world of CBD and gray-market cannabis. That's when it exploded in name recognition and popularity.
We can see that delta-8 sales exploded in late 2020 and continued to grow through Q2 of 2021.
Have you ever seen a cannabinoid rocket to popularity like this?
The only thing I can think of is CBD itself. It is reminiscent, but I definitely don't think it's as widespread or common as CBD was when it was gaining popularity.
Still, that quick rate of growth and adoption was similar to when CBD really took the country by storm a few years back.
The edibles category for delta-8 products is incredibly robust. Is that the case for other lab-made cannabinoids as well?
Tinctures, capsules, edibles and topical categories seem to cater a little bit more to a wellness-type customer.
We see a lot of CBN in the edibles category as well as ingestibles like tinctures and capsules. CBN, especially, is seen as more of a wellness-type cannabinoid. Customers are potentially looking more to treat symptoms/get better sleep (with CBN), and that tends to translate to noninhalable categories.
Edibles may be more approachable for new (cannabis) users or those looking to treat insomnia or treat pain.
What do you think caused the rapid decline in D-8 sales starting in 2021?
We can see that delta-8 sales exploded in late 2020 and continued to grow through Q2 of 2021, but in Q3 (they took) a pretty significant nosedive.
There were a few quarters when (D-8) growth was quick—probably because it was gaining popularity, and also it was quite unregulated.
Since it gained popularity, state governments have been forced to try to deal with it—and some have banned it. Now that it is more regulated, I think that level of growth has been naturally curtailed.
It had a moment of explosive growth, and I think that moment appears to be passing.
How does the price of delta-8 products compare with the other items you track?
It appears that customers who are looking for delta-8 products will have to shell out a bit more cash to get them.
Over the previous 90 days, the average item price of a delta-8 edible product was about 24% higher than a non-delta-8 THC edible.
Coming tomorrow: A look at consumer confusion about delta-8 THC.