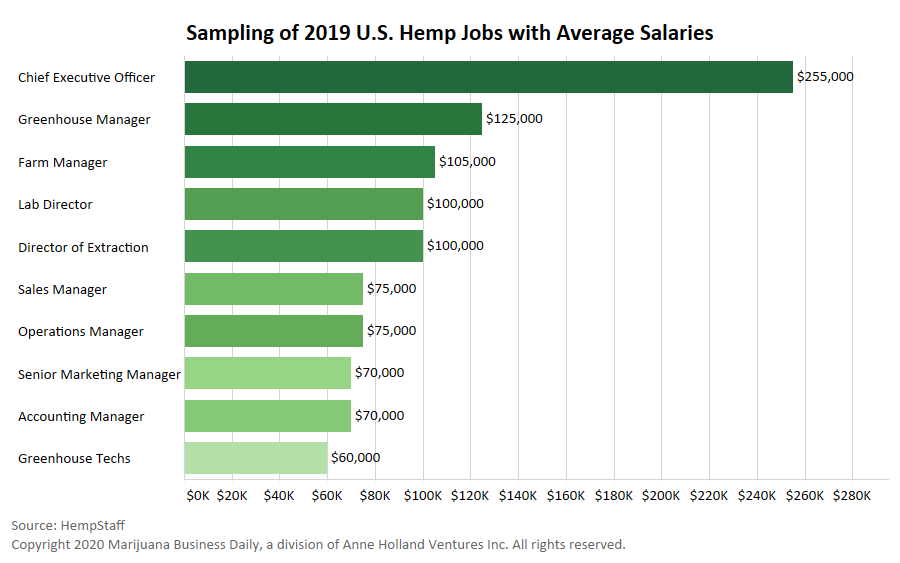 (This is the first part of a weeklong series from Hemp Industry Daily examining hemp industry salaries, hiring and recruiting trends. Using exclusive data compiled by the data team at Hemp Industry Daily and published in this month's Marijuana Business Magazine, we're examining the latest hiring and compensation trends. Today, we look at how hemp salaries have changed since the passage of the 2018 Farm Bill. This is an abridged version of a story that appears in the April magazine.)
For an idea of how federal prohibition skews a labor market, look no further than the boom-boom hemp industry.
The end of prohibition caused seismic shifts to a labor landscape with aftershocks that continue to unsettle the industry more than a year later – and offer new job opportunities for folks who haven't previously considered careers in cannabis.
Hemp entrepreneurs hoping to take immediate advantage of legalization launched broadacre hemp cultivation in 2019. Cannabis-industry recruiters saw an incredibly tight market for farm managers with experience overseeing large outdoor farms of any crop.
One recruiter saw placements of:
$140,000-$160,000 per year for farm directors in Nevada.
$110,000-$130,000 per year for cultivation directors in Florida.
$95,000-$105,000 for field managers in California.
Salaries were driven even higher because the overall job market for experienced managers is so tight.
To read more about legalization's effects on hemp salaries, click here.