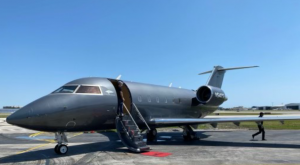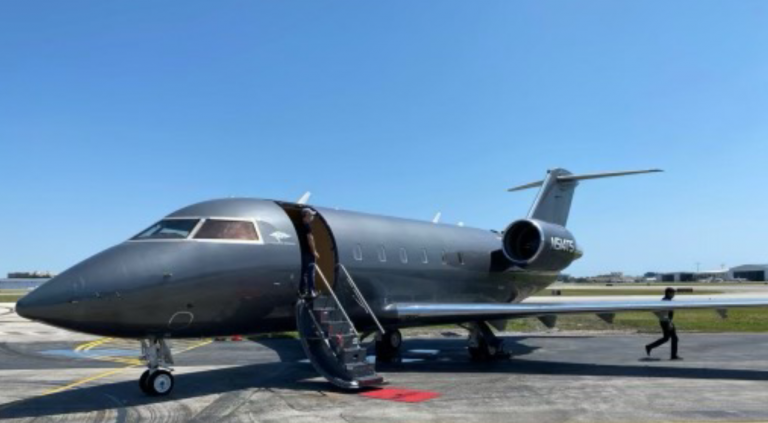 A CBD company in Arizona is accused of bilking investors of millions of dollars and getting an emergency pandemic-relief loan while the business owners used the money to buy a private jet and fund other lavish expenses.
Integrated CBD (ICBD) got as much as $350,000 earlier this year through the U.S. Paycheck Protection Program (PPP) to help with payroll for 50 employees.
However, the company had laid off all of its employees months before, according to the lawsuit by investors filed in state court in Maricopa County.
The lawsuit alleges the company leaders "ran ICBD into the ground" while investors' money vanished "into each and all of the defendant's coffers."
The company executives have not been accused of criminal activity. But the lawsuit represents the first legal allegation of PPP fraud levied against a cannabis-related company that received a loan.
ICBD's loan came a day after a Montana company managed by the CEO registered a
Canadair Challenger 600 plane
with the FAA, the Miami Herald
reported
.
The lawsuit names CEO Patrick B. Horsman, COO Jeffrey M. Dreyer, and Ari M. Schiff, head of agricultural business development. A company phone number listed on the firm's Arizona license was out of order Wednesday, and Dreyer did not return a message for comment from Hemp Industry Daily.

The accusations
The lawsuit describes Horsman as "mastermind and ringleader" in the scheme to defraud investors, but they all are accused of pocketing investor funds. All three paid themselves $12,500 monthly, the lawsuit says.
A month after the company closed, investor attorneys say Horsman bought a private jet for more than $1 million. The jet has the name and logo of Horsman's investment firm, Horsman Holdings LLC.
Horsman also allegedly "bragged" to employees about purchasing a helipad before laying them off.
Investors were told during a presentation in 2019 that ICBD would "grow industrial organic hemp and extract CBD to sell to large industrial and multinational brands in the pharma and consumer space," creating a multi-million dollar company, the lawsuit said.
The defendants claimed to have over 10,000 acres of certified organic farmland in Arizona, but in reality it was 8,524 acres – and even that wasn't farmable because of soil salinity and bad wells, according to the lawsuit.
In January 2020, Horsman allegedly told investors "the business had crumbled and would need more money if it was to continue."
That's when investors requested and reviewed bank statements. The statements allowed investors to learn Horsman had spent $2 million of ICBD's money to pay off personal credit cards and other debts, according to the lawsuit. When confronted by an investor about the spending, Horsman allegedly said, "Why do you care, you only lost 50 grand."
The jilted investors do not say in their lawsuit exactly how much money they lost on the Arizona CBD company; they seek unspecified damages from the court.
By February of 2020, all of ICBD employees had been laid off, investors allege, but the layoffs were not related to Covid-19.
Then in April, Horsman applied for, and got, the payroll loan from the government.
Attorneys allege Horsman repeatedly lied when he told investors that ICBD had raised $50 million "in senior secured debt" from a hedge fund and $70 million total in debt and equity capital.
"This was nothing but a calculated ploy to bolster the company's outward appearance and prospects, hide its fatal financial and operational flaws, attract new investors," the lawsuit reads.
The defendants used shell companies to move money around, at one point using one such entity to lease farmland to ICBD at an exorbitant price, the attorneys say. ICBD committed to lease for one year 8,524 acres of farmland for $4.8 million.
PPP scrutiny
The Integrated CBD case comes amid increased scrutiny of potentially fraudulent PPP loans.
Between April and August of this year, the U.S. government approved approximately $525 billion in loans to over 5.2 million small businesses. Some $4 billion of those have already been red-flagged by Congress as potentially fraudulent, Thomson Reuters reported this week.
Many publicly traded recipients of those emergency pandemic loans were warned in late April that they'd be scrutinized for possible fraud.
The U.S. Treasury Department directed some publicly-traded borrowers to certify "in good faith" that they needed the loans to keep operating, which means showing business activity and their access to other capital resources.
Roughly a half-dozen companies with ties to the cannabis industry received $3.5 million to $8.7 million from the program designed to help small businesses keep workers employed during the COVID-19 pandemic, Law 360 reported in July.
Among those companies were Anne Holland Ventures, publisher of Hemp Industry Daily and Marijuana Business Daily.
Though marijuana operators were ineligible for the loans, hemp companies and ancillary companies did secure them.
The company and the executives have not been charged with a crime, though the U.S. Department of Justice announced last month than more than 50 people face criminal charges for PPP-related fraud.
Assistant U.S. Attorney General Brian Rabbitt said the agency would continue searching for cases of PPP recipients buying "luxury items" instead of using the loans to keep employees on the job.
"They were intended to help ordinary, everyday Americans pay their bills and put food on the table," Rabbitt said.
"I can assure you they were not intended to help support fraudsters' dreams of owning Lamborghinis, Rolls Royces, Range Rovers or diamond jewelry."