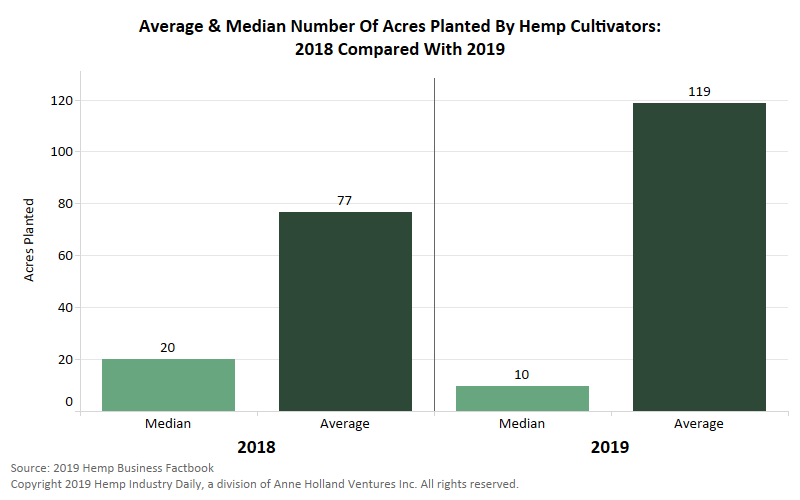 The median acreage planted by U.S. hemp operations decreased between 2018 and 2019 while the average size increased – a trend driven by both the risks and opportunities associated with hemp production.
According to the 2019 Hemp & CBD Industry Factbook, the number of small-scale growers operating in the hemp space surged between 2018 and 2019, driving down the median acreage of hemp operations but increasing the average acreage.
The Hemp & CBD Industry Factbook, released last week, compared the results of a survey of U.S. hemp operators in 2018 with figures from 2019.
The survey found that respondents had planted a median of 10 acres of hemp in 2019, down from a median of 20 acres in 2018.
But while the median acreage has decreased, average acres planted increased 54% between 2018 and 2019 – from 77 to 119.
This is because existing hemp cultivators have expanded their operations at the same time smaller growers have begun operating.
The diverging trends in median and average hemp acres planted are likely the result of hemp farmers entering the market with low acreage and scaling up over time.
Given how experimental and risky hemp currently is, and with limited seed availability and little agronomic data to go by, farmers are entering the market with relatively few acres.
Over time, after learning how to best cultivate hemp on their land, they are scaling up dramatically.
Here's what else you can learn about the hemp industry in the 2019 Hemp & CBD Industry Factbook:
It is estimated that retail sales of CBD will increase 133% in 2019 over 2018 – due in part to increasingly easy retail access to CBD.
Although producing hemp for fiber/stalks and seed/grain has a lower production cost than producing hemp for flower, the vast majority of producers – motivated by economic and regulatory forces – are growing hemp for flower.
Collectively, hemp farmers are expecting their 2019 per-acre revenue to double that of 2018, with hot consumer demand for CBD viewed as the driving trend behind this belief.
The second annual Hemp & CBD Industry Factbook can be purchased here.