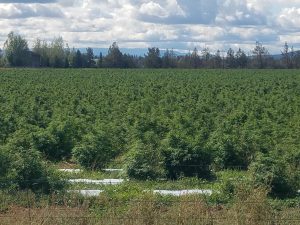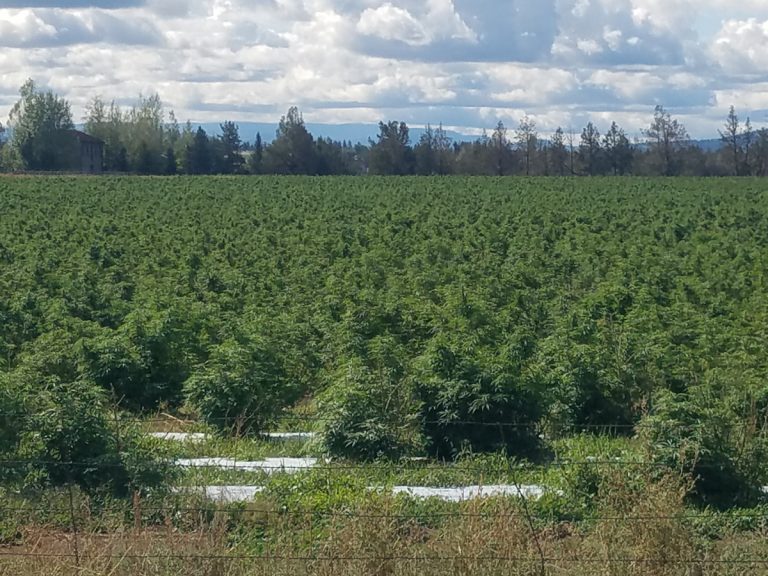 Without question growers are cultivating unlicensed marijuana in southern Oregon and shipping it across the country. They have been for decades.
But are they organized criminal operations simply operating outside of the law, or are they fronting as licensed hemp growers under cover of the boom in new grows that sprung up after the passage of the 2018 Farm Bill?
That's what state regulators in Oregon are trying to find out, with a new law to test hemp crops not once but twice to root out illicit marijuana.
They've started on the southern end of the state to inspect dozens of hemp farms and determine whether they are legitimate businesses – or rogue operators secretly growing marijuana.
Some marijuana business owners say illegal grows are not in direct competition with the low-cost, high-quality marijuana sold by licensed Oregon retailers, but shutting down illegal grows could also stop other negative effects, and a general sense of working among dangerous criminals.
Hunter Neubauer, co-founder of Bend marijuana company Oregrown, said his company went through "hoop after hoop after hoop" to stay compliant.
"It's really nice to see the regulatory agencies taking action," he added.
The new law directs the renamed Oregon Liquor and Cannabis Commission and the Oregon Department of Agriculture to inspect licensed hemp fields across the state to ensure that the registered hemp growers are not growing marijuana instead. Oregon becomes the first state to send marijuana regulators to hemp grows.
"What's going on in southern Oregon with the cartel takeover of cannabis growing through the guise of hemp, and our role in being able to enforce that is all incredibly important," said Steve Marks, Oregon's top marijuana regulator, in a statement after the law was signed last month.
Some hemp activists applaud the inspections.
"We need to protect the good actors," said Courtney Moran, president of the Oregon Industrial Hemp Farmers Association. "That's what the majority of us see (the inspections) doing. If you're a good actor and compliant, you have nothing to worry about."
Inspections underway
So far, regulators have inspected 134 hemp farms in southern Oregon to take THC samples, said Sunny Summers, cannabis policy coordinator for the Agriculture Department, at a webinar hosted on Tuesday by the Oregon Industrial Hemp Farmers Association.
No illegal marijuana grows have been reported discovered yet.
As of July 23, Oregon had 723 registered growers on a total of 6,539 acres, indoor and outdoor production.
Summers said teams from the OLCC and ODA, along with local sheriff departments, are starting by visiting all of the registered hemp farms in Josephine and Jackson counties, then visiting the rest of the licensed hemp grows in the state in subsequent seasons.
The inspectors come in, look around, take a few samples and send them to a location in Medford to test for THC. This is completely separate from the THC preharvest testing private labs are doing throughout the state.
Growers are not given notice of the inspections and will not receive their test results, Summers added, unless the hemp tests hot, then enforcement action will be taken .
The inspections are paid for as a cooperative effort by OLCC and ODA, Summers said.
So far, Summers has heard a mix of positive and negative feedback from growers.
For instance, 31 operations have refused to let the regulators access their sites, she said.. Summers said most of those refusals have been resolved.
The state simply wants to discover whether illegal marijuana is hiding behind a hemp license, Summers added.
Federal law allows states to regulate hemp themselves – but only with permission and signoff from the U.S. Department of Agriculture after this year.
Oregon is operating under provisions of the 2014 Farm Bill through this growing season and is planning to send some parts of this plan in the rules to the USDA for approval, according to Summers.
The state is working on draft rules now to include some of the USDA rules, such as the cushion when hemp tests between 0.3% THC and 1% THC that protects growers from criminal negligence charges.
Market impacts
While some in the hemp industry favor the inspections and see them as good for the long-term health of the market, others aren't so sure.
"I think it's great they want to help the regulated industry, but I'm not sure this is the solution," said Amy Margolis, a cannabis attorney based in Portland.
"How many good actors are you sweeping up in this?"
She pointed out how easily hemp can creep over the 0.3% THC mark.
"Cultivating hemp to stay under the legal limit is not exactly an exact science."
According to OLCC spokesman Mark Pettinger, the illicit marijuana are taking advantage of the sweat and hard work the legal grows have gone through to stay compliant."
Pete Gendron, a marijuana grower in Sunny Valley, Josephine County, said the illegal growers tend to use hazardous chemicals and pesticides.
"Taking that off the table environmentally would be good," he added.
Setting up interstate commerce
Some Oregon marijuana growers say they're not in direct competition with the illicit market because licensed Oregon cannabis is already some of the cheapest legal marijuana in the country at the retail level.
But the state has been proactive about positioning the licensed cannabis industry for interstate commerce should federal legalization allow it.
So it stands to reason that shutting down illicit growers would also benefit the legal cannabis industry.
The illegal grows are "hurting both the THC and the hemp industry equally and making the cannabis industry as a whole look bad," said Kim Stuck, founder of cannabis consultancy Allay Consulting, which has an office in Portland.
"Regulators should be preventing that from happening."
Bart Schaneman can be reached at [email protected].