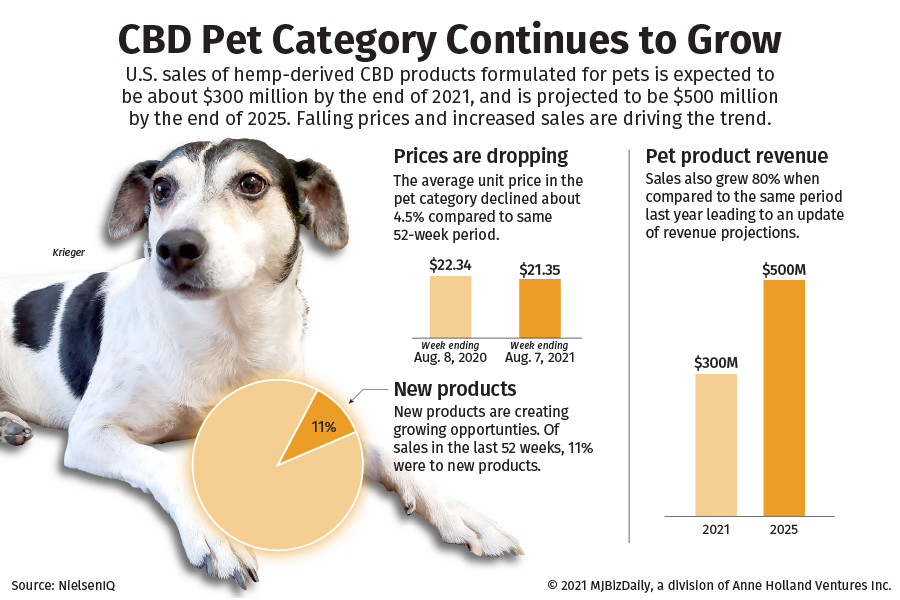 All those pandemic puppies must be as anxious as the rest of us.
The market for companion-animal CBD products is taking off, a sales boom manufacturers say is driven by COVID-19 shutdowns and increased availability of pet CBD products.
Chicago-based Market analytics giant NielsenIQ, which tracks sales of hemp-derived CBD, has dramatically ratcheted up its projections for sales of CBD for animals.
Last year, Nielsen predicted pet CBD sales would grow to $175 million to $225 million by 2025. Nielsen now projects sales will be roughly $300 million this year and about $500 million by 2025.
The rise comes even as the average unit price of hemp-derived CBD in the pet retail channel is going down.
Sales tracked by Nielsen showed unit prices fell about 4.5% between August 2020 and August 2021, from an average of $22.34 to $21.35.
Also, the sector is heating up despite the fact that the U.S. Food and Drug Administration, which regulates animal feed, has yet to approve CBD use in animals, meaning veterinarians are discouraged from recommending it.
Pandemic pet trend
CBD manufacturers say the coronavirus pandemic is driving the boom. That's because people are spending a lot more time with their pets and becoming more attuned to their pets' health needs.
"Dogs are really viewed now as an extension of the family," said Mark Elfenbein, chief revenue officer for Socati, a CBD ingredient manufacturer that says half its clients now make products for animals.
"A higher percentage of people's earnings are going to dogs after COVID."
There are also more pets in general.
Between March and September of last year, the number of foster pets in U.S. homes rose 8%, according to PetPoint, which tracks pet adoption.
And fears of people returning those pets to shelters when pandemic closures lift haven't materialized, with intakes for dogs down about 32% and cats down about 23% from last year, PetPoint noted.
"People who never historically had pets are getting them; everybody has a pet, it seems like. And those pets, they're not going anywhere," Elfenbein said.
The pet boom comes as CBD awareness among pet owners skyrocketed.
The sector showed a lag behind CBD products for humans, meaning that people generally try CBD themselves before giving it to their pets.
"The reason you're seeing an explosion in CBD for animals is a lot just because of the awareness. More and more veterinarians and just people in general are learning about the benefits of CBD, not just for people, but for their pets," said Marc Pollack, founder of Ziggy's Naturals line of pet CBD products.
Who is buying
Nielsen surveys indicate that CBD users overall are more likely to own pets than non-CBD users. The company said that 74% of CBD users have a dog or cat at home, compared with 67% of U.S. adults on average.
Like the CBD category overall, people buying pet CBD products are likely to be younger than 35. And female dog owners are more likely than male dog owners to give their pets CBD, the company's surveys indicate.
Relative to all CBD buyers, pet CBD buyers "tend to be more affluent and live in prosperous urban and suburban areas," Nielsen reports.
Pet specialty stores are proving to be especially sticky for those shoppers. '
Nielsen said that pet stores garner the second-strongest consumer retention of any other CBD sales channel tested, trailing only brick-and-mortar CBD specialty shops.
Nearly two-thirds of those who purchased a CBD product from a pet store indicated they would purchase CBD products from a pet store again in the future.
Industry responds
CBD manufacturers are increasingly catering to the sector.
Elfenbein said his clients are looking for flavors that appeal to animals, such as bacon or chicken. Flavors tailored to animals were almost unheard of a couple of years ago, he said.
Those additional options are showing up in sales data. Nielsen said that 11% of the products sold in the U.S. pet retail channel in the previous 12 months didn't exist in the previous year.
Read more about the pet CBD sector in this free report.