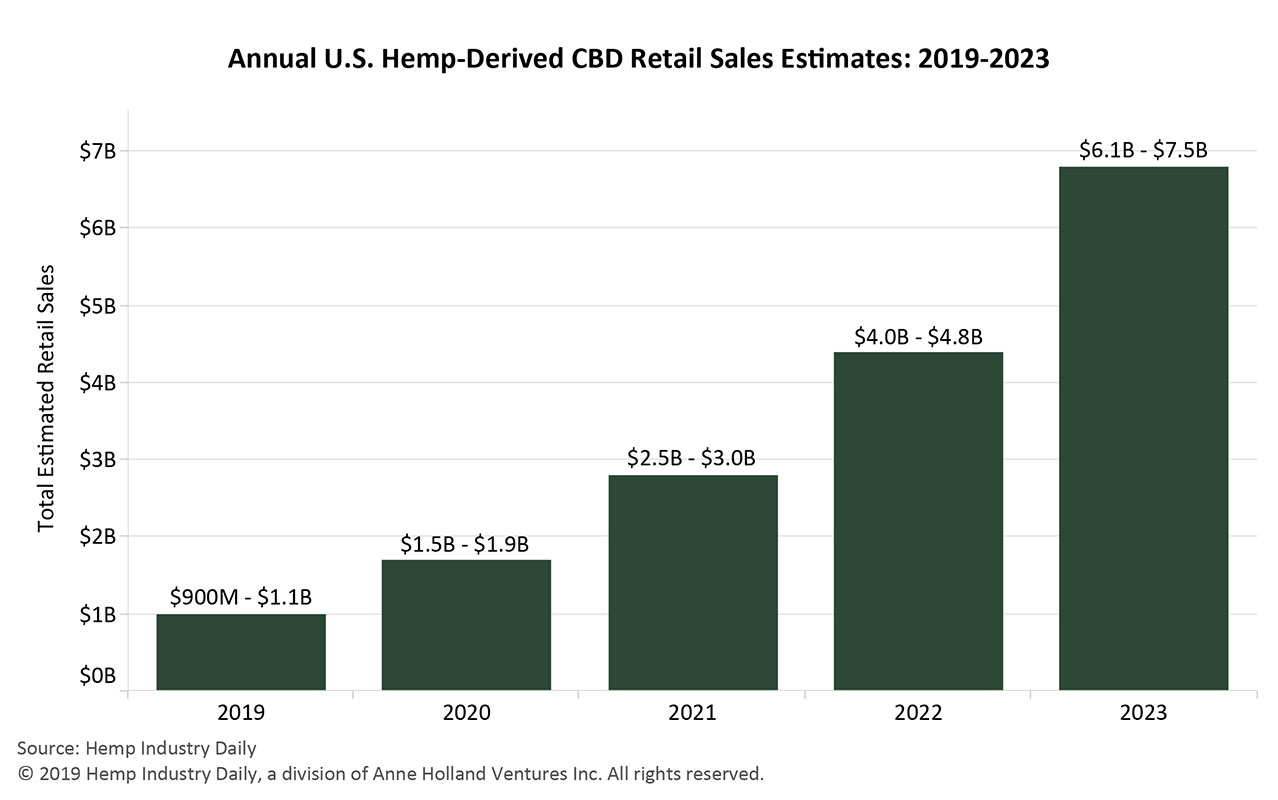 Entrepreneurs say they're carried away by the excitement of hemp's potential.
Hemp Industry Daily projects hemp-derived CBD retail sales will surge to as much as $7.5 billion by 2023, up from about $1 billion this year.
Nevertheless, entrepreneurs are uncertain where the rush will take them or what the market is going to look like when the waters recede.
"First we did a happy dance because we thought it was so awesome," said Karen Devereux, whose family grows 2 acres of hemp in northern Vermont and makes CBD products under the brand Northeast Kingdom Hemp.
"We thought that now it was going to open up the banking and the credit card systems and the insurance market," Devereux said. "We were going to be able to hold our heads up high and do business."
But like many hemp entrepreneurs, Devereux's Farm Bill elation was short-lived.
Hours after the bill was signed, the U.S. Food and Drug Administration (FDA) reminded the industry that while CBD is now legal, the molecule can't legally be added to foods, drugs or cosmetics.
The FDA did promise to review its guidelines, leaving the possibility it would liberalize its CBD stance. But the agency's current position leaves a big question mark for hemp entrepreneurs.
"I don't think we're any better off than we were before. Maybe we're worse off," Devereux said. "What has changed, really?"
Devereux's anxiety is shared by many CBD manufacturers.
The Farm Bill's passage leaves questions at every level of the hemp supply chain:
How long will it take for the U.S. Department of Agriculture (USDA) to set the rules for state-level hemp programs?
How will the FDA enforce its position that CBD is illegal to add to foods, dietary supplements and topicals without the agency's explicit approval?
Will hemp legalization prompt behemoth companies in the agricultural, retail and pharmaceutical sectors to drive small entrepreneurs out of the hemp market?
For new hemp entrepreneurs such as Devereux, the Farm Bill hardly answered all the legal questions about hemp-derived CBD.
"I thought it was legal in all 50 states now, but that's not even clear," Devereux said. "I don't know that I thoroughly understand all the implications just yet."