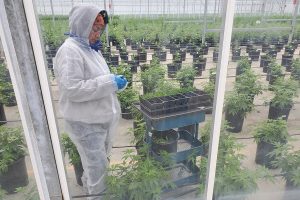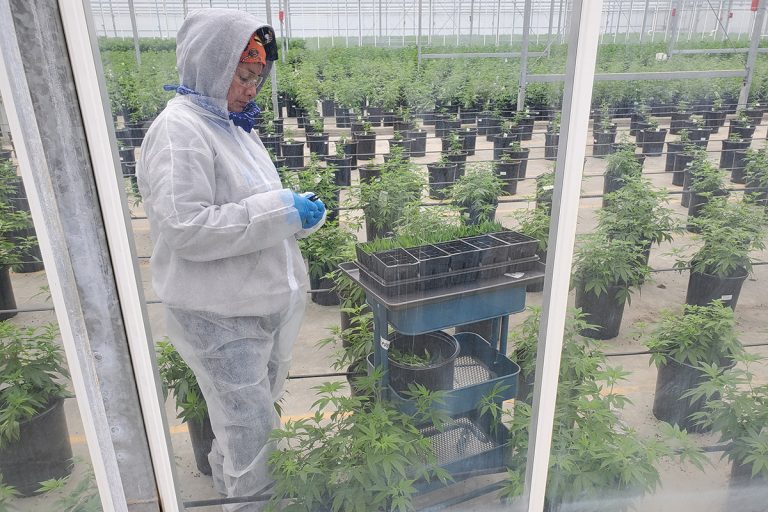 Farmers experimenting with hemp production in the U.S. may not want to hold out hope that legal THC limits in looming national hemp rules are going to change to make it easier to grow the plant legally.
A lawyer for the U.S. Department of Agriculture, Mai Dinh, said 2020 is a "test drive" on the new national rules taking effect Nov. 1.
She explained the USDA hemp rules to the American Herbal Products Association last week and gave no indication the deadline will be extended, as many farmers and politicians have requested.
Farmers have "a little bit of leeway" in the THC limits for their crops – but must understand that most hot hemp is illegal marijuana and won't be allowed into commerce, she said.
Dinh made clear that hemp is legal only if it contains no more than 0.3% THC, accounting for a lab's margin of error.
"Unlike other crops, that you can just plant the seed and you would get the crop … you can plant the hempseed, and it may not meet the definition of hemp under the statute or under the regulations, in which case you have marijuana, which is a controlled substance," she said.
Farmers should account for the limit before planting, she said, echoing the fact that federal law does not allow marijuana into any kind of commerce.
"It is important to make sure that the hemp that you are using … is in fact likely to grow hemp within the 0.3% – because once it goes above 0.5%, it is possible that you will be considered to have been negligently grown something that is not hemp, and it has consequences should it be a repeated violation," Dinh said.
Some delays
The USDA has agreed to wait until 2021 to require that hemp be tested in a lab registered with the U.S. Drug Enforcement Administration, but the requirement will eventually take effect, Dinh said.
Dinh acknowledged that "there aren't as many DEA labs as are needed to test all the samples we anticipate."
But she warned states and producers that the delayed DEA lab requirement still takes effect in 2021.
"The reason for this requirement is that if the sample is in fact hot – that is, it tests above the measure of uncertainty for 0.3% – then it is considered marijuana under the Controlled Substances Act. And under DEA regulations, a lab cannot handle or process or handle marijuana unless it is registered with the DEA."
Similarly, Minh said, the USDA has given farmers another year to comply with requirements that non-compliant hemp be destroyed by law enforcement or designated public officials.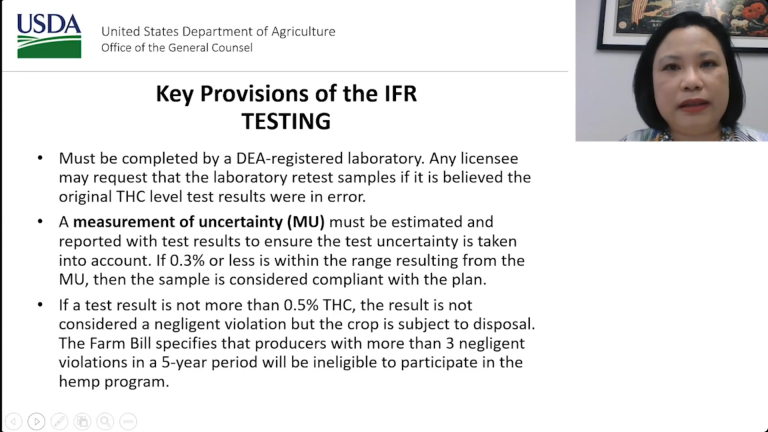 Industry reaction
Minh's talk was followed by a full-throated objection of many of USDA's provisions by hemp grower Herrick Fox, owner of Meristem Farms in Vermont and former USDA employee.
Fox said the USDA's looming rules have "serious flaws" that "put a lot of farmers at risk."
Fox praised the USDA delays on testing and destruction requirements, but called the solutions fleeting.
"All of these things are temporary fixes at best," he said.
Both Fox and Minh delivered their talks virtually, so there was no reply period for the USDA lawyer.
Fox did praise USDA's attempt to regulate hemp, but indicated more work needs to be done.
"Hemp is very challenging to produce, and I think it's just as challenging to regulate," Fox said.
A USDA spokesman did not reply to Hemp Industry Daily questions about the rules Friday.
Kristen Nichols can be reached at kristen.nichols@staging-hempindustrydaily.kinsta.cloud