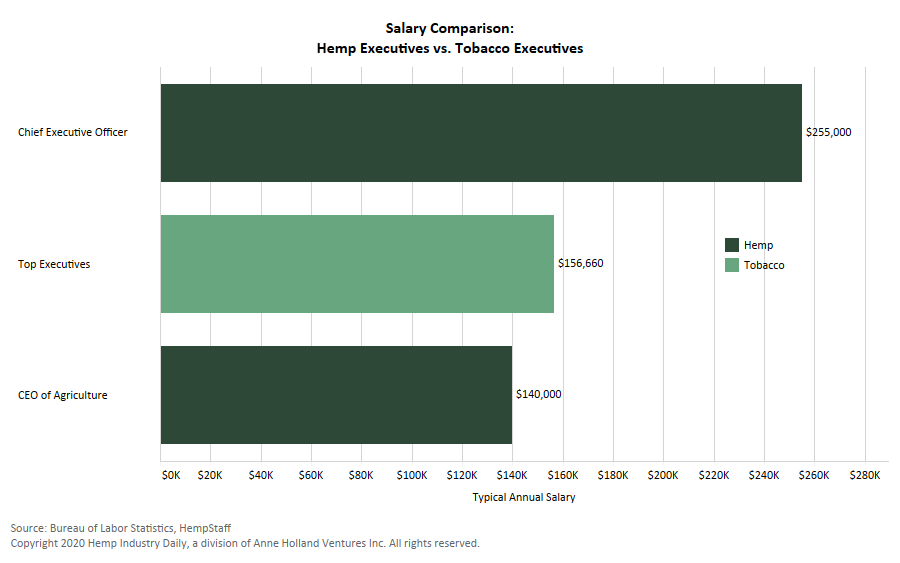 (This is the second part of a weeklong series from Hemp Industry Daily examining hemp industry salaries, hiring and recruiting trends. Using exclusive data compiled by the data team at Hemp Industry Daily, we're examining the latest hiring and compensation trends. Part One looked at how hemp salaries have changed since federal legalization. Today, a comparison of hemp salaries and tobacco-industry salaries. Coming tomorrow: How hemp salaries compare to those in commodity agriculture.)
These days, it pays more to be in the hemp business than the tobacco business.
Salaries for employees at hemp companies are far outpacing those of their counterparts in the tobacco industry, according to an analysis by Hemp Industry Daily.
At the top of the list, hemp CEOs are being paid an average of $255,000 annually, while CEOs in the tobacco industry earn $156,660.
There's also a large disparity between hemp and tobacco workers in lower-ranking jobs. For instance, a master of hemp extraction makes an average of $100,000 a year, while the extraction lead and the hemp extraction technician make $88,750 and $70,000 respectively. Meanwhile, the pressing and compacting machine setters at tobacco companies, along with operators and tenders, make an average of $42,110.
A reason for the wage gap is that, unlike tobacco, hemp is an emerging market, which carries some risk and higher salaries are necessary to attract the top talent to leave Fortune 500 companies behind, according to Tom Siciliano, the Americas CEO for Elixinol, a global hemp-derived CBD brand.
"The risk is, does the industry really have the legs to be able to go forward to the next level? And the answer to that is, yes," Siciliano said. But sometimes that could take years, he said.
"There's the risk reward," he said. "So as I look at that, I look at the differential between the two (industries) and I think, 'Well, yeah, you're probably going to have to pay more to get somebody into the hemp industry just because of the newness of this industry."
One area where the two industries are evenly matched is the annual salary of accountants. Tobacco accountants and auditors make $71,290, while hemp accounting managers make $70,000 on average. And tobacco salaries actually exceed hemp salaries when it comes to sales staff.
For example, sale managers and sales representatives for tobacco companies are $131,120 and $88,300 respectively. For hemp, a sales director makes $87,500 and a sales manager takes home $75,000.
The Bureau of Labor Statistics estimates that median fourth-quarter weekly U.S. wages were $936, equating to roughly $45,000 per year. Even the lowest average annual salary, for a hemp executive assistant, is greater than this figure at $50,000.
Ivan Moreno can be reached at ivanm@staging-hempindustrydaily.kinsta.cloud