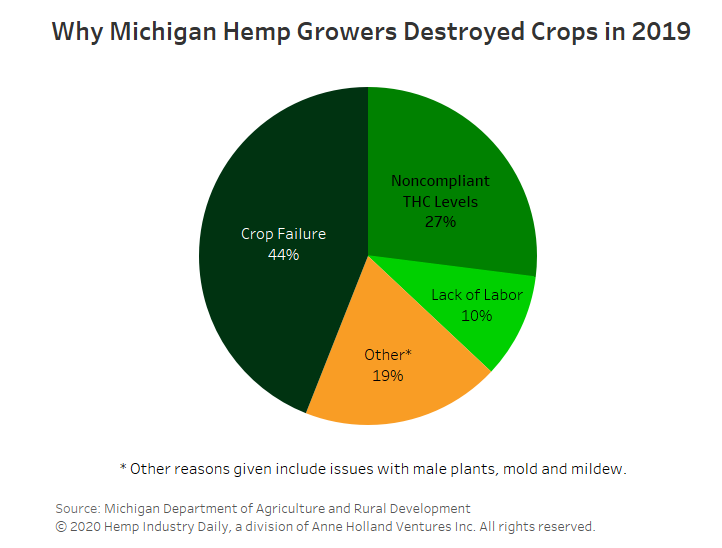 State agriculture officials in Michigan are seeing more interest in hemp production this year, despite more than half of growers failing to find a market for their 2019 crops and many reporting crop failures and heavy pest and weed pressure.
Authorities tell Hemp Industry Daily that the state has licensed 13,225 outdoor acres and 11 million square feet of indoor hemp production in 2020, a significant increase over production numbers in 2019, the state's first year allowing the new crop.
As of Thursday, the Michigan Department of Agriculture and Rural Development had registered 553 growers who have identified 806 outdoor growing locations and 350 indoor growing locations, state hemp director Gina Alessandri told Hemp Industry Daily. In 2019, there were more than 600 growers licensed to produce hemp.
Michigan has also licensed 447 processor handlers for 2020, Alessandri said.
These numbers follow a
report
filed last week in which 447 growers said they produced a collective 3,678 outdoor acres and 400,977 square feet of indoor hemp production during the 2019 hemp season. Production was recorded in 58 of Michigan's 83 counties.
More than half of Michigan's hemp producers – 53% – still hadn't found a market for their crop, according to the report.
"With the inaugural year of growing hemp for the first time in decades under our belt, Michigan is focused on taking the next steps with this emerging crop," said MDARD Director Gary McDowell in a statement.
2019 production issues
Michigan established its first industrial hemp pilot program in April 2019. The state licensed farmers, processors and universities.
Licensed growers and handlers were required to submit a report at the end of the 2019 season, collected through an online survey.
Of the 514 survey respondents, 165 held hemp grower registrations, 67 held hemp processor licenses and 282 had combined grower and processor licenses.
Among the 447 respondents licensed as growers, 276 said they were able to harvest their 2019 crop.
Under state law, hemp growers were required to schedule a test of a sample of their crops for THC concentration within 15 days before their harvest date, similar to the federal interim final rule.
Of the Michigan growers who reported harvesting in 2019, 24 growers did not harvest within the 15-day limit – mostly because of weather.
THC levels were tested in 847 samples, 84% of which were in compliance with the 0.3% THC concentration limit.
Of the 144 growers who reported that they had to destroy some of their crop, the top reasons included:
Crop failure (44%).
Non-compliant THC levels (27%).
Lack of labor (10%).
Other reported reasons for destroying crops included issues with male plants, mold and mildew.
Producers also encountered issues with:
Weeds (40%).
Insects (39%).
Disease (13%).
Michigan's hemp market
Among the 349 respondents licensed to process hemp, half of those reported processing in 2019.
The 67 processors who solely possessed a processor-handler license focused on studying CBD extraction techniques, while grower/processor licensees focused on extraction and drying the wet plant material; bucking or shucking the plant material; and storing both wet and dry plant material.
Among licensed Michigan hemp producers responding to the survey, 10% said they had found a market for their crop, while 53% had not yet sold their crops.
Michigan hemp producers said they grew hemp in 2019 for:
CBD/flower (64%)
Seed (16%)
Fiber (6%)
GRAS food products including hulled hempseed, hemp protein and hemp flower (6%)
Other (4%)
Grain (3%)
Undetermined purpose (39%)
2020 production
According to the survey, 59% of respondents planned to grow hemp in 2020, while 20% were undecided. The average outdoor acreage for growers planning to produce hemp this year was 33 acres, and average indoor production was just under 10,000 square feet.
The significant year-over-year increase in projected production within the state would call for additional labor, and 37% of the returning growers said they would need to hire foreign agricultural guestworkers.
Michigan is one of more than 20 states that plan to continue their industrial hemp pilot programs in the 2020 season while working to develop a permanent program. Pilot programs expire on Oct. 31 with the phase out of the 2014 Farm Bill.
Michigan state senator Dan Lauwers has introduced legislation to align the state's industrial hemp laws with the requirement set by the U.S. Department of Agriculture's interim final rule, which was released last fall.
Passage of the state's legislation will allow Michigan to submit a state hemp cultivation plan for USDA approval.
"It's important we keep farmers eligible to grow this new crop for the diversity it offers their operations and the competitiveness of Michigan agriculture," Lauwers said in an MDARD statement.
Laura Drotleff can be reached at laurad@staging-hempindustrydaily.kinsta.cloud