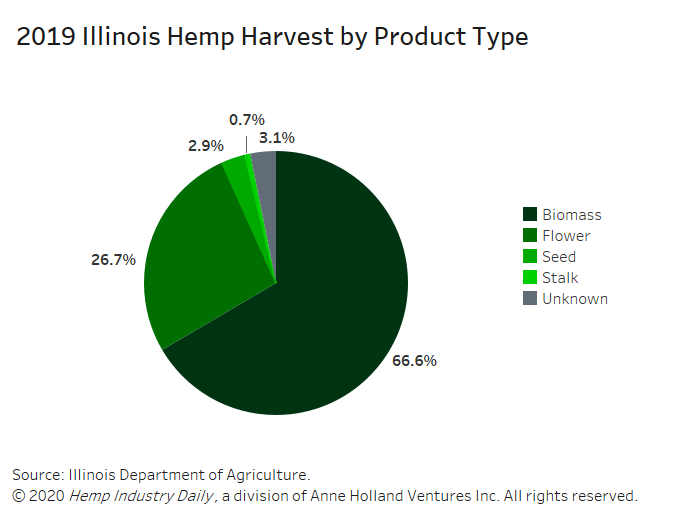 Hemp farmers in Illinois were able to harvest 73% of their 2019 crop, despite swings in the weather that made farming not so favorable in the inaugural year of legal hemp production.
According to a report released earlier this month by the Illinois Department of Agriculture (IDOA), Illinois farmers produced nearly 2.3 million pounds of industrial hemp in 2019.
Most of the hemp harvested was for CBD production, including 1.48 million pounds of biomass and 595,128 pounds of flower.
The rest of the harvest included 65,489 pounds of seed, product used for planting or hemp seed oil, and 15,107 pounds of stalk, which can be used for a variety of products from fiber to animal bedding.
Due to hemp overproduction across the U.S., Illinois farmers struggled to find buyers for their crops, according to Illinois agriculture director Jerry Costello. One change was allowing hemp producers to sell products to the state's marijuana processors.
"The department has been diligently working to open markets for growers to sell their hemp," Costello said in a statement.
In 2019, the Illinois Department of Agriculture issued hemp production licenses to 561 farmers. Of those, 514 farmers planted at least 1 acre, and 73% of the acreage planted ended up being harvested.
The report did not indicate the number of acres that were originally licensed or planted.
Weather challenges
Illinois farmers' high harvest rate was considered a success following a too-wet spring and a summer drought. Illinois was declared a disaster state by the U.S. Department of Agriculture because of high volumes of rain in the spring and a drought in the summer, according to Jeff Cox, IDOA's bureau chief of medicinal plants and overseer of the Illinois hemp program.
Cox said while hemp grown for CBD is still currently of primary intrigue among Illinois farmers, he's seeing farmers gaining interest in hemp fiber production, which the state's climate, production capabilities and farming infrastructure are ideal for, due to its history growing row crops like corn and soybeans.
Illinois is among the 22 states that are still operating under the 2014 pilot hemp program for the 2020 production season, but the agriculture department plans to submit its state production plans to the U.S. Department of Agriculture by this summer.