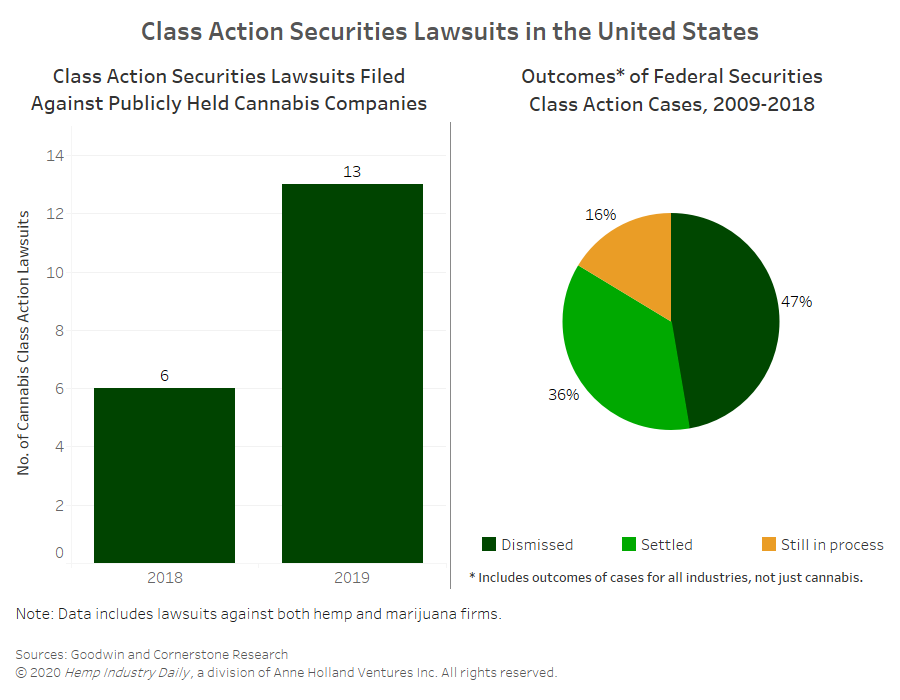 Hemp-derived CBD companies increasingly face class action claims by consumers and stockholders, driven by industry growth, product claims, regulatory uncertainties and preventable mistakes by the companies themselves.
Companies can reduce their exposure by being more transparent and forthright when disclosing their financials, the potential of their products and other relevant information, legal experts say.
A U.S. Food and Drug Administration warning letter against a CBD company for making an unfounded health claim, for example, "is almost an invitation to a plaintiff's lawyer to file a class action suit," said Oregon cannabis attorney Jesse Mondry, co-chair of Harris Bricken's dispute resolution/litigation practice group.
California cannabis attorney Khurshid Khoja said some opportunistic companies might think they can enjoy a short-term gain by making bold claims.
But legal experts said it pays to be cautious in advance. Merely defending against a class action claim can cost hundreds of thousands of dollars in legal fees – and a lot more if the case goes to discovery proceedings.
Class action claims by consumers currently are more prevalent against CBD companies, but investor class action claims also are on the rise.
The Boston-based global law firm Goodwin recently detailed 13 class action cases filed against publicly-held CBD and marijuana companies in 2019, more than double the six cases filed in 2018.
Most claims against publicly-held cannabis companies focus on disclosure issues, specific transactions, financial guidance, financial restatements and internal controls, according to the Goodwin report.
"Plaintiffs' firms are always out there and monitoring the markets," said Michael Jones, partner in Boston-based Goodwin's cannabis practice and author of the report.
When a company's stock price suddenly drops, "then they take a hard look at what a company said previously, whether they think they can make a case that what the company said was false or materially misleading."
Here are two examples of federal class action claims filed in the last year against CBD companies:
• August 2019: Allegations that Massachusetts-based Curaleaf misled investors by touting the potential of CBD products not yet approved by the FDA. The suit was filed shortly after the FDA issued a warning letter. Curaleaf has denied the allegations, and a federal judge is considering its motion to dismiss the suit.
• December 2019: Claims that Colorado-based Elixinol's CBD capsules, tinctures, and dog treats were illegal to sell. Elixinol's attorneys argued that the FDA's position on CBD products remains "in a state of flux" and therefore the products aren't illegal. The plaintiffs last month dropped all claims.
Mondry offers several pieces of advice to CBD companies to protect themselves:
• Be careful not to make unfounded claims, such as health claims.
• Regularly test products to make sure what's on the label is truly in the bottle.
• Hire counsel experienced in regulatory and compliance issues to avoid missteps.
• Review your insurance portfolio and consider purchasing policies that may blunt the financial impact of a class action lawsuit.
Regulatory uncertainties
Mondry said judges even in the same jurisdiction can rule differently on issues, reflecting the regulatory uncertainties involving CBD.
Take two recent federal court cases filed in the Southern District of Florida.
In one, the judge stayed a class action against a CBD company called Green Roads of Florida until the FDA completes rulemaking regarding the marketing and labeling of hemp-derived ingestible products.
But in the case against Florida-based Potnetwork Holdings, a different judge in the same district denied the CBD company's motion to temporarily halt proceedings until the FDA promulgates rules.
That judge reasoned that whatever the new FDA regulations may be, they would not alter the principle that the label on a CBD product must accurately reflect the contents of the bottle, Mondry said.
Careful disclosure can go a long way toward protecting a company, experts said.
Stock offerings require companies to disclose risk factors, detailed financials and other relevant information.
But a lot of companies take shortcuts because they are operating on a shoestring budget, lack experienced counsel in securities matters, or simply don't show as much integrity as when they were raising money, said Khoja, founder of Greenbridge Corporate Counsel.
"So there's plenty of room for missteps even when one is trying to be above board and transparent," he said.
It's not easy, Khoja added, for a company to ask investors for money while at the same time telling those investors "all the horrible things that could happen to their investment" in their risk disclosures.
Cannabis companies also must be cautious after they've gone public with their news releases, quarterly earnings calls, regulatory filings and discussions with industry analysts.
"Companies need to make sure that everything is squared away and that their disclosures are accurate and include robust risk disclosures," Jones said.
Looking ahead
Class action claims are likely to continue to increase in the CBD sector, Khoja said. That's because cannabis markets are growing, regulatory uncertainties persist, stock prices are volatile and companies' public disclosures will be challenged.
"There are still new players coming into the industry, there are still start-ups raising angel (investor) rounds," Khoja said. "And these companies often don't have enough money budgeted for legal expenses, so unfortunately I think people will continue to make some of the same mistakes."
Mondry agreed that class action consumer suits against CBD companies also will increase over the short-term — but he thinks that "companies engaging in untoward behavior will get weeded out of the marketplace and the good actors will remain."
Jeff Smith can be reached at jeffs@mjbizdaily.com