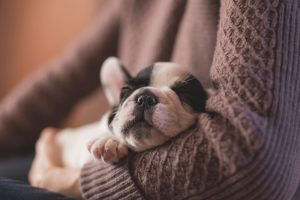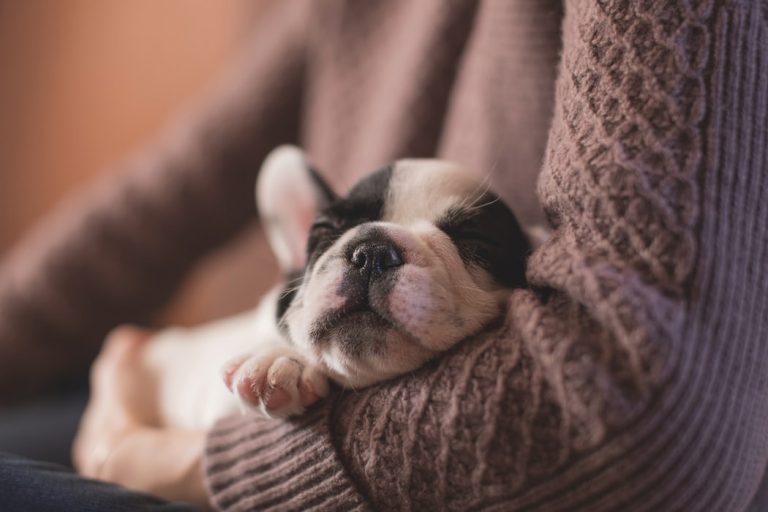 Over-the-counter CBD isn't legal and continues to worry federal drug regulators as more people take it and give it to animals, a lawyer for the U.S. Food and Drug Administration said Friday.
Randall Gnatt, senior counsel at the FDA, told the nation's veterinarians that the FDA thinks there are "data gaps and safety concerns" about any CBD products sold outside pharmaceutical channels.
Gnatt told the American Veterinary Medical Association at its annual convention that there's a "high degree of interest" in CBD products for human and pets.
But he told them flatly that cannabinoid products are illegal without a prescription, and never legal for animals. He said the agency plans to continue sending warning letters to people selling CBD over the counter.
"We're seeing CBD in particular being marketed in a number of different products of all stripes for people and animals," he said.
"We understand there's high demand with consumers seeking out these novel products for a variety of perceived health-related or other reasons.
"But as the agency has stated before, we are concerned that some people wrongly think that the myriad of CBD products on the market have been evaluated by us and determined to be safe, or simply that using CBD can't hurt."
Industry advocacy
Gnatt's comments came as hemp and CBD producers are working to persuade the FDA to give them guidelines for making and selling CBD outside pharmaceutical channels.
Just last week, the National Industrial Hemp Council told the FDA that medical studies support safe human consumption of CBD in dosing appropriate for dietary supplements and conventional foods.
Other advocates have made in-person appeals in recent weeks to argue that existing laws on dietary supplements can be applied to CBD.
But Gnatt told the veterinarians that the FDA doesn't believe there's enough research to approve CBD without a doctor's prescription. He reiterated "potential harm from CBD products," citing:
Potential liver injury.
Interactions with other drugs.
Male reproductive toxicity.
Drowsiness.
"There is still much we do not know about other potential risks," Gnatt said."We know little about the potential effects of sustained or cumulative long-term use of CBD."
Next steps
There was some good news from Gnatt on CBD. He told the veterinarians that the agency encourages the study on cannabinoid medicine and has an action plan to explore its safety.
He laid out a four-point plan for how the FDA plans to move ahead on cannabis treatments:
Coordinate a scientific review focusing on CBD safety.
Evaluate policy options for a regulatory path forward for non-drug products.
Continue to send warning letters/consider enforcement action as needed to protect public health.
Continue to engage and communicate with federal and state regulators.
Gnatt gave no timeline for how long the steps would take. He reminded the veterinarians that the agency encourages research on CBD safety and has made its call for public submissions permanent; he also told them that the FDA is "open for business" when it comes to accepting applications to investigate new food and drugs for animals.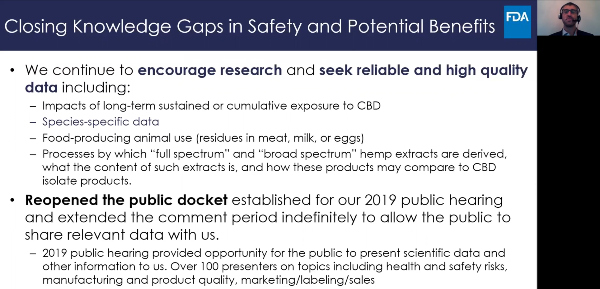 He reminded the veterinarians that FDA-approved cannabinoid medicines are legal only for humans, and that even hemp without CBD can't legally be used in animal food.
"There is still a lack of data covering the different animal species for which products may be marketed," Gnatt said. "And there is scant data available on the accumulation of residues in the edible tissues of food-producing animals that might consume CBD. There is a great need for more rigorous scientific research into both safety and potential therapeutic uses."
Gnatt went on to specifically cite treats containing cannabis extracts.
"There are many CBD and other hemp-derived pet treat products on the market for pets, but importantly, none are marketed legally."
His warning comes as the market for pet CBD booms, jumping from niche retailers to mass-market giants like Petco and PetSmart. The pet CBD market went from almost zero in 2016 to some $7.4 million last year, according to market analytics giant Nielsen Global Connect.
"The bottom line is that there are no legally marketed animal food products containing cannabis-derived products such as hemp or CBD," Gnatt said.
Kristen Nichols can be reached at kristen.nichols@staging-hempindustrydaily.kinsta.cloud