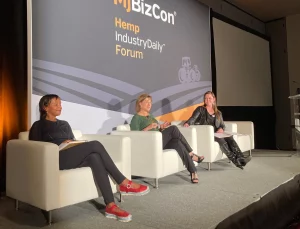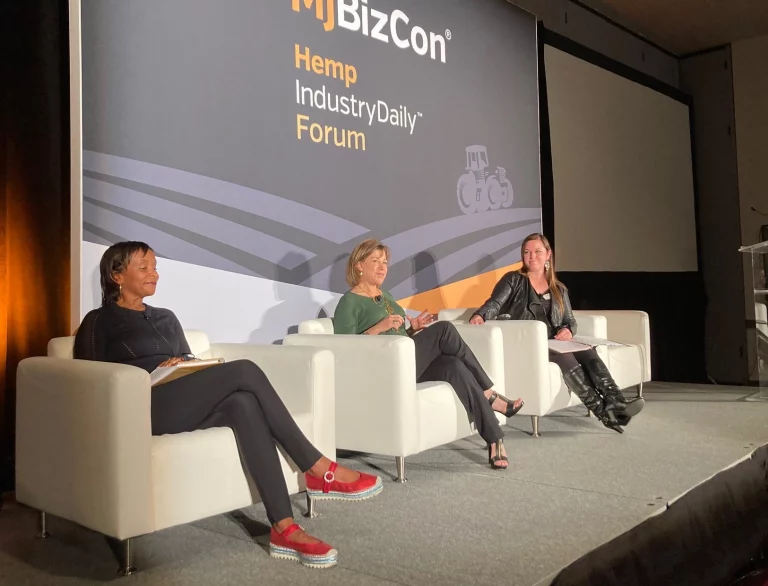 The deflated hemp industry has more tough times ahead before settling into a sustainable commodity, operators from across the globe heard this week at a day of hemp discussions ahead of MJBizCon in Las Vegas.
"The hemp industry after 2018 showed us what a Gold Rush looks like in the 21st century," said Julie Lerner, CEO of PanXchange, a commodity trading platform and benchmark price provider that tracks hemp and other commodities.
Experts at the Hemp Industry Daily Forum Tuesday pointed to ongoing challenges for hemp businesses, including:
Regulations.

Immature supply chain.

Drought, heavy rains.

Low prices.

Surplus of biomass and

flower

.
Earlier this year, the U.S. Department of Agriculture projected 10% annual growth in hemp producers between now and 2025. Instead, licensed acreage went down some 24% this year.
The falling acreage comes even as U.S. consumers are increasingly buying cannabinoid products, said Carmen Brace, founder of Aclara Research, which analyzes CBD consumer data.
"Thirty-one percent of households across the United States have purchased a legal cannabinoid in the past year," she said, adding that her firm's consumer research suggests that a perceived lack of efficacy from unregulated cannabinoid products means that many of those consumers don't necessarily become repeat purchasers.
Also Tuesday, three analysts who presented at the MJBizFinance Forum predicted the marijuana industry is heading in the right direction, albeit with bumps along the way.
"Year-over-year industry growth … remains incredibly attractive," Vivien Azer, managing director and senior research analyst at Cowen, told those attending the one-day event ahead of the formal kickoff of MJBizCon in Las Vegas.
MJBizCon is marking its 10th anniversary this week with a return to in-person events in Las Vegas, pre-show forums and a new event geared toward retailers through a partnership with the B2B cannabis show Hall of Flowers.
MJBizCon, the oldest and largest trade show of its kind in the cannabis sector, opened Tuesday and runs through Friday. It features more than 60 conference sessions and 1,300 exhibitors spread across 250,000 square feet of expo space at the Las Vegas Convention Center.
The return to a live event comes after the 2020 conference – and hundreds of other trade shows and events worldwide – were forced to go all digital because of the coronavirus pandemic.
"Despite the huge uncertainties we've all faced during the pandemic, one thing has become crystal clear: The cannabis industry is clamoring to get together," said Chris Walsh, CEO of MJBiz, which hosts the annual conference.
Walsh called this year's conference "especially meaningful."
"It marks the largest gathering of global cannabis professionals by far in nearly two years and reflects the industry's growth, resilience and maturation during one of the most difficult periods of our lifetimes."
MJBizCon will be the venue where, Walsh noted, "movers and shakers across all segments of the cannabis business ecosystem – from investors to promising new entrants and industry veterans to everyone in between – will gather."
The inaugural Hall of Flowers at MJBizCon Experience will offer cannabis retailers from across the nation the latest products, accessories and technologies from some of the cannabis industry's leading brands.
There's also a new topic this year – one that's been getting a lot of attention recently: psychedelics and their potential to be a market disruptor.
More information, including registration details, speakers and session topics, is available on the MJBizCon website.