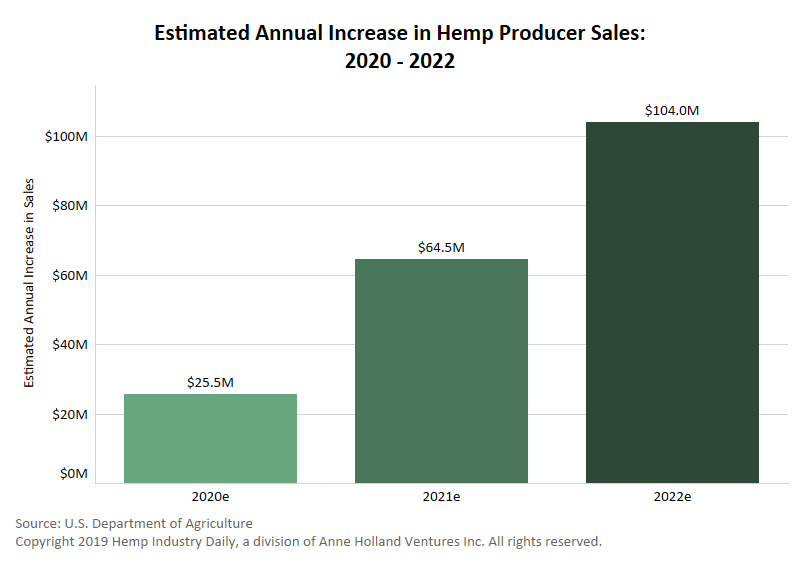 (This story and the accompanying chart have been updated to correct an error in the amount of hemp sales increases the USDA expects as a result of the agency's new rules for the industry.)
U.S. hemp sales could increase as much as $25 million in 2020 and by more than $100 million by 2022, according to new estimates by the U.S. Department of Agriculture (USDA).
These estimates are some of the figures outlined in
Hemp Industry Daily
's new special report,
"USDA Hemp Rules: A Handbook for Hemp & CBD Businesses."
The free report, released Tuesday, outlines the contents of the USDA's interim final rules regarding the establishment of a domestic hemp production program. The rules took effect Oct. 31.
The agency points to three drivers of growth for hemp sales:
The rate at which hemp acreage has increased in recent years.
The number of states whose hemp pilot programs produced a crop in recent years.
How many states have passed legislation following the signing of the 2018 Farm Bill.
The long-awaited interim rules were finally released Oct. 29 after receiving final approval from the White House Office of Management and Budget.
While the release of the rules was welcome, hemp producers and industry experts alike have worked to determine exactly what the rules say and how they will impact the burgeoning industry.
Other vital hemp industry information found in "USDA Hemp Rules: A Handbook for Hemp & CBD Businesses" includes:
Projections on the total number of hemp production licensees through 2022.
Per-acre yield and gross revenue estimates for hemp flower, fiber and grain.
An overview of individual crop and whole farm insurance programs available to U.S. hemp producers.
Hemp Industry Daily's new special report, "USDA Hemp Rules: A Handbook for Hemp & CBD Businesses," is available as a free download here.
Maggie Cowee can be reached at maggiec@mjbizdaily.com